Tips
These letters offer support and encouragement during moments of discouragement. They may also look forward to future possibilities. Use an upbeat tone, with no belated recriminations or laying of blame.
Steps
1

. Make a direct statement of regret and condolences. As appropriate, identify yourself or the organization you represent.
Sentences
I was disappointed to learn that the anti-pornography bill you sponsored to stop proliferation of filth on the Internet was defeated.
May I express my disappointment in the tally of yesterday's election?
The Westside Neighborhood Association was saddened to learn of your defeat yesterday. As you well know, we actively campaigned for you because of your long-term support for inner-city revitalization.
Watching the election returns on Tuesday night was more than I could bear. It seems that the new generation of voters has no respect for traditional values. Your voice has long represented our values and interests in Congress, and I am concerned about the future.
I was very disappointed when I heard the results of the County Commissioner's race yesterday. Those of us in the suburbs were counting on having your strong voice as a check on the downtown interests.
Phrases
actively campaigned for you
am so sorry that
of great concern
concerned about the future
hoped to have your strong voice
heard the results
hope you will continue to
may I express my regret
my personal regret
outcome of the polling
speak for all of the
the election results
voice has long represented
want you to know that
was disappointed to learn
were saddened to learn
were counting on
will continue to be
worked hard on your campaign
2

. Express support and look forward to future successes.
Sentences
I hope, however, that this temporary setback did not discourage you and that you will continue to fight for the rights of children.
We could dwell at length on the opposition's tactics and media manipulation, but I hope you will pursue the next opportunity for public service. Elected or not, you give a reasoned voice to what I and many others feel are the main issues of our time.
However, this is not a time for looking back, and this is hardly the end. We look forward to your strong influence in community affairs for a long time to come.
I am not ready to throw away my Doe for President button.
I fully expect to see you actively involved in public affairs, if not in public office, doing what you do best: exposing bogus programs and defending the rights of the underdog!
We genuinely hope you will run in the next election. We need you.
Phrases
applaud your determination to
build further support in the
confident that you will soon
excellent qualifications
fully expect to
have a strong influence on
hold to your own convictions
hope you will not be too discouraged
hope you will run again
just the beginning of
look forward to working
main issues of our time
press forward to
service to our community
stick to your guns
success next time around
successful election next term
the next opportunity to
view this as a temporary setback
will continue to fight for
Related Articles
Related Resources
Still can't find the right words for your government letter?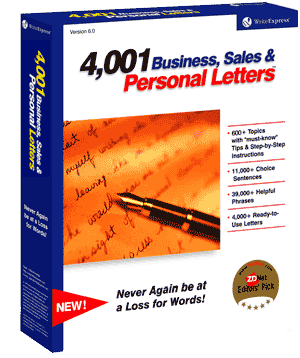 You will with our 500 letter-writing tutorials!
Find the government letter that fits your needs and copy it directly into Microsoft Word or your favorite word processor.
Or let our 500 letter-writing tutorials guide you step-by-step through the writing process, suggesting sample phrases and sentences for each writing step. In minutes, you can write an effective government letter.
Print your government letter and send it!