Tips
Write this letter as soon as you have received and investigated the complaint. If a customer takes the time to complain, you can probably retain his or her business. It takes less effort to satisfy a current customer than to attract a new one.
Steps
1

. Acknowledge the complaint and express sympathy. Refer to the customer's problem, not to the complaint.
Sentences
We are sorry to hear of your dissatisfaction with your new hairdryer.
We are sorry your new sewing machine is not working properly.
I appreciate your taking the time to write about the poor service you received last Thursday.
I appreciate your bringing to my attention the unpleasant experience you had at our restaurant.
I fully understand your frustration at not receiving the shipment by June 30.
You are quite justified in being upset at receiving no response to your letter of April 5. Our customers deserve better.
Thank you for letting me know about the problem you encountered with our service department last week.
Thank you for calling our attention to the damage your books received during shipment. It is important that customers report problems promptly so we can correct them.
We were very sorry to learn that the toaster you ordered from us was damaged in shipment. Thank you for returning it so promptly.
Please accept our apologies for the error in your bill.
Phrases
appreciate your willingness to explain the situation to
appreciate your frank comments regarding
appreciate your letter explaining the problem
appreciate your letter expressing dissatisfaction with
thank you for letting us know
thank you for bringing the problem to my attention
glad that you reported the error so promptly
glad that you reported your dissatisfaction with
glad that you informed me so promptly
problem you have experienced with
regret learning that your experience was unsatisfactory
regret there is a problem with
regret that you are experiencing problems with
regret that our service was not satisfactory
sorry to learn that
sorry to learn of your dissatisfaction with
thank you for taking the time to write
thank you for calling our attention to
thank you for your letter expressing dissatisfaction with
thank you for informing us of
thank you for letting us know
2

. Briefly explain how you have looked into the problem and what you are doing to correct it. If you prefer to discuss only how you will correct the problem, go directly to step 3.
Sentences
Our accountant has reviewed our billing procedure, and we have made changes to ensure that this type of oversight will not happen again.
We have revised our shipping procedure and are confident that this error will not recur.
We have discussed your comments with our sales staff and have given them clear guidelines to follow in the future.
I have spoken with the packaging crew, and believe that we have corrected the situation.
We had not realized that our policy change would be so unpopular, so we have decided to reinstate the former policy.
A temporary employee caused the error, but you can rest assured that our quality control is now back to normal.
Your pointing out this problem so promptly helped us to deal quickly with a faulty production run. Thank you.
Be assured that I will handle the problem immediately. This issue should not come up again.
Our staff is trained to handle this situation, but in your case we simply goofed.
Phrases
determined the cause of the problem
determined the nature of the error
determined the source of the misunderstanding regarding
determined the cause of the malfunction in
determined the origin of the error
discussed the problem with
discussed your suggestions with
expanded our warranty to include
expanded our service to include
informed our staff of the revised procedure
made a thorough investigation
quality control personnel have eliminated the
revised our policy concerning
revised our procedure regarding
thoroughly investigated
thoroughly reviewed our policy regarding
thoroughly reviewed your account history
traced the error to
traced the problem to
traced the misunderstanding to
updated our service to cover
3

. Explain what you have done or will do to resolve the customer's immediate problem.
Sentences
We would be happy to replace the clock, give you a full refund, or credit your account with the amount of the purchase. Please let us know by mail or telephone which of these options you would prefer.
Beginning on Friday, we will instruct our staff to use the parking lot at the south end of the building.
If you will return the merchandise with the receipt, we will be happy to refund your money or credit your account.
Please drop in with your receipt, and I will refund the fifteen percent. If you prefer, mail it to me and I will send you a check.
Our repairman makes calls every weekday and will call for an appointment on Monday. If the machine requires more than minor adjustments, we will replace it without charge.
You will hear from me as soon as I receive the documents from you.
We have shipped your order and enclosed an extra case with our compliments.
There will, of course, be no charge for your replacement order.
We will replace the product free of charge and pay for your repairs. Please send us the relevant invoices.
I am enclosing a corrected invoice.
Phrases
adjusted your account
corrected the error in
credited your account
due to the inconvenience you have already experienced
due to the unusual circumstances, we would like to offer you
enclosed a credit voucher for
enclosed a check for the purchase price
for your convenience, arranged for
in addition, we would like to offer you
made an exception to our policy concerning
offer you a comparable replacement for
replacement order should arrive in
requested part is on back order
shipped the replacement order
since we no longer carry this particular model, we would like to
to avoid further delay, we arranged for
waived our usual policy regarding
will send it by express mail as soon as
will replace the product free of charge
willing to exchange the defective item
willing to extend the warranty covering
4

. Close with an expression of good will. You want the customer to focus on the restitution you are making, not on the unpleasant experience they have been through.
Sentences
Thank you for helping us improve our service.
If this does not prove satisfactory, please do not hesitate to call me personally.
Thank you for giving us an opportunity to serve you.
I am sure the machine will give many years of useful service.
We appreciate your concern and hope that these actions will be satisfactory.
Thank you for bringing the problem to our attention.
Thank you for writing. We look forward to welcoming you back as a valued customer.
We appreciate your interest in our products and hope to have an opportunity to serve you again.
Thank you for giving us an opportunity to correct the situation.
We regret the inconvenience this has caused you, but hope you will be pleased with your new power drill.
If I can be of further assistance, please let me know.
We hope to see you enjoying our hospitality soon.
We are sure you will be pleased with your new vacuum cleaner.
Phrases
apologize for the misunderstanding
apologize for the error
appreciate your helpful suggestions for
appreciate your frank assessment of the situation
appreciate your candor in explaining the problem
appreciate your business
appreciate your frank comments about
appreciate your willingness to discuss
committed to your satisfaction
dedicated to customer satisfaction
happy to be able to correct the situation
if I can assist you further, please do not hesitate to
if this solution to the problem is not satisfactory, please
look forward to serving you again
regret any inconvenience
thank you for allowing us to correct the error
thank you for giving us the opportunity to correct
thank you for helping us
thank you for bringing the problem to our attention
thank you for drawing our attention to
trust you will be pleased with
trust this will meet with your approval
trust you will be pleased with
value your patronage
Related Resources
Still can't find the right words for your response letter?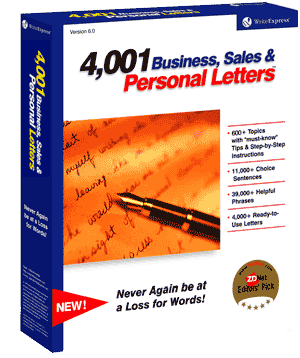 You will with our 500 letter-writing tutorials!
Find the response letter that fits your needs and copy it directly into Microsoft Word or your favorite word processor.
Or let our 500 letter-writing tutorials guide you step-by-step through the writing process, suggesting sample phrases and sentences for each writing step. In minutes, you can write an effective response letter.
Print your response letter and send it!