Tips
Sending Mother's Day and Father's Day greetings to your employees can build a great deal of goodwill. Loyal customers also appreciate this personal touch. Special promotions may focus on your customers' fatherhood or motherhood.
Steps
1

. Open with a greeting and acknowledge the occasion. Tell your reader why you are writing.
Sentences
Our fathers, whether the baseball or the book club kind, have inspired many of us to do our best in this world. Father's Day is a chance to show them how much they have meant to us. Doe Corporation is honoring all our fathers in a special way this year.
Just a note to let you know that we honor you and all mothers on this Mother's Day.
This Mother's Day we want all our customers to feel special, so we are having a grand sale!
John, over the years you have worked here I have watched you raise your kids and want you to know how much I admire the terrific job you are doing. Happy Father's Day!
Jane, I admire your ability to hold down this crazy job and raise your wonderful children. We in the department are all thinking of you this Mother's Day.
Happy Mother's Day!
Our Father's Day Sale this year is larger than ever!
Phrases
a mother's challenging role
a special sale in honor of
admire your strength and patience
are having a sale
as we celebrate Motherhood
for all the fathers out there
how much we admire your
how much you all mean to us
if it weren't for people like you
in honor of all mothers
in celebration of Fatherhood
special thanks to all the fathers
the management would like to extend
the joys and trials of
to let you know how much we appreciate
to honor the fathers
want you to know
will be thinking of you this Mother's Day
would like to acknowledge the
your leadership as a parent and employee
your dedication to your children
your energy and enthusiasm
2

. Give details of promotions or a personal note, if appropriate. Close pleasantly.
Sentences
In honor of all fathers, Doe's Sales department is offering some remarkably low prices on selected products from our line.
I know how proud you are of your children and hope you will get to see all of them this Mother's Day. We are thinking of you.
I wish my son were taking me salmon fishing this weekend. Enjoy yourself and good luck!
Use this weekend to relax and reflect upon your accomplishments as a mother. You deserve to be pampered, for a change.
Our Mother's Day Sale features nearly everything a mother could want. Please call and make an appointment with your sales representative.
In honor of Father's Day, Doe's is doing something unusual. All the fathers may take next Monday off, with pay, compliments of Mr. Doe. Enjoy the three-day weekend with your families with no worries about work. You deserve it!
On your first Father's Day please accept my very best wishes and sincere thanks for all you do to keep this company running smoothly. Take it easy this weekend.
Phrases
are thinking of you
call or stop by to take advantage of
certainly deserve a break
come in today to place your order
enjoy this weekend with your children
for being such a wonderful mother
for all your hard work
for raising your children so well
from one father to another
in appreciation of
just hang in there
just to say thank you for
let your children pamper you for once
one-day sale in honor of
please accept my best wishes
proud of your children
the time you have spent with your children
to show how much I appreciate all you do
use this time to
will hold these prices through
your willingness to serve
Related Articles
Related Resources
Still can't find the right words for your holiday letter?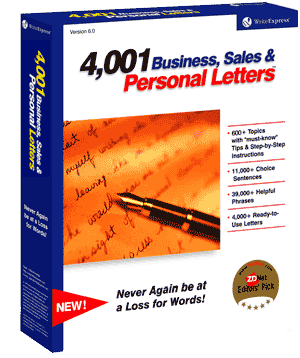 You will with our 500 letter-writing tutorials!
Find the holiday letter that fits your needs and copy it directly into Microsoft Word or your favorite word processor.
Or let our 500 letter-writing tutorials guide you step-by-step through the writing process, suggesting sample phrases and sentences for each writing step. In minutes, you can write an effective holiday letter.
Print your holiday letter and send it!