Tips
Be direct and brief, particularly if you do not know the reader personally. If you know the reader, be as warm and informal as you care to be.
Steps
1

. Introduce the person by name.
Sentences
A close friend of mine, John Doe, and his family will be traveling in Kansas this summer and Springfield is one of the cities they plan to visit.
I am writing to introduce my sister, Jane Doe. She will be moving to Springfield later this month.
Last time we talked you complained about your softball team's lack of a good shortstop. Good winds are blowing your way! A friend of mine, John Doe, is moving to Springfield next month, and let me tell you, that man can play ball!
Please allow me to introduce myself. I am Jane Doe, a twenty-two-year-old senior at Springfield University. After several years of research, I have discovered that you are my biological mother.
I am pleased to introduce myself. I am Jane Doe, your son's third-grade teacher.
You remember crazy ol' Uncle John and Aunt Jane? Well, we ran into their son, Eric, the other day. He told us he is moving to Springfield either to find a job or to attend Kansas State for an advanced degree.
I am John Doe, a graduate student in special education at Kansas University.
Phrases
allow me to introduce
am pleased to introduce
am sure you would like to meet
are delightful people
has long admired your
have been longing to introduce
immediately thought of
is a friend of mine, who
is a business acquaintance of mine, who
is moving into your neighborhood
my name is
requested an introduction to
shares your interest in
want to introduce
will be traveling in
will be working with
will be in the area
will be relocating to
would very much like to meet
would like to meet
would like to introduce
2

. Tell the reader why you are writing the letter, but do not put him or her under any obligation.
Sentences
I read your recent article with great interest and would like to discuss some of your ideas with you when I am in Springfield next month.
I just wanted to write you a short note to let you know about myself. I earned my degree and certificate from Doe University and have been teaching for about six years. I encourage my students to do a lot of reading and writing, probably more than most other teachers require. I am eager to hear from my students' parents, so please feel free to get in touch with me if you have questions or comments.
I have given Jack your phone number and told him to call you. I told him I didn't know what your team was like this year, but if you need a good glove and a strong arm on the field, you might want to pick him up. He can hold his own at the plate, and I haven't seen many guys who can outplay him in the field!
I realize that having your biological father show up all of a sudden might be a shock. I don't want to "move in on your life" or interfere with your relationship with your adoptive parents, but if you wouldn't mind, I would like to meet you. Your mother and I were very young when you were born. We accepted the advice that you be given up for adoption.
I was just wondering whether you might be available to show Springfield to John and his family. I haven't mentioned you to John yet; I thought I should check with you before volunteering your services. They will be in the area at the end of July. If you would be able to show them around, or if you could recommend some places for them to see, please call me and I will pass the information on to them. Please don't feel any obligation.
Jane runs the show and has final say on awarding contracts, so we hope to show her the full range of our capabilities.
Relocating can be difficult, so she could benefit from someone like you with a positive attitude to show her the area.
Phrases
arrange a meeting
don't want you to miss the opportunity to
has exceptional ability in
have not discussed this with
have always wanted to
have given your number to
hope you will be pleased to
hope you'll enjoy
if you are in a position to
just what you're looking for
may wish to
may be a valuable contact
might like to meet
might be able to
not asking for special treatment
please feel free to
told him to give you a call
under no obligation
want you to know that
want to check with you first
wonder if you would be able to
would like to meet with
would really appreciate your
3

. End on a positive note.
Sentences
Hope you enjoy meeting our nephew.
I hope to hear from you soon.
If you can get John to play for you, you will have a great ballplayer. Keep in touch.
I am really looking forward to working with your child this year. Again, if you have any questions, please don't hesitate to give me a call.
I hope you can provide her with the information she needs.
I will call you next week to discuss this further.
Phrases
am looking forward to
assure you that
await your reply
don't hesitate to contact me if
don't wish to impose
drop me a line
give me a call
have always wanted to
hope you enjoy
hope to hear from you
hope you can
if I can help
if you have any questions
just want you to know that
keep in touch
not asking you to
please feel free to
remember us when
think you'll enjoy
to return the favor
would be happy to
would appreciate any help you can
Related Articles
Related Resources
Still can't find the right words for your introduction letter?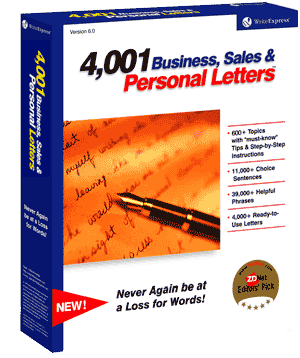 You will with our 500 letter-writing tutorials!
Find the introduction letter that fits your needs and copy it directly into Microsoft Word or your favorite word processor.
Or let our 500 letter-writing tutorials guide you step-by-step through the writing process, suggesting sample phrases and sentences for each writing step. In minutes, you can write an effective introduction letter.
Print your introduction letter and send it!