Tips
Include only what the community or organization needs to know.
Steps
1

. Briefly introduce the person by name.
Sentences
I would like to introduce John Doe and recommend him for membership in the Springfield Country Club.
May we introduce Jane Doe? She is running for the office of county commissioner.
I would like you to meet John Doe. He and I were roommates at Springfield University.
Jane Doe has been a close friend of mine for the past nine years. I think she is one of the most talented artists in the Midwest.
Hello! We're the Doe family: John and Jane, and our four children, Eric, Fred, Mary, and Ann. We've recently moved in and will be your neighbors for the next few years.
Phrases
a good friend of mine
allow me to introduce
am pleased to announce that
am delighted to introduce
am sure you will be pleased to
an acquaintance of mine
bring her to your notice
first came to know them
has a great deal to contribute to
have known her for
have just recently moved
have been good friends since
is an honor to introduce
is a valuable member of
please join us in welcoming
put forward the name of
recommend him for
would like you to meet
would like to introduce
would like to tell you about
2

. Tell the reader why you are introducing this person and mention relevant qualifications or qualities.
Sentences
She received her Master of Arts degree at the Doe School of Design. Her work has been exhibited in the most important galleries in Springfield and Centerville. Next month she will return to Kansas and would like to visit Springfield. I'd like you to meet her. She certainly ranks with any other artist you may be considering to fill the vacancy on the Arts Council.
I think John would make a wonderful member of the Doe Service Club. While we lived in Springfield, I worked with John on several community improvement committees and was impressed with his level of dedication.
Mr. Doe has been involved in law enforcement and security for the past fourteen years, during which time he received several commendations for his work. He has declared his intention to run for the office of county sheriff.
Mrs. Doe has been a teacher in the Springfield School District since 1992. During her tenure, she has taught English as a second language, history, and special education classes.
Jane Doe has lived in this parish for twelve years and has served on the parish service organization for eight years. She has organized several activities and hosted several charity drives. With her four children at home, she has been unable to take a position as an officer in the organization; however, now that her children are older, she has decided to nominate herself to be treasurer of the Springfield Parish Service Organization.
Phrases
has earned the respect of
has been involved with
has declared her intention to
has a strong interest in
has demonstrated great
has a reputation for
has been a pleasure to
has shown interest in
has been responsible for
have a lot in common
is well known for
is certainly qualified to
is willing to serve as
is eager to be of service to
is a person of integrity
may be interested to know
offers important advantages
recognizes the need for
will be glad to get involved with
will be happy to
would make a wonderful member of
would be a wonderful person to
would be an excellent choice for
3

. Extend an invitation to the organization or the community to get to know the person.
Sentences
We invite you to meet Mr. Doe during a noon-hour open house in the banquet hall of the Main Street Hotel on October 12.
If you can meet with Jane while she is in your area, please give me a call and let me know the best time. I'll pass the information on to her. Even if you can't meet with her, please call. I'd love to hear from you.
I ask that you send him an invitation to our next meeting, so you can meet him before voting on my proposal to make him a member.
Mrs. Doe would like to invite you to meet with her Thursday evening at 7:30 at the Main Street Elementary School. This informal meeting should not last more than half an hour. It will give you a chance to ask her questions. There will be light refreshments.
We invite you to join us for a block party on Friday, May 8, at our home at 1600 Main Street.
Phrases
attend an open house at
find a moment to
have a great deal in common
have taken the liberty of
if you can meet with
invite you to
it might be worth your while to
let me know if
may wish to
pass this information on to
please extend an invitation to
see all the behind-the-scene work
share an interest in
so that you can meet
to join us at
to attend a meeting on
to discuss her work on
to discuss the needs of
to get to know
will be able to
will be hosted by
would like you to meet with
would like to invite you to
4

. End on a positive note
Sentences
I know you will come to appreciate Jane, as we have.
Please keep him in mind this November.
I would appreciate your consideration.
Thank you very much for your time.
We look forward to getting to know you better.
Please let me know if there is anything I can do for you.
When voting for officers, please keep Mrs. Jane Doe in mind.
Phrases
am confident that
am sure you will agree that
appreciate your consideration
as much as I do
is eager to
is just what this community needs
is the most qualified candidate for
keep her in mind for
let me know if
looks forward to
please consider
to hearing from you
to meeting you in person
to having an opportunity to
will always be an asset to
will be a valuable addition to
will be glad to
will come to appreciate
would be a great choice to
would be happy to
Related Articles
Related Resources
Still can't find the right words for your introduction letter?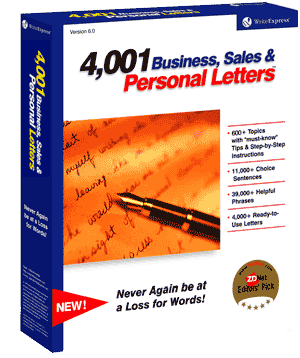 You will with our 500 letter-writing tutorials!
Find the introduction letter that fits your needs and copy it directly into Microsoft Word or your favorite word processor.
Or let our 500 letter-writing tutorials guide you step-by-step through the writing process, suggesting sample phrases and sentences for each writing step. In minutes, you can write an effective introduction letter.
Print your introduction letter and send it!