Tips
This should be a brief, friendly letter. It should not imply that your reader has an obligation to meet with the contact, but it does show your interest and consideration. Your reader must retain the option of acting on this information based on his or her own needs and desires. This is not a letter of reference, so include only information relevant to the occasion.
Steps
1

. Introduce the contact in an appealing way.
Sentences
When we met in Chicago you mentioned you were interested in expanding operations into Europe. With that in mind I am pleased to introduce to you a long-time consultant of mine, John Doe.
After our phone call last month, in which you said you've had problems getting your new products noticed in the market place, I thought you might want to get acquainted with John Doe.
Let me introduce you to Jane Doe of The Doe Agency. I think she may have some interesting ideas regarding the concerns you mentioned on the phone last week. Of course I did not give her any details.
I have written this letter to introduce Mr. John Doe, a computer analyst from Springfield. He has some ideas I think you may find quite interesting
My colleague, Jane Doe, will be in Springfield in a few weeks. She could be very helpful in wrapping up the projects you've described to me in our recent phone calls.
Phrases
a long-time colleague of mine
after our phone conversation
am pleased to introduce
are looking for someone who can
are having problems with
could help with some of the problems you mentioned
could perhaps benefit from
has been most helpful in
has some interesting ideas
has a fine reputation for
have a high regard for
is especially suited to
is a first-rate
last time I saw you
let me introduce
may be exactly what you are looking for
may wish to consider
mentioned being interested in
mentioned that you are
might be interested in meeting
sticking my neck out
wish to introduce
2

. Briefly tell the reader about your experience with the contact.
Sentences
Over the last three years, I've had the opportunity of working with Mr. Doe on several very successful campaigns.
She has done extensive work for our firm and has helped us earn an additional $30,000 in each of the last five quarters.
He is a marketing analyst with one of the major firms in Kansas. We have benefited greatly from his insight over the last two and a half years.
Mr. Doe's ideas have worked well for our firm over the last seven months. They have helped increase our quality control efficiency by more than 20%.
She's shown herself to be a designer of unique vision. She has done a great deal of work for us over the last eighteen months, and we have been more than happy with what she has come up with.
We felt her ideas might work very well with a firm the size of yours.
We have found that her unusual perspective has helped us break some exciting new ground.
Phrases
a fine reputation for
a long-time colleague
am completely satisfied that
an expert in the field
can do anything in the field
competent and dedicated
had the opportunity to work with
has worked on several successful
has made great contributions to
has helped us to
has experience with similar
has done extensive research into
have nothing but praise for
have benefited greatly from
have been very pleased with
may be just the person to
one of the most knowledgeable
over the last few years
services have been invaluable
was in charge of
worked closely with
3

. Without obligating your reader, suggest a plausible plan of action. Tell your reader anything you have told the contact.
Sentences
He will be in Springfield at the end of next month. If you would like to meet with him, please call me, and I'll give you more information. I told him you have a busy schedule, so he realizes you may not be able to meet with him.
Since I don't know your schedule, I told her she would have to hope you might have some free time.
I gave him your card and told him he might have better luck sending you a fax or an e-mail message a week ahead of time. He'll be in town from April 30 through May 3.
I would appreciate it if you could give her a few minutes of your time. She'll be in your area near the end of October. Please let me know if you have time, and I'll have her give you or your secretary a call to set up an appointment.
I told her you would call if you were interested. Her phone number is 555-5555. I think a visit with her may be well worth the time.
Next time you are in Springfield, you might want to look him up. I'm including one of his cards.
If you have any openings in your public relations department, you'd be wise to consider Ms. Doe for a position.
I would greatly appreciate any help you could give him while he's looking for employment in the Springfield area.
Phrases
arrange for you to meet
could possibly be the answer to
could be of assistance
could be just what you need to
gave him your office number
gave her your card
get in touch with
grant her a few minutes
have not yet discussed this with
if you were to meet with
if you would consider
may profit you to
may be just the person to
might be worthwhile to
might want to consider
might want to look him up
please let me know if
to give you a call
to set up an appointment
told him to
told her that
under no obligation to
understand perfectly if
will be in Springfield
would appreciate your
would be worth your while to
4

. End with a positive expression.
Sentences
I am confident you will come to appreciate her expertise, as I have.
I hope you will be as impressed with her as we have been.
I hope you will have a few minutes to see him; he is really talented.
I urge you to give her an appointment. I haven't met many designers with her talent.
I think a meeting with her would be well worth your time.
I urge you to give him a few minutes of your time. It could be a very rewarding meeting.
Phrases
am sure you will
could be most profitable
could benefit from
glad to be able to
have a high regard for
hope you will
is my pleasure to
is rare to come across such a
rewarding move on your part
urge you to
will not regret
will be happy to
will enjoy meeting
will be as impressed as
would be well worth the effort
Related Articles
Related Resources
Still can't find the right words for your introduction letter?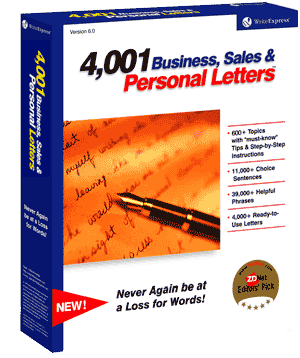 You will with our 500 letter-writing tutorials!
Find the introduction letter that fits your needs and copy it directly into Microsoft Word or your favorite word processor.
Or let our 500 letter-writing tutorials guide you step-by-step through the writing process, suggesting sample phrases and sentences for each writing step. In minutes, you can write an effective introduction letter.
Print your introduction letter and send it!