Tips
Make your invitation direct and wholehearted, but avoid excessive flattery.
Steps
1

. Extend the invitation, indicating how the reader qualifies for membership.
Sentences
Because of the interest you have shown in maintaining our natural resources, we extend to you a warm invitation to join the Friends of Western Wilderness.
We congratulate you on your sterling academic performance and extend to you an invitation to join the Doe Honor Society.
The Reality Society is always interested in associating with young professionals like you who have shown outstanding sales and leadership performance. We therefore extend a cordial invitation to you to join our society.
Congratulations on breaking the $50,000 sales barrier! You now qualify for membership in the Silver Chalice Club.
We extend an invitation to you and your high school students to become members of our drug-free coalition.
As one of our preferred customers, you are invited to become a member of our Christmas club.
Phrases
a warm invitation to you to
a cordial invitation to you to
after our conversation of
am writing on behalf of
appreciate the importance of
are interested in joining us
are invited to
as a new resident of
become a member of
congratulate you on
extend to you our
have shown outstanding
have been nominated for
in associating with
invite you to
is always interested in
nominated you to
offers many service opportunities
qualify for membership in
the interest you have shown
to the first meeting of
to invite you to
to become part of
to join the
was delighted to learn
your efforts on behalf of
your selfless work with
2

. Explain the purpose of the organization and how the reader's qualifications are consistent with that purpose.
Sentences
The coalition was formed at the last PTA meeting to help students avoid illegal drugs and to stop drug trafficking at our school.
As a member of the club, you will save an extra 5% on all purchases this year.
We meet monthly to share ideas and receive instruction from national leaders in the field.
The Society provides recognition for superior performance and assists scholars in obtaining research and travel funds.
Phrases
a common interest in
are organizing a
areas of common interest
as a member you will
enjoy social get-togethers
focus our efforts on
has a tradition of
have joined forces to
improve the quality of life in
in order to help
involved in charitable work
make a difference in
meet monthly to share
organization is dedicated to
prestigious organization is involved in
primary focus is on
provides recognition for
raises money for
receive instruction from
share a commitment to
the preservation of
throughout the area
very successful in the past
was established in
3

. Explain, if desired, relevant expectations of members: fees, participation, time commitments.
Sentences
There are no membership fees.
Participation does not entail any costs.
Members contribute $5.00 per month to cover postal expenses.
With the annual membership dues of $50.00 comes a year's subscription to our newsletter.
We hold meetings monthly to coordinate activities with the local authorities.
To accommodate members' busy schedules, we hold our meetings during the lunch hour.
Phrases
annual membership dues of
are aware that time can be our scarcest commodity
are funded by the membership dues of
ask for a donation of
ask members to contribute
chief commitment is time
costs are minimal
each serve on a committee
expect members to attend at least
hold meetings monthly
in addition to committee meetings every
includes a subscription to
keep our meetings brief
know that our members are busy
meets weekly to review
membership dues are very reasonable, only
no membership fees
request that our members
socialize after meetings
take turns hosting the
to cover expenses
4

. Express anticipation of the reader's acceptance and your desire for future association.
Sentences
We hope you will be able to join us in this worthy cause.
We look forward to your reply.
We hope to have a long association with you.
We hope you will join us. Together we can make a difference.
We look forward to sharing your future successes, too.
You have much to contribute to the cause. We hope you will be part of the Society.
Phrases
are willing to participate
at our next meeting
at your earliest convenience
convey your acceptance to
eager to welcome you into
give serious thought to
have much to contribute to
hope to hear from you
hope that you
hope for a long association with
if you have any questions
if you could join us
look forward to your acceptance
make formal application
meeting you personally
please let me know if
please come share your ideas
why not attend our next meeting
will be part of the
will attend our first meeting
will join us
will be able to
would be pleased to
would be part of the group
would be great if
Related Resources
Still can't find the right words for your invitation letter?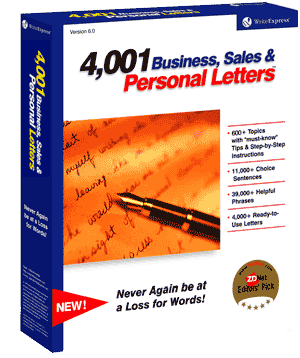 You will with our 500 letter-writing tutorials!
Find the invitation letter that fits your needs and copy it directly into Microsoft Word or your favorite word processor.
Or let our 500 letter-writing tutorials guide you step-by-step through the writing process, suggesting sample phrases and sentences for each writing step. In minutes, you can write an effective invitation letter.
Print your invitation letter and send it!