Tips
The tone of an invitation is always positive, in anticipation of a pleasurable occasion. Clever phrasing, poetry or a themed approach may be appropriate for an informal occasion, but you should express the details clearly.
Steps
1

. Extend the invitation, naming the event and including the date, time, and place. If the event has a special purpose, such as honoring someone or celebrating an anniversary, state this.
Sentences
The parents of Jane Doe are pleased to invite you to a party at their home on May 30, 2002 from 7:00 to 11:00 p.m. to celebrate Jane's graduation from Doe University.
Please join us on August 15, 2002, from 7:00 to 10:00 p.m. at the Doe Country Club in Springfield to honor our parents on their fiftieth wedding anniversary.
We are delighted to invite you to the first annual Doe family reunion on July 3, 2002, from noon to dusk at the Doe Memorial Gardens in Springfield. Mom and Dad Doe will be there, and the Johnson cousins will perform.
Please help us surprise Eric on his 30th birthday, February 7, by attending a party in his honor at 7:00 p.m. at his parents' home, 648 Maple Lane. Many members of his football team will be there, including Coach Doe.
Just a brief note to invite you to an informal get-together at the home of John and Jane Doe.
We are pleased to invite you to join us for an evening of fun and games at the Doe mansion.
We are pleased to announce the bar mitzvah of our son, Aaron, and cordially invite you to attend the service at Springfield Synagogue, on Saturday, June 16, at 10:00 a.m., and then join us for lunch afterwards.
Bring your swimsuit and help John enter his fifties with a splash. The party starts at four on Saturday afternoon, June 15th.
Fred is turning eight, and wants to celebrate. Come and join in the fun at his house, 28 Doe Way, from 3:30 to 5 p.m. on Wednesday, May 22.
Come join us on Saturday, April 14, to celebrate Anne's eleventh birthday. We will meet inside the main entrance at 2:00 p.m. and finish up at the same place at 4:30 p.m. There will be lots of pizza and lots of fun.
She's having a girl! Come to a baby shower for Jane Doe to be held at the Doe residence, 1600 Main Street, on February 16, at 3:00 p.m.
Paul and I will be married on Friday, March 12, at the Springfield Art Museum. We are inviting only a few close friends and would be very happy if you could be there.
I am having a slumber party on May 30 to celebrate the first day of summer vacation, and I hope you can come. We will start at 7:30. Plan on eating dinner here.
Mom and Dad have been married for fifty years this month, and we would like to honor them at an open house on their anniversary. Stop in at the Doe residence, 1600 Main Street, between 2:00 and 5:00 p.m. on Saturday, November 23. We would love to see you.
Phrases
a reception to be held on
a reception honoring
an informal get-together
an open house on
are pleased to announce
are cordially invited to
are delighted to invite you to
are pleased to invite you to
at the residence of
at the home of
don't miss out on the fun
hope you will be able to
hope you can come
in honor of
in a private ceremony
in celebration of
join us for a
on the occasion of
please join us on
to honor our
to celebrate with us
will perform
will be there
will be on hand to
would be very happy if you could
2

. If the event is a retirement, an anniversary, or a reception, indicate if a gift is not expected. If a gift is welcome, it is usually best to say nothing, except in the cases of bridal or baby showers.
Sentences
No gifts, please. Your presence is the best present.
In lieu of gifts, contributions may be sent to the Children's Medical Center.
No gifts, please. This is a very informal occasion.
He has agreed to the party on one condition--no gifts!
Let's shower her and the baby with gifts.
They assure us they already have too much of this world's goods. Please, no gifts!
Ashley loves blue and is planning on using shades of blue throughout her home. We all hope Eric will agree!
Phrases
an informal occasion
friendship is gift enough
grateful for the gift of your friendship
her color scheme is
in lieu of gifts
let's shower her and the baby with
let's surprise her with
may make a contribution to
may send a donation to
more than adequate to
no gifts, please
please wrap your gift in
please don't bring gifts
presence is gift enough
requests that you not bring gifts
the bride is registered at
those who would like to
to express your good wishes
your presence will be the best present
3

. Indicate appropriate dress, if there is any reason for question.
Sentences
Since we will be gathering outdoors, dress casually.
This is a best dress occasion.
Formal wear will be appropriate.
Outdoor sportswear is quite appropriate.
We encourage all to come in 1950's dress.
Costumes are encouraged, without masks.
Come dressed casually, and bring swim suits.
Please dress informally.
Please note that this is a black-tie event.
Be sure to wear old clothes. We will be making a mess!
Phrases
best dress please
black-tie event
bring your swimsuit
casual dress is fine
come in costume
come dressed to the nines
dress casually
dress formally
dress will be
dress to the theme of
encourage you to
formal wear is
has requested that we
it gets chilly after dark
it will be quite cold, so
please wear sturdy walking shoes
please dress for the weather
please dress formally
pull out your glad rags
the theme of the masquerade is
wear old clothes
will be gathering outdoors
will finish up on the beach
4

. Express anticipation, and ask for a response by a specific date.
Sentences
We look forward to sharing a delightful time together. Please R.S.V.P. by May 15.
We eagerly await your response. Please R.S.V.P. by June 1.
To help us plan, please let us know by 1 April whether you will be joining us.
Would you please let us have your answer by October 5?
We will appreciate having your response by December 20.
We hope you will join us. Please R.S.V.P. by calling 555-5555 before<br />May 30.
We hope you can work this into your busy schedule.
We believe you will enjoy yourself, and we look forward to having you with us.
Let us know if you will be able to come. Just call us at 555-5555.
We do hope to see you there. Just come along any time during the afternoon.
Phrases
anxiously await your response
delightful time together
do hope to see you there
having you with us
hope you will join us
if you are able to join us
just call us at
let us have your answer by
look forward to seeing you
planning to have a wonderful time
please let us know by
please respond by
please R.S.V.P. by
please R.S.V.P. before
to share in our joy
to help us plan
will be lots of fun
work this into your busy schedule
would appreciate hearing from you by
would be so pleased to see you there
Related Resources
Still can't find the right words for your invitation letter?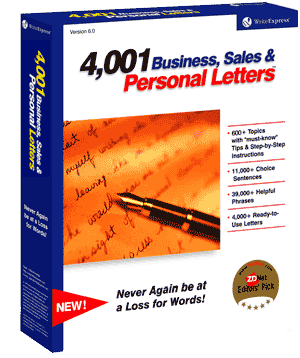 You will with our 500 letter-writing tutorials!
Find the invitation letter that fits your needs and copy it directly into Microsoft Word or your favorite word processor.
Or let our 500 letter-writing tutorials guide you step-by-step through the writing process, suggesting sample phrases and sentences for each writing step. In minutes, you can write an effective invitation letter.
Print your invitation letter and send it!