Tips
Since this event is a happy occasion, the invitation should reflect that positive feeling. Make it clear to the reader whether attendance is mandatory and who is invited.
Steps
1

. Extend the invitation, naming the event and including the date, time, and place. You may mention other participants who will attend. Also, explain the purpose of the event: to honor someone, to celebrate an anniversary, to introduce a product or a service, etc.
Sentences
You are cordially invited to a reception on July 5, 2002, at 8:00 p.m. in the Director's Lounge in honor of John Doe on the occasion of his retirement from Doe Medical Center. Eric Johnson will be collecting for a gift for him. We suggest a $5.00 contribution.
We are pleased to invite you to a cocktail party and private showing of the new Doe cosmetic line next Tuesday, March 1, at 7:00 p.m. at the Center Court of Jane's Place. Consultants will be on hand to answer your questions.
We are reserving a seat for you at the official opening of the new science building on Thursday evening, October 5, at 6:30 p.m.
We are having a surprise party next Tuesday afternoon to honor Eric Johnson on forty years of employment at Doe Corporation. He is still not planning to retire anytime soon! Please bring a gag gift for him.
Doe Corporation will host an open house at the new plant on Wednesday afternoon, July 14, from 1:00 till 7:00 p.m. We would be honored if you would attend.
With our recent record-breaking sales, we surely have something to celebrate this quarter. You are all invited to a party in the cafeteria, starting at 4 p.m. on Friday, September 2.
The Doe Corporation cordially invites you and a partner to attend our customer appreciation dinner on Friday September 2, at 7:00 p.m., in the Springfield Hotel's Blue Room.
We invite you to meet Professor Johnson, the inventor of the Doe processor, who is visiting from our head office. He will be with us early next week. The reception will take place on Tuesday, June 4, from 4:00 to 6:00 p.m., in the executive lunchroom.
Phrases
a reception to be held on
a reception honoring
an open house at our new
are cordially invited to
are reserving a seat for you at
are delighted to invite you to
are pleased to invite you to
honored if you would attend
hope you will be able to
if you will be there
in honor of
invite you to attend
invite the whole staff to
join us for a
many years of service
meet me for lunch at
official opening of
on the occasion of
please join us on
private showing of
request the pleasure of your company
to celebrate with us
2

. Mention whether refreshments will be served.
Sentences
Dinner will be served at 7:00 p.m.
Be sure to let Jane know if you can make it, so that we can order sufficient refreshments.
A buffet will follow the ceremony.
Snacks and soft drinks will be provided.
We will provide an open bar and refreshments.
Lunch will be provided.
We will meet in the lounge for cocktails at 6:00 p.m., and then go in to dinner.
There will be a Scandinavian smorgasbord.
Refreshments will be served after his speech.
Phrases
a banquet will follow
a light luncheon
complete with a lobster dinner
enjoy some great food
followed by a light buffet
food there is excellent
join us for lunch
open bar and refreshments
provide a no-host bar
snacks and soft drinks
take a break for lunch
the food is excellent at
will serve light refreshments
will meet for drinks at
will be served
will provide refreshments
will be provided
will reserve a table for
will be available
your favorite restaurant
3

. Express anticipation and ask for a response by a specific date.
Sentences
We look forward to seeing you again. R.S.V.P. by May 15, 2002.
We anxiously await your response. Please respond by June 1.
To help us plan, please let us know by April 1 whether you will be joining us.
We will appreciate your response by December 20.
We hope you will join us. R.S.V.P. by calling 555-5555 by May 30.
We hope you can work this into your busy schedule.
We believe you will enjoy yourself and we look forward to having you with us.
Let Jane know by Monday if you plan to attend.
Please let me know if you can make it.
Phrases
anxiously await your response
give me a call on
look forward to having you with us
hope you will join us
if you are free to join us
if you are able to join us
just call us at
let me know how many will attend
let us have your answer by
look forward with pleasure to your acceptance
look forward to hearing from you
please note on the enclosed card
please respond by
please let us know
please respond before
R.S.V.P. by
R.S.V.P. no later than
R.S.V.P. - Regrets Only - 555-5555
send your reply to
to help us plan
will appreciate hearing from you by
work this into your busy schedule
would appreciate an R.S.V.P. by
write or phone by
Related Resources
Still can't find the right words for your invitation letter?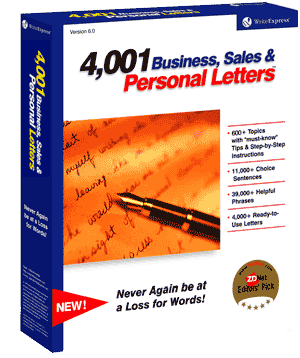 You will with our 500 letter-writing tutorials!
Find the invitation letter that fits your needs and copy it directly into Microsoft Word or your favorite word processor.
Or let our 500 letter-writing tutorials guide you step-by-step through the writing process, suggesting sample phrases and sentences for each writing step. In minutes, you can write an effective invitation letter.
Print your invitation letter and send it!