Tips
This letter generally functions as a personalized sales tool to cement relationships with customers and colleagues and to secure new ones.
Steps
1

. Spark the reader's interest.
Sentences
At this year's trade show we will feature two new product lines you won't want to miss.
Doe will have display booth #67 at this year's Home Schooling Convention.
We have managed to schedule John Doe as the keynote speaker at our conference this year!
Do you need an effective water softener with a lifetime warranty? As exclusive dealers for Doe Water Softeners, we can provide you with such a system.
What do you expect to gain from a seminar? You will leave this one with a host of techniques for achieving a more efficient plant.
Trying to find first-class salespeople doesn't have to be a perpetual headache. The symposium scheduled for October 10 is better than aspirin--it can take the headache away permanently.
We have four complimentary tickets for you and your family to preview our most recent fully animated children's film classic Doe's Winter.
We are about to launch a new product that will completely revolutionize the computer industry.
Come sample some of Springfield's finest cuisine prepared by the area's most reputable chefs.
Phrases
a major new product line
a revolutionary new product
are about to launch a new
as exclusive dealers for
at this year's show
attend our seminar on
come see our new
come sample our new
conference will be bigger and better than ever
constantly changing industry
find out what's new and challenging
get to know various suppliers
have complimentary tickets for you
invite you to attend
keep in touch with what's happening
keynote speaker will be
one of the biggest events of the year
opportunity to examine new lines
symposium is scheduled for
this seminar has helped many
will find us in
will be introducing our new
will feature
will completely revolutionize the
won't want to miss
2

. Extend an invitation while offering the reader an incentive to attend.
Sentences
I would like you to attend the trade show to see the educational tools our company offers.
After you read the enclosed brochure, we hope you will join us for a demonstration at the trade show Friday.
You will learn about exciting new developments in the field of automation.
We would be pleased if you would join us for this previewing event.
We invite you to be one of the first to witness this exciting new technology.
We will feature workshops in which you can work on company problems and challenges with an expert literally sitting by your side.
Doe invites you to view our newest products and services. Sales Representatives will be on hand to provide all the information you need and to answer your questions.
Discover which forces are driving the market and how to use them to your company's advantage.
Doe's annual trade show provides a quick, reliable way to keep abreast of new products for the home. Mark your calendars now!
Please join us to sample a variety of dishes from 50 of the area's most popular restaurants.
Phrases
as a free gift just to thank you for stopping by
be some of the first to witness
be sure to stop by our display
can get your orders placed early
come to understand the forces at work on
exchange ideas with other
explain our dealer program
giving away prizes every hour
have some exciting samples for you to try
invite you to view our
keep abreast of new products in the market
latest products and services
learn about exciting new developments
learn the newest techniques and ideas in
little gift set aside for you at the booth
meet competitors and share ideas
nationally recognized speaker
pleased if you would join us
products offer a substantial profit potential
providing a variety of seminars through the day
see what we have to offer in the field of
sign up for the workshops on
special demonstration every hour
will be featuring hands-on experiences in
will be on hand to answer your questions
will introduce new ideas and materials on
would like you to attend as our guest
3

. Provide specifics relating to the event, such as the date, time, and location.
Sentences
Plan to attend the annual Association of Middle Managers conference in Springfield, Kansas, March 12 to 14, 2002.
This year the Home Schooling Convention will be held October 16-18 at Doe International, 1600 Main Street, Springfield.
Please join us at the Doe Center, 1600 Main Street, Springfield, on September 15 at either 11:00 a.m. or 2:00 p.m.
We will hold the preview on Saturday, June 5, at 3:00 p.m. at Doe Cinemas located in downtown Springfield. Present this certificate at the door to receive your four complimentary tickets.
The seminar will be held at the Springfield Convention Center, on June 2, starting with a continental breakfast at 7:30 a.m.
The presentation will take place in the Doe Conference Center from 1:00 to 4:00 p.m. on Thursday, May 22.
If you are planning to attend the trade show, we hope you will visit us at booth # 54 in the Exhibition Hall.
The trade show will be held March 3-5 from 8:00 a.m. to 5:00 p.m. in the lobby of the Doe International Building, 1600 Main Street, Springfield.
Bring your appetite and a friend to the Doe Center, Tuesday, August 5, from 11:00 to 2:00 p.m.
The symposium will kick off on March 15 at 8:00 a.m., at the Doe Conference Center. Don't miss this exciting one-day event.
Phrases
can't miss our display
conveniently located near
demonstrations every hour on the hour
don't miss the preview of
exciting one-day event
have enclosed a floor plan map
mark your calendar
plan to attend
please join us at
registration will begin at
show is coming to Springfield next week
trade show is coming up on
visit us at booth number
will start with a
will find us at booth number
will be the biggest and best trade show ever
will kick off at
will have display booth number
will take place in
will be held on
4

. Express anticipation of the reader's acceptance.
Sentences
Please call me at 555-5555 to let me know whether you will be able to attend.
We hope you will visit us during the convention to learn more about our products, publications, and plans to lead our children into the next century.
I am looking forward to meeting you personally at the conference.
We hope your schedule will allow you to attend this exciting and helpful seminar.
We will appreciate your timely response to this invitation. Simply R.S.V.P. by returning the enclosed postcard.
We are confident you will leave the theater feeling uplifted and inspired.
Seating is limited, so please call Jane Doe at 555-5555 to reserve your place.
We are looking forward to your visit and are confident that you will find it worthwhile.
Each workshop is limited to twenty participants, so register early. We will make every effort to accommodate participants by scheduling extra sessions according to demand.
We think you will find a visit to our booth the most valuable time you will spend at this year's trade show.
I have enclosed a floor map with an X showing where we will be located. We hope to see you there.
This is our way of saying thank you for your patronage during the past year.
Be sure to take advantage of the early registration discount.
Phrases
are confident that you will find it worthwhile
be sure to look us up
contact me as soon as possible
drop by and register at the booth
early registration discount
for more information, call me at
hope you will be there
hope to meet you there
just identify yourself to our representative
look forward to seeing you there
looking forward to meeting you personally
most valuable use you can make of a day
our way of saying thank you for
please call to let me know if you can make it
return the enclosed card to reserve your gift
seating is limited, so
to let me know if you will attend
use the enclosed postcard to
whether you will be able to attend
will be worth every minute
will appreciate you timely response
will call to confirm your attendance
will call to find out how many tickets you need
workshops are limited to
Related Resources
Still can't find the right words for your invitation letter?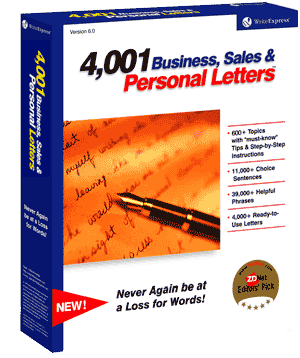 You will with our 500 letter-writing tutorials!
Find the invitation letter that fits your needs and copy it directly into Microsoft Word or your favorite word processor.
Or let our 500 letter-writing tutorials guide you step-by-step through the writing process, suggesting sample phrases and sentences for each writing step. In minutes, you can write an effective invitation letter.
Print your invitation letter and send it!