Tips
Changing an order is not difficult if you can catch it before it is processed or shipped. Because of its urgency, this information is best transferred by phone or fax. It is imperative that you provide sufficient information for the reader to track it down.
Steps
1

. Indicate why you need to change your order.
Sentences
This morning, while looking over the order I sent to you yesterday, I realized that I requested 15,000 quartz halogen task lights instead of 1,500. Clearly, I need to change the order.
After looking more closely at my inventory printout, I realized that I didn't order enough micrometers for our big micrometer sale next month.
The owners and architects of the Doe Building have been adjusting the plans. Consequently, the structural steel specifications have changed slightly.
When I ordered seats for the evening performance on November 12, 2002, I expressed a preference for the mezzanine section, but I neglected to mention that my wife is confined to a wheelchair. Please provide aisle seats.
The demand for umbrellas this fall has far exceeded our expectations, so we will need to double our order.
Phrases
a clerical error
a typographical error
adjustments to our plans
afraid that I need to
after looking more closely
an unfortunate error
change our delivery date
changes in the specifications
circumstances have altered
due to unprecedented demand for
had not made provision for
make a change in our order
minor changes to
possible to reschedule
realized that I failed to
reviewing yesterday's order
revise our agreement
take into consideration
unfortunately neglected to
will need to change
2

. Identify the original order by date and provide other information sufficient for the reader to find it. Clearly explain the change you desire.
Sentences
I ordered a "ten hp extra high torque motor," stock #6K885, listing for $774.00 in your most recent catalog. This should actually be the five hp model, stock #6K882, for $444.50.
My order, dated October 23, 2001, requested several items for our Christmas display, but you need to cancel the potted pear tree, #A776. We still have the tree we ordered from you last year, which is flourishing and now three feet taller!
The revised specifications and drawings for the structural steel are attached.
Since my partner has resigned from the organization, his name (John Doe) needs to be removed from the card.
The part I originally needed was described in your catalog as "Stock # 6C647, electrical plug lockout device," listing for $19.56 each. However, I found that what I actually need is Stock # 6C650, the next larger size.
Phrases
account number is
customer number is
details I gave over the phone were
enclosed is a copy of
faxed the original order
had requested a
have enclosed the
items in question are
kindly delete the
order was placed by
order number is
placed the order on
our order consisted of
placed on purchase order number
placed the order on
purchase order number is
quantity should be changed to
replace with item number
revised specifications are
should be replaced by
telephone number is
the following items
the original order was dated
the purchase order number is
the following list of items
3

. Adjust payment arrangements, if necessary, to reflect the cost of the new order.
Sentences
The order was to be charged to my account.
If you will inform me of the additional cost that this change will incur, I will forward another money order to cover the difference.
I assume that my charge account bill will reflect the changes I specified here.
I originally arranged to pay for this shipment COD, so if that is still acceptable I will pay when the order arrives.
I assume that this change in the order will result in a price reduction, so please refund the difference.
Phrases
bill the service charge to
bill me for the additional
in accordance with your policy on
kindly credit my account with
partial credit to my card
please refund the difference
please leave the credit on our account
please refund my
request a refund of the balance
same payment arrangements
send me a statement
send me a check in the amount of
statement will reflect
the provisions for canceled or altered orders
understand that there is a fee
will contact you regarding
will expect a partial refund
will pay the balance on delivery
will send an additional check
4

. Give apologies and express appreciation.
Sentences
I depend on your rapid service and high quality products to keep my equipment running, and I apologize for any inconvenience this change may cause.
I am sorry for the trouble.
Please accept my apology for this inconvenience.
I appreciate your attention to this matter and extend my apologies.
I am disturbed that my technician did not do a better job of diagnosing the problem in the first place. His error has caused a lot of inconvenience for your staff. Thanks for your understanding.
Phrases
always appreciate your
am sorry for
any trouble we have caused you
apologize for any inconvenience
apologize for our unfortunate error
appreciate working with
appreciate your patience
assured that this will
extend my apologies to
has always impressed me
have always been satisfied with
look forward to
please accept my apologies
regret causing you inconvenience
thank you for your understanding
the services you provided
with your customer service
with your products and service
your attention to this matter
your professional attitude
your prompt attention to
Related Resources
Still can't find the right words for your order letter?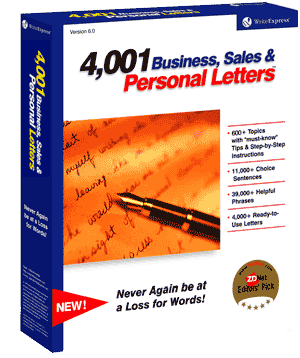 You will with our 500 letter-writing tutorials!
Find the order letter that fits your needs and copy it directly into Microsoft Word or your favorite word processor.
Or let our 500 letter-writing tutorials guide you step-by-step through the writing process, suggesting sample phrases and sentences for each writing step. In minutes, you can write an effective order letter.
Print your order letter and send it!