Tips
Orders may become confused or damaged, due either to misunderstanding or carelessness. The shipment should arrive with written instructions for returns. If it does not, call the company to obtain instructions or an MRA (merchandise return authorization) number. This follow-up letter confirms the arrangement and provides a paper trail.
Steps
1

. Acknowledge receipt of the order.
Sentences
Thanks for filling my order so promptly.
I appreciated the rapid delivery of my order. It arrived this morning.
My order has arrived at last, but not in satisfactory condition.
I have just received the shipment that I ordered on July 15.
I found your package sitting on my desk this morning--less than 24 hours after I placed my order.
When I checked my order today, shortly after it arrived, I found nearly everything as I expected it.
Thanks for filling my order so promptly and, for the most part, accurately.
I have finally received the goods I ordered on March 10, but am afraid that the consignment is incomplete.
Phrases
appreciate your
appreciated the early delivery
arrived at last
arrived so quickly
arrived, as always, very promptly
has finally arrived
have finally received
have just received the
in unsatisfactory condition
my order number
order arrived on
order is incomplete
received my order
shipping my order so promptly
thank you for
the order I placed on
the goods I ordered
the punctual arrival of
very prompt delivery
was pleasantly surprised by
was initially very pleased to
well before my deadline
your quick turnaround
your prompt delivery impressed
2

. Explain what is wrong with the order.
Sentences
However, as we discussed on the phone, I am returning several items that don't belong to me. I think they were put into my package by accident. My MRA number is P-8765.
Unfortunately, the boots are not the size I requested. I can't get my size 10 foot into a size 6 boot!
The pewter pieces arrived intact, but two of the glass pieces were broken.
While the package arrived on time, the order was not filled as accurately as I expected.
I am disappointed, however, that the outer case of the printer is damaged. A piece has been broken off the left side.
Several items were checked off on my order form, but they were not in the box. I don't know what happened, but they did not arrive.
Several of the items were quite different from what I ordered.
The doll house arrived in good condition, but two of the furniture sets I ordered were missing.
The shipping carton was quite badly damaged too, so the problem may have occurred during shipping.
Phrases
am returning several items
appears to have been an error
are the wrong size
arrived in poor condition
different from what I had specified
don't seem to belong to
errors in the order
included in error
is unfortunately not the first time
items were missing
most of the order is fine, but
must have been
order was incomplete
order must have been confused with
problem with packing
several items were damaged
several items were missing
the shipping container does not appear to be damaged
the shipping container is also quite severely damaged
was not accurately filled
was not what I ordered
was disappointed to discover
were quite different from
3

. Clarify what action you want the shipper to take. Give sufficient detail to identify your order.
Sentences
I will return the incorrect items as soon as I receive the prepaid shipping carton you agreed to send, but please send the models I ordered immediately.
Please exchange the enclosed items for model numbers 243 and 667, as specified in my original order. I am sending them by mail, as we agreed, and will expect you to credit my account with the shipping charges.
I am returning the merchandise that was in excess of what I ordered. Please credit my account for the return, as we agreed on the phone. My MRA Number is DP-123.
Following your instructions, I am returning the broken pieces for replacement.
Please send the missing items.
I know it's a minor thing, but I will appreciate your repairing or replacing the damaged side piece.
Please exchange the enclosed part (#4321) for the correct one (model #1234) and send the switch which I ordered and paid for but did not receive (model #5678).
Phrases
am returning the
as we discussed on the phone
as we agreed
as we arranged by phone
as soon as possible
at your expense
await your instructions about
cancel the order
credit my account with
either repair or replace the
following your instructions
have enclosed a copy of your packing list
in the original shipping carton
kindly ship the replacements
MRA (merchandise return authorization) number is
please replace the
prepaid shipping carton
replace the damaged items
return my money
send the missing items
send me shipping instructions for
send the correct items
the merchandise which I did not order
using the shipping label you supplied
will arrive too late for
4

. Close by requesting that your reader address the problem immediately.
Sentences
I would appreciate your looking into this matter.
I have enjoyed doing business with you in the past, and hope that you will be able to rectify this situation.
I have always appreciated your fast and efficient service, and know that this error is a departure from your usual standards.
I trust that there was no ambiguity in my order. If there was, I can only apologize.
Thank you for addressing this problem.
I trust your corrective action will clear up the problem for both of us.
I trust that the problem will not recur.
This is the first time there has been a problem with one of my orders. Thanks for your usual efficiency.
Phrases
a return to your usual
acting as expeditiously as possible
addressing the problem
ambiguity in my order
departure from your usual standards
get this sorted out
have enjoyed doing business with you
hope that you will be able to
hope to receive
hope that there was no
look forward to
looking into this matter
problem will not recur
receiving the correct merchandise
receiving the products I ordered
rectify the situation
the balance of my order soon
trust that this will
with some urgency
would appreciate your
your usual efficiency
your usual impeccable service
Related Resources
Still can't find the right words for your order letter?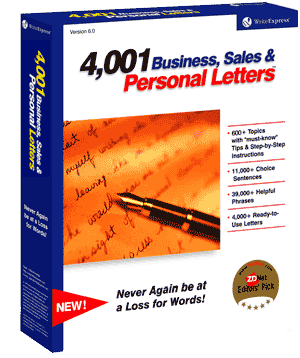 You will with our 500 letter-writing tutorials!
Find the order letter that fits your needs and copy it directly into Microsoft Word or your favorite word processor.
Or let our 500 letter-writing tutorials guide you step-by-step through the writing process, suggesting sample phrases and sentences for each writing step. In minutes, you can write an effective order letter.
Print your order letter and send it!