Tips
Customers should always be told as soon as possible if you cannot ship an order on time. Unless you cannot ship at all, it is important to give the customer the option of waiting or receiving a refund.
Steps
1

. Apologize for your inability to deliver the order.
Sentences
We received your order of March 15, but unfortunately we no longer carry the item you requested. We checked with the manufacturer, who informed us that he no longer makes it.
We appreciate your business and your recent order, but regret to say that we cannot supply the part you want.
Thank you for your recent order. Unfortunately, our main warehouse was destroyed by fire last week, and we anticipate a three-week delay before we can ship your order.
There has been an overwhelming demand for our new porcelain doll, which is on back order.
I am sorry to report that we no longer manufacture canisters in the two-quart size.
We are very sorry that we will be unable to fill your order for oak bookshelves for another ten days. We have had problems at the lumber mill that have caused delays all the way down the line.
Phrases
a valued customer
always appreciate receiving
anticipate a delay
anticipate being able to ship
apologize for the inconvenience
appreciate your business
are informed by the manufacturer
are very sorry that
are unable to supply
as soon as possible
because of overwhelming demand
can no longer provide
cannot obtain the part
demand has been very heavy
do not stock the
factory has closed down
greatly appreciate
is on back order
item is not listed in our
no longer carry
no longer make
no longer manufactures
no longer keep
received your order for
regret to report
sold out before
thank you for
unable to fill your order for
unavoidable delay
will send your order
wish we could send it right away, but
your recent order
2

. Discuss the customer's options.
Sentences
I would suggest that you contact an antique automobile parts supplier, like Doe Auto Parts in Springfield. A second-hand parts dealer might also be able to help.
You may wish to consider the two-liter size, number 5555 in the catalog. It is just a fraction larger than the old two-quart model.
We are returning your money order.
If you are willing to wait for the shipment, do nothing. If, however, you would prefer to cancel your order, please call our toll-free number 1-800-555-5555, and we will be happy to return your check.
Doe Corporation makes a very similar product that may suit your needs. Their phone number is 555-5555.
We will send the doll as soon as we receive it, along with a small gift as a token of our appreciation for your patience.
Your refund is enclosed.
I suggest you call the Doe store in Springfield. I am confident that John can help you.
While we no longer carry the pumps you ordered, we do carry a full line of water treatment products and equipment. I have enclosed a copy of our most recent catalog.
We will, of course, send it express at no extra charge.
Phrases
am confident that
appreciate your patience
are returning your
as soon as it arrives
as soon as we receive
as soon as we are able
as a token of
call our toll free number
consider trying our
express your order to
if the wait will be inconvenient
if you would prefer
if you are willing to
just let us know
makes something similar
may I suggest that
may meet your needs
may wish to consider
may work out for you
might be able to help
might be equally pleased with
refund is enclosed
send it express
should take about
suggest that you
to cancel your order
to choose something else
will send your order
will ship your
will be happy to
3

. Close with an expression of appreciation or good wishes.
Sentences
I am sorry we don't have what you need, but wish you luck in finding it.
Thank you for your patience. We appreciate your patronage.
Thanks for your order. We hope you will think of us again when you need precision equipment.
We hope our suggestion works out for you.
I am confident you will find it was worth the wait.
Phrases
a valued customer
am confident that
appreciate your patience
appreciate your understanding
are sure you will be pleased with
as soon as they arrive
be able to find what you need
best wishes for
hope you will
sorry we are unable to
thank you for your patronage
thank you so much for
thank you for your order
thank you for your continued business
think of us again
this unusual situation
this unavoidable delay
well worth the wait
will rush your order to
will let you know
wish you luck in
Related Resources
Still can't find the right words for your order letter?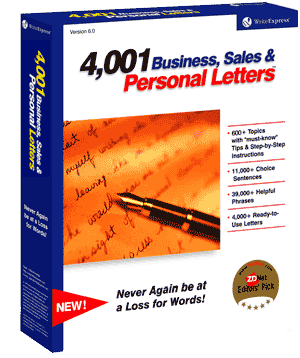 You will with our 500 letter-writing tutorials!
Find the order letter that fits your needs and copy it directly into Microsoft Word or your favorite word processor.
Or let our 500 letter-writing tutorials guide you step-by-step through the writing process, suggesting sample phrases and sentences for each writing step. In minutes, you can write an effective order letter.
Print your order letter and send it!