Tips
This letter is a positive statement of your best judgment. Your opinion may have a far-reaching effect, so make it defensible.
Steps
1

. State your recommendation in the subject line or first sentence.
Sentences
After studying several competing models, I am pleased to recommend the purchase of the Q500 compressor.
Our committee has voted unanimously to recommend that we use Doe's Lawn Care Service.
After subjecting it to several laboratory tests, we find the Doe stainless steel hinge to be clearly superior to the one we are using. We therefore recommend that we use it in all our laboratory equipment.
I recommend that we accept John Doe's suggestion.
I recommend that we approve this purchase so our delivery personnel will have safer vehicles.
Considering the time we spend repairing our equipment, I believe we would be farther ahead if we were to lease it. I recommend we look into that possibility.
Phrases
after careful study
after studying several competing models
after subjecting it to stringent testing
after investigating several approaches
after a thorough review of
believe that it will be the best
can best approach the problem by
conduct a feasibility study
enthusiastically recommend that we
have seen impressive results
have no hesitation in recommending
is clearly superior to
look into the possibility of
recommend the introduction of
recommend that we accept
recommend that we change to
suggest that we approve the
take action immediately to
the best way to curb the problem is
will be in our best interests to
2

. State the resulting benefits as succinctly as possible. The use of "bullets" to mark a list of benefits may be helpful.
Sentences
If we do this, the following benefits can be realized:<br /> - production time will decrease by 10%<br /> - morale will improve<br /> - employees' writing skills will improve<br /> - our product will have longer shelf-life<br /> - insurance costs will stabilize<br /> - we will be less vulnerable to litigation
Our lawns would look more presentable, and our staff could spend more time doing their primary jobs.
We could minimize the time lost on making repairs. In the end, we would probably save money because, although the machinery would be more expensive, our productivity would be greater. I also think it would give a big boost to employee morale.
Everyone would be pleased to get another day off to prepare for the holidays, and business would not suffer.
Phrases
anticipate savings of
be less vulnerable to
benefits that can be realized
benefits would offset costs
can expect the following
can achieve the following
could spend more time on
cut down on waste
if we implement these
improved morale throughout
increased competitiveness
increased long-term profitability
keep on the cutting edge of
maintain our reputation for
minimize time lost on
outweigh any objections
place a greater emphasis on
positive effects on
provide incentives for
see an improvement in
significant benefits to
the proposed restructuring
will stabilize
will be able to complete
would see increased productivity
3

. Close by restating the recommendation and suggesting action to follow. Provide a simple way for your reader to notify you of the decision.
Sentences
In short, buying the Q500 compressor makes good business sense. I will call tomorrow to see whether we should proceed.
I am sold on the Q500 compressor. I hope its purchase will be approved.
If the directors approve this recommendation, please call me to let me know.
Since this new opportunity gives so many benefits to the company, I hope it will be approved.
For these reasons, I recommend that we incorporate the committee's suggestion.
I recommend that we wait until we get next month's figures before we announce a decision. In the meantime, we should notify the suppliers.
If this recommendation meets with your approval, please initial the memo at the bottom and return it to me.
I will call on Tuesday to see whether this recommendation has been accepted.
Phrases
I am pleased to recommend
feel satisfied that
for these reasons
happy to answer your questions
if this meets with your approval
implement at least a pilot program
implementation as soon as possible
in making your decision
in the meantime we should
incorporate this recommendation
is an excellent opportunity
makes good business sense
makes sense to act immediately
recommend that we proceed
recommend that we approve
should act as soon as possible
so beneficial to the
was an easy decision
will present this to the board
will gain final approval
Related Articles
Related Resources
Still can't find the right words for your recommendation letter?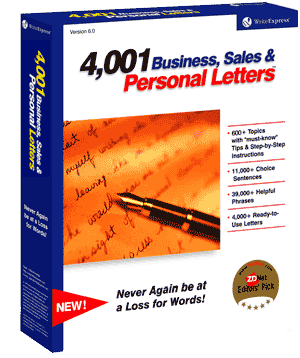 You will with our 500 letter-writing tutorials!
Find the recommendation letter that fits your needs and copy it directly into Microsoft Word or your favorite word processor.
Or let our 500 letter-writing tutorials guide you step-by-step through the writing process, suggesting sample phrases and sentences for each writing step. In minutes, you can write an effective recommendation letter.
Print your recommendation letter and send it!