Tips
Always thank a person who permitted you to use his or her name or who wrote a letter of reference. Your letter not only shows your appreciation, but also opens the door for you to ask for assistance again in the future, should you need it.
Steps
1

. Share the results of your job search, particularly if the recommendation paid off.
Sentences
I have been offered and have accepted the job I applied for with Doe Corporation.
I have made it to the second round of interviews, from which Doe's will make their final selection.
I got the job, and you made all the difference! Mr. Doe mentioned that they were most impressed with your recommendation. I am off to Springfield next week to start my new job.
I am still job-hunting. Unfortunately, when we reached the interview stage, I realized that this wasn't the right position for me.
It's been a long haul, but I have finally been offered the position I applied for at Doe's.
I got the job!
I am pleased to notify you that Doe Corporation has hired me as their new control engineer.
I have begun work at Doe's, doing exactly what I have always wanted.
This position could have been tailor-made for me, and it was your kind letter of recommendation that secured me the position.
Phrases
although I haven't yet
I am sure you will be pleased to hear
I am still job-hunting
I am eager to get started
can't imagine how thrilled I was
can't imagine what you told them about me
got the job I wanted
have been offered the
have accepted the
heard of their final selection
hope to drop in to see you before I leave
hope this trail leads somewhere
is the job I've been waiting for
let me bring you up to date
made all the difference
opinion was very valuable
verifying my qualifications
was a very important addition to
I was impressed that you would
we were most impressed with
I will be starting my new job on
won't know until next week
your kind recommendation
your comments were exactly
your excellent reference
your letter of recommendation
2

. Express appreciation for his or her assistance. If you are not certain whether or not the recipient actually wrote a letter of recommendation, do not refer directly to a letter.
Sentences
Thank you for taking the trouble to write a letter on my behalf.
I truly appreciate your taking the time out of your busy schedule to help me secure employment.
I want you to know how deeply I appreciate your assistance.
It was so kind of you to allow me to use your name. Thank you very much.
Thank you for your help. I appreciate your letting me use you as a reference.
You have helped me in so many ways over the past few years, and now you have helped me to land such a wonderful job. Thank you from the bottom of my heart.
Thank you so much. I will never forget the kindness you have shown me.
Thank you for responding to their request for a letter so promptly. Your recommendation helped me very much.
Phrases
acting as a reference
allowing me to use your name
appreciate your help
being so helpful to us
deeply appreciate your
didn't want to let another day go by
don't know how to thank you enough
for your trouble
for your help
for responding to the request
for your assistance
greatly appreciate your kind words
have been a motivating force in my life
helped me very much
I hope you know how grateful I am
how much I appreciate your
letter of recommendation
letting me use you as a reference
owe you a debt of gratitude
responding so promptly
taking the time to
taking the time from your busy schedule to
thank you so much
thanks for everything
want to thank you for so many things
want to thank you for your help
will not forget your
without thanking you for
for your willingness to write a letter of reference
your part in helping me land this job
3

. If you would like to, offer some kindness in return, but take care not to embarrass the recipient.
Sentences
If you are ever traveling near Springfield, we would love to have you stay with us.
I hope that someday I can return the favor.
I would like to show my appreciation in some small way. May I take you out to lunch before I leave?
Is there anything I can do for you?
If there is anything I can ever do for you, please let me know.
I know you are a fan of Doe University basketball. Would you accept these tickets to next Friday's game as a small token of my appreciation?
I cannot thank you enough, but I will be thinking of you when I get that first system up and running.
I hope you know that the credit for my success in this position is largely yours.
Phrases
call on me for a favor
can ever do anything for you
can return the favor
can't imagine your ever needing a reference, but
give any assistance to
hope that someday
hope I can reciprocate in some way
if you ever travel near Springfield
if you are ever out our way
if I can help you in any way
in some small way
next time you are in Springfield
please let me know
please be my guest at
small token of my appreciation
want to show my appreciation
will think of you each time
would love to hear from you
would like to show my appreciation
Related Articles
Related Resources
Still can't find the right words for your recommendation letter?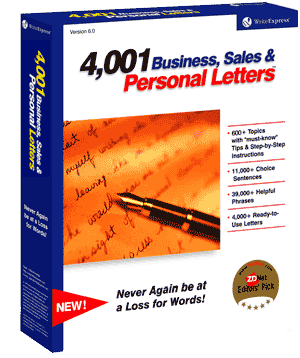 You will with our 500 letter-writing tutorials!
Find the recommendation letter that fits your needs and copy it directly into Microsoft Word or your favorite word processor.
Or let our 500 letter-writing tutorials guide you step-by-step through the writing process, suggesting sample phrases and sentences for each writing step. In minutes, you can write an effective recommendation letter.
Print your recommendation letter and send it!