Tips
Write this courteous letter as soon as you have decided not to hire the applicant.
Steps
1

. Thank the applicant for his or her application or interest in your company.
Sentences
Thank you for your recent application for employment at Doe's.
We appreciate your interest in a career with Doe's.
Thank you for applying for the position of head trainer.
Thank you for phoning to follow up on your recent interview for the supervisor position.
Thank you for sending a resume.
Thank you for filling out a Doe employment application.
Thank you for interviewing with us for the position of evening manager.
Phrases
appreciate the time you spent with me in the interview
appreciate your interest in our company
appreciate you taking the time to relate your qualifications
appreciate your interest in a career with
enjoyed meeting with you last Monday
everyone at Doe Corporation enjoyed meeting with you
has carefully considered your application
have recently completed a selective screening
looked over your resume with great interest
note of thanks for visiting with me about our present opening
thank you for discussing employment possibilities with
thank you for giving us the opportunity to review your
thank you for applying for the position of
thank you for phoning to follow up on your recent interview for
thank you for your recent application for employment at
thank you for interviewing with us for the position of
thank you for expressing an interest in our firm
thank you for taking the time to fill out an application for
thank you for your recent letter and your interest in
thank you for sending us information on your qualifications as a
thank you for your resume and letter in response to our ad
thank you for responding to our advertisement
to keep you up-to-date on the status of your resume
want to thank you for coming by our offices and interviewing
2

. Soften the disappointment, if possible, by noting any positive qualities of the applicant. Offer a brief explanation for your refusal.
Sentences
Your academic training is impressive, and your interview was excellent; however, we chose to hire someone who has on-the-job experience.
We were impressed by the qualifications of all the applicants. The choice was difficult, and we are sorry you missed out by a small margin.
We were impressed by your management experience, but because of financial considerations we selected an applicant with lower salary requirements.
Although your lengthy experience in the field is impressive, we were looking for someone with more specific training in computer applications.
Since we are not currently hiring sales clerks, we will put your application on file for next year. Should an opening arise that matches your qualifications, we will notify you.
Because we do not have a local personnel department, we are forwarding your application to Doe's main office. If you have further questions, you may write to that office at 1600 Main Street, Springfield, KS 12347 or phone them at 555-555-5555.
Phrases
after much serious consideration
after considerable debate about our needs
after lengthy consideration, we opted for a candidate with
because of financial considerations, an applicant with
candidate we selected, however, has considerable experience
carefully evaluated your background and find that it does not
choice was especially difficult
competition for the position especially keen
emphasize that you were one of three finalists out of
feel we need someone with a deeper knowledge of
felt that you could add a number of fresh and creative ideas
final decision was based solely on the amount of experience
found a number of applicants whose qualifications more closely
have chosen someone who has vast experience in
have no openings now or in the foreseeable future for
have made remarkable strides in your career to date
have selected another person who has the type of experience we
hire someone who has on-the-job experience
impressive but do not exactly match our current opening
it may be scant consolation, but you were a leading contender
looking for someone with specific training in
not ready to provide much training and therefore must insist on
only wish we had another position to offer you
pleased to know that you were one of our final candidates
regret to report that there are no appropriate openings
regret being able to hire only one of the applicants
regret to inform you that we have chosen another applicant
resume indicates that you have excellent qualifications
sorry you missed out by a small margin
surprising number of applicants responded to our notice
unable to meet your salary requirements
unable to offer you the position
unfortunately, we are not presently hiring
want to emphasize that the person we hired
were one of the leading contenders for the position
3

. Offer encouragement or best wishes for success.
Sentences
We believe, however, that you have much to offer an organization and wish you much success in achieving your career goals.
We wish you all the best in your employment search.
I expect that you will soon find the position that specifically matches your work experience.
Good luck in your job search, and thank you again for your interest in Doe's.
Thank you for thinking of us. We wish you every success.
Phrases
am sure you will find a suitable position in the near future
anticipate future opportunities for people with your
appreciate your interest in the firm
best wishes in your career
contact you immediately should another opportunity arise
continue to match your background against similar job openings
enjoyed visiting with you and discussing job opportunities
find a rewarding position where your talents can be fully used
have the highest regard for your ability
in the event of future openings in your field
keep your file active during the next
please stay in touch and let us know what you decide to pursue
should resubmit an updated resume at that time
taking the liberty of retaining your resume in our active file
talent and ambition will lead you to a rewarding future
thank you for the time and ideas you gave us
thank you for your interest in career opportunities with
thanks again for your interest in our company
will notify you immediately if a position becomes available
will keep the information you provided us in our active file
will do whatever I can to help
will keep your resume on hand in case
wish you all the best in your future endeavors
wish you every success for a rewarding future
wish you the best of luck in your search
Related Articles
Related Resources
Still can't find the right words for your refusal letter?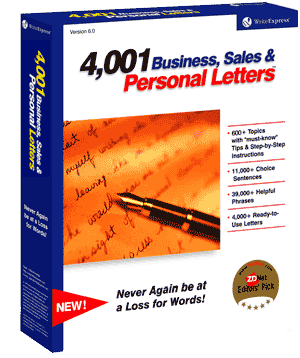 You will with our 500 letter-writing tutorials!
Find the refusal letter that fits your needs and copy it directly into Microsoft Word or your favorite word processor.
Or let our 500 letter-writing tutorials guide you step-by-step through the writing process, suggesting sample phrases and sentences for each writing step. In minutes, you can write an effective refusal letter.
Print your refusal letter and send it!