Tips
A tactful letter rejecting a bid informs the bidder of your decision, but still leaves the door open for future business.
Steps
1

. Express appreciation to the bidder for his or her effort.
Sentences
We appreciate your excellent work on the bid you submitted earlier this month.
Thank you for responding to our Request for Proposal (RFP) regarding a new accounting package for Doe's central office.
We appreciate the time that went into your impressive proposal of April 5.
Thank you for submitting specifications and a price estimate for recarpeting Doe's Department Store.
Thank you for presenting your proposed design for the mall to the board.
We examined with interest your price quotations on new light fixtures for our mobile home park.
Phrases
appreciate the time you devoted to studying our organization
appreciate the comprehensive, well-documented proposal
appreciate the time you took to create such a detailed
appreciate the comprehensive approach you took
appreciate your excellent work on the bid you submitted to us on
determining how we could work together on this project
examined with interest your quotation on
high quality of your proposal indicates the time and effort
references and list of previous clients are impressive
sincerely appreciate your effort in preparing such a lengthy
submitted in response to our request for bids
thank you for submitting specifications and a cost estimate for
thank you for responding so thoroughly and quickly to our needs
thank you for delivering your proposal
thank you for the well-thought-out proposal on
thank you for presenting your design to the board
thank you for your prompt reply to
the time and effort you put into your proposal is evident
2

. Describe, if appropriate, the bid's positive features. Explain briefly why you are rejecting it.
Sentences
We were impressed with your detailed and thorough presentation of your bid; however, we finally chose a bid with a lower overall cost.
Since your proposal did not conform to the format requested in our RFP, we did not consider it.
Although your firm was among the finalists, and the choice was difficult, we selected another firm's bid.
Your careful work impressed all who reviewed it. After considering the costs involved, we chose to take up the carpet and replace it with vinyl flooring that will be easier to maintain.
The design was innovative and dramatic, stylistically daring and original. The board agrees that your design was the most unusual one we considered. However, I am sorry to inform you that the board chose another design that will be less costly to build and maintain.
Your bid was very low, but our accounting department discovered several errors in figures you supplied. We have, therefore, decided to award the contract to another vendor.
Phrases
am sorry to learn that you are unable to provide
accounting department discovered several errors in figures
afraid I have some disappointing news
after deliberating over who to award the job to
after careful deliberation, we selected
analysis and discussion of the unusually competitive responses
another vendor whose timetable for delivery better meets our need
because of the overwhelming number of fine proposals submitted
carefully compared the responses we received to our request for
concluded that your company cannot immediately provide adequate
decision was based on several factors
evaluating committee has selected another vendor for
go with a firm a little closer geographically
had great difficulty in selecting a training firm to develop
have finally selected Doe Corporation to design the program
have decided to award the project to
have chosen a consultant who has
have two other vendors who submitted lower bids for the work
necessary to do the job most economically
need more liberal credit terms than you can offer
offered significant advantages in creativity and experience
primary factor was cost
regret to inform you that we have awarded another bidder the
requires at least ten workers on site at all times
since your proposal did not
unfortunately, yours came in too high for our budget
Doe Corporation is the lowest bidder
weighing the strengths and weaknesses of each
while all of the proposals were of exceptionally high quality
your firm was among the five finalists we considered
3

. Close with a positive remark, perhaps suggesting future possibilities for business together.
Sentences
We look forward to receiving your bids on future projects.
We wish you every success in your business.
Thank you again for your bid. We hope at some point in the future to be able to accept a bid from your corporation.
We appreciate your professionalism and invite your firm to bid on future projects.
I believe your unique designs will set a new standard in office furniture.
Best wishes for future success.
Phrases
appreciate your efforts and want to thank you for
appreciate the large amount of time and interest you put into
appreciate your prompt response to our bid request
aware of your company's excellent reputation
assure you that we will give you an opportunity to
be sure to include you in any future invitations to bid on
contact you again on future work assignments
continue to think highly of your firm
extend our entire company's thanks for
future work of this nature
hope to see your company name in the future
hope that in the future we will be able to contract with you
hope you will keep us in mind should you have other ideas for
hope to have better news for you on the next bid
hope you will consider bidding on future projects
hope to do business with you on another project
if, for any reason, we solicit another round of bids
keeping your information on file
likely that we will be able to do business together in the future
may we keep you on our list of outstanding producers
particularly impressed with the cost section
thank you for giving us the opportunity to review your proposal
when we have grown some more, we will again consider
will be in touch when we have other needs
wish you continued success in all your future endeavors
Related Articles
Related Resources
Still can't find the right words for your refusal letter?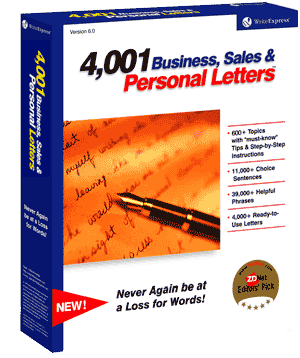 You will with our 500 letter-writing tutorials!
Find the refusal letter that fits your needs and copy it directly into Microsoft Word or your favorite word processor.
Or let our 500 letter-writing tutorials guide you step-by-step through the writing process, suggesting sample phrases and sentences for each writing step. In minutes, you can write an effective refusal letter.
Print your refusal letter and send it!