Tips
When warning a customer about suspending his or her credit or penalizing his or her account, be calm and courteous. Let the customer know that you would rather not have to take any action. Be concise and specific.
Steps
1

. Start positively. Assure the customer that you have valued his or her business and that you wish to keep him or her as a client.
Sentences
We appreciate the many orders your company has placed with us over the past six years and hope to provide you with the parts you need.
I have been happy to continue business with you in the last three months.
We know that there are many pharmaceutical companies on the market, and are grateful that you have chosen to do business with us.
We hope that the computer hardware we shipped to you last year has been reliable and has served your needs.
I have always appreciated the large volume of business that you have given us and have steered our way.
Phrases
appreciate your choosing us
are a valued customer
business you have steered our way
have been very happy to
have enjoyed working with you
have always appreciated
have appreciated your
hope to continue to
hope to keep providing your
is very important to us
large volume of business
mutually beneficial association
our long association
over these past few
profitable for both of us
relationship with you
serving your needs is
take great care to
to do business with you
value our association with
2

. Tell the client what action you plan to take and why.
Sentences
Because you have been delinquent on the last two bills, we regret to inform you that we will charge you a late fee of $150 on your next bill.
We have not received a payment from you for six months, and you have failed to acknowledge our three written notices (May 7, June 7, July 7). Unless we hear from you within two weeks, we will terminate your line of credit and send your account to a collection agency.
Your last payment (check #1111, dated Sept. 1) was below the minimum amount, so your next bill will include a $25 service charge.
Enclosed you will find a statement for services rendered. You were to have paid the balance of the account no later than thirty days after we finished the job. Our records show that we finished job # 33-31, weatherizing your office, on March 4. If we do not hear from you by July 15, we will be forced to turn your account over to Doe & Associates, our collection agency.
If you do not send us the $300 you owe by the end of this month, we will terminate your line of credit.
Phrases
account has become delinquent
balance is due and payable
enclosed is a statement
entire balance has therefore become due
failed to pay the minimum amount
have not received payment
have to suspend your credit privileges
if we receive your payment by
kindly send payment promptly
last payment received was
late charge has been applied to
liable for a late charge
next bill will include
our payment terms are
regret to inform you
retain an unblemished credit standing
send your account for collection
terminate your line of credit
unless we hear from you by
will be forced to turn your account over to
will appear on your next bill
3

. Close the letter on a positive note. Offer to do whatever you can to help. Assure the reader that you believe he or she will rectify the situation.
Sentences
If you cannot make the full payment, please contact us so that we can make suitable arrangements for payment.
We trust that you will heed this notice so that we can continue to do business together.
Should you need more time, please contact John Doe in the Credit Department and he will discuss the situation with you.
To facilitate your response, I have included a self-addressed stamped envelope. I hope to hear from you soon.
If you need to rearrange your payment schedule, please give us a call.
Phrases
accommodate you so far as we can
can make arrangements
can work out an arrangement
can possibly rearrange your payment schedule
continue to do business
do not enjoy dealing with you in this manner
for your convenience
have enclosed a postage-paid reply envelope
hope to continue our working relationship
hope to avoid this action
if you need to
if you cannot make full payment
keep your credit rating intact
please call us immediately
please contact us so that
should you need more time to
to facilitate your response
trust that you will
understand that unforeseen circumstances can
willing to discuss the situation with
Related Articles
Related Resources
Still can't find the right words for your reprimand letter?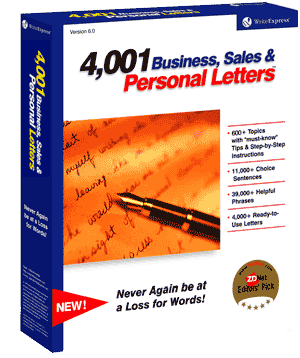 You will with our 500 letter-writing tutorials!
Find the reprimand letter that fits your needs and copy it directly into Microsoft Word or your favorite word processor.
Or let our 500 letter-writing tutorials guide you step-by-step through the writing process, suggesting sample phrases and sentences for each writing step. In minutes, you can write an effective reprimand letter.
Print your reprimand letter and send it!