Tips
If you plan to use another's published or unpublished materials to produce another document, you must request permission from the copyright holder.<br>To make it easy for the person to respond to your request, consider the following: 1) Either include a form for the person to sign and return, or send the letter in duplicate (with an approval space provided) so the person can keep one copy and return the other; 2) Include a self-addressed stamped envelope.
Steps
1

. Briefly describe your project and explain why you are requesting permission to use some of the reader's material in it.
Sentences
I am writing a textbook on acoustic phonetics to be published by<br />Doe Publishers next year. This letter is to request permission to include three of the illustrative spectrograms that you showed in your Paris conference presentation in my second chapter.
I am writing to request permission to use the sales projection graph shown in your July report in my company's newsletter.
We are preparing a text on dairy manufacturing in the nineties. Because your article in the December dairy magazine addresses a specific aspect of mastitis, we would like permission to include it in the text.
I am preparing a motivational video for our sales people and request permission to include the personal story you told about your grandfather in your speech last Friday.
I am preparing a brochure for prospective parents who visit my office. May I have permission to use a portion of the article you published on page A-3 of the Sentinel on Friday, June 3?
We are publishing a directory of "Speeches of the Year," and would like to use a quotation from you on the cover. May we use the final statement in your commencement address: "Strive to do well the work of the world"?
As a scout preparing a leadership course, I request permission to use the following sections from your book in my manual:
Phrases
am preparing a presentation on
am writing a
am requesting permission to
am preparing materials for
am compiling a
am seeking your permission to
are publishing a
are preparing a text on
are planning a broadcast of
are planning to present
ask your permission to
for distribution to
may we use
permission to use a portion of
permission to include
plan to perform your
request permission to
to be published by
would like to use
would like to have your permission to
2

. Give exact descriptions of the materials to be used, including page numbers, lines or paragraphs, titles, labels, or first and last phrases of excerpted material.
Sentences
The spectrograms that I have in mind are labeled examples four, five, and six, and are found on pages 20 and 24 of the conference proceedings.
I am enclosing a copy of that graph as it appears on page three of your report.
The part I would like to use begins at the third paragraph with the words "Although many husbands are..." and ends with the fifth paragraph and the words"...receive full satisfaction."
I have enclosed my version of the story as it would be told in the video.
I would use section one of Chapter five, with the exclusion of the last paragraph.
Phrases
a three-minute clip of
adapted for children
am enclosing a copy of
are found on pages
are labeled as follows
begins on page
exactly as it stands
from the notes I took
have simplified the text for
have marked the portions that
my recollection of what you said
need to adapt the language for
play the entire first movement
so you can check it for accuracy
starting on line
the part I would like to use
the enclosed paraphrase of
the second edition
the entire chapter on
the part I have in mind is
the entire chapter, except
the work in its entirety
will include the section on
will purchase the scripts from
with the exclusion of
with the following modifications
would like to quote from
3

. Explain how you envision your work being published or used.
Sentences
Doe Press will publish the text sometime next spring, and it will be available for use in advanced college and university courses nationwide.
The newsletter will appear in September and will be distributed to over 500 managers and salespeople in the Kansas area.
We will give a copy of the brochure to every patient who visits my office.
Our trainers will use the video to orient new graduates joining our sales force.
The University will send the directory to all alumni and other subscribers to our alumni magazine.
We also plan to translate the magazine into Spanish for use in our California offices.
Phrases
as a resource for
as an introduction to
at a community concert
by our church's youth group
by the school drama club
edition for nonnative students
educational materials for
in our magazine
in a training video for
in a textbook on
is a nonprofit organization
no admission charge
our local community theater
quoted in a speech at
the circulation is anticipated to be
used in classroom teaching
will give it to
will be performed on
will be translated into
will send it to
will present it as an example of
will use the material to
will distribute it to
will appear in
will be available for use in
will be open to the public
will cite it in
will publish it by
4

. State exactly what the credit or permission line will say, so the person can approve it or make suggestions.
Sentences
Your name and the title of your speech will appear under the quotation as shown below:<br />Quoted from Professor John Doe's "Trends in Advertising."
Both your name and the name of your magazine will appear on the credit page as follows:<br />Used by permission of Jane Doe. "Pharmaceutical Magazine."
With your approval, we will include the following credit line: Courtesy of John Doe.
Under the title we will add "Reprinted by permission.."
Unless you prefer otherwise, I will use the following credit line: Reprint courtesy of John Doe.
With your approval we will include the following credit: Reprinted by permission. From Agriculture Today, by H. Doe, September, 2001.
Phrases
a copy of your byline
as it appeared in the original
for all work cited
in the bibliography
in standard citation format
in the footnotes
on the credits page
reprinted by permission
reprinted courtesy of
the following acknowledgment
title of your
unless you prefer otherwise
used with permission
will naturally be acknowledged
will include the
will give credit for
will appear as follows
with your approval
5

. Express appreciation and, if appropriate, offer to share a copy of your finished work.
Sentences
I will sincerely appreciate your permission to use the illustrations, and will be happy to send you a copy of the published book. For your convenience I have included two copies of this letter. Please sign one and return it in the self-addressed envelope.
For your convenience, I have enclosed a permission form and a copy of this letter. Please fill out the form and return it in the self-addressed envelope, and keep the copy of the letter for your records. I will send you a copy of the complete work as soon as it is published.
Thank you for your kindness in allowing us to use this material.<br />Such statistics will be very useful for our trainers. You will receive a copy of the newsletter that contains your analysis.
If you grant permission for this use, please sign the bottom of one copy of the letter in the space provided and return it in the self-addressed envelope. We will include a permission line that reads, "Reprinted by courtesy of John Doe." Thank you for this consideration.
I am anxious to receive your permission. Please indicate on the space provided at the end this letter whether I can use your material. A self-addressed envelope is enclosed for your convenience.
Phrases
am eager to receive
am eager to proceed with
appreciate your
as soon as it is published
believe the finished work will be
for your convenience
have enclosed a copy of
if you grant permission for
in the enclosed envelope
please indicate in the space provided
please sign the permission form
please sign one copy of
return it in the self-addressed, stamped envelope
will be happy to send you
will sincerely appreciate
will be very useful to our
will receive a copy of
will be a great asset to
work is extremely relevant to
Related Articles
Related Resources
Still can't find the right words for your request letter?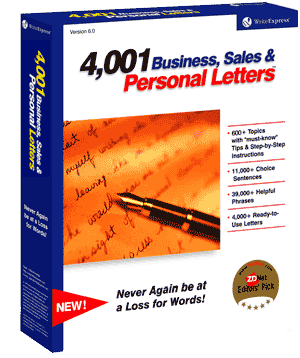 You will with our 500 letter-writing tutorials!
Find the request letter that fits your needs and copy it directly into Microsoft Word or your favorite word processor.
Or let our 500 letter-writing tutorials guide you step-by-step through the writing process, suggesting sample phrases and sentences for each writing step. In minutes, you can write an effective request letter.
Print your request letter and send it!