Tips
You are more likely to get the information you need if you make your request very specific. Although it is not necessary to explain your reason for requesting information, you may get a more helpful response if you do.
Steps
1

. Tell the reader exactly what information you need and ask him or her to send it.
Sentences
I intend to spend most of my time in Springfield researching material for my article and hope that you can send me a map of the city.
Please send all the tourist information you have regarding historical sites within fifty miles of your resort.
Could you please send me information about public facilities such as recreation centers and museums in your immediate area?
Will you please send me any helpful information that your research has uncovered concerning this disease?
I am extremely interested in your association. Will you send me current literature on your organization's purpose and on its charitable service?
Does my renter's insurance policy cover hazards that are found to be my fault? For example, if I were to leave my iron plugged in after leaving for work, and the house were to catch fire, would my policy cover the damages?
I need more specific information regarding your situation before I can answer your question, and I have not found the letter you referred to in your query. Perhaps you can send me a copy.
I would like to have more information about your organization's policies regarding bilingual education before I make a decision. Will you send me any literature you may have on the subject?
Phrases
a list of
a copy of
a suggested reading list
a description of
additional information about
any literature you may have
any helpful information
any information you can provide
any information you have available
any information you have concerning
current literature on
general information about
hope that you can send me
hope you can help me
information regarding
more information about
need more specific information on
please furnish me with
please send me
some references on
would like to have
would appreciate
2

. Explain why you need information.
Sentences
I have just received a job in Springfield, so my family and I are searching for a home in that area.
I have just retired and am planning to take a trip sometime this summer. The problem is that I haven't decided where I want to go.
I recently found out that I have an unusually high cholesterol level. When I asked my doctor for some informative literature about my problem, he gave me your organization's name and address. I hope you can help me.
Thank you for taking the time last Saturday to discuss my finances with me. After looking at the forms you gave me, I have come up with a few more questions that I hope you won't mind answering.
The sooner you supply us this information, the sooner we can send you our approval.
I will let you know what my decision is as soon as you send this information.
John Doe will be the Master of Ceremonies for next Thursday's annual awards night and he has requested a few more details about your professional life.
I know I have written you on three other occasions to ask different questions, but I need to understand exactly what my insurance policy covers.
I need this information in order to make an appropriate decision.
I can't offer you further assistance without this vital information.
We will gladly continue serving your needs as soon as we have this information.
Your immediate cooperation will assist me tremendously in deciding the next step to take.
Phrases
a lifelong interest in
after doing some research
am doing research on
am not quite clear about
am writing an article on
am particularly interested in
am processing your paperwork
am undecided about
am very interested in
am planning to
are investigating the possibilities
are searching for
don't quite understand the
fill in some background on
have just received
have some questions about
hope you can assist me
need some information about
received your application for
recently discovered that
was given your
will be giving a presentation on
as soon as we receive
matter is rather urgent, as
need this information in order to
this information is vital to
will assist me greatly
in order to process your
as soon as possible
3

. Thank the reader.
Sentences
Thank you for your help.
Thank you very much.
I will appreciate your cooperation.
Thank you in advance for your prompt reply.
Thank you for supplying us with this information.
I am grateful for your kindness.
Thank you for your time.
Thank you for responding.
We appreciate your help.
We will appreciate your prompt attention.
Phrases
am grateful for
for your assistance
for your help
for your time
hearing from you
in the near future
look forward to
receiving the information
supplying us with this information
thank you for
thank you very much
very much appreciate
will be greatly appreciated
would appreciate your
your patience and cooperation
your kind cooperation
your prompt reply
your attention to this matter
your prompt attention to
your timely response
your prompt response to
Related Articles
Related Resources
Still can't find the right words for your request letter?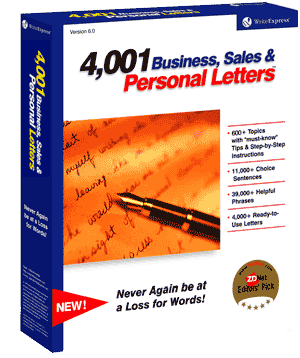 You will with our 500 letter-writing tutorials!
Find the request letter that fits your needs and copy it directly into Microsoft Word or your favorite word processor.
Or let our 500 letter-writing tutorials guide you step-by-step through the writing process, suggesting sample phrases and sentences for each writing step. In minutes, you can write an effective request letter.
Print your request letter and send it!