Tips
This letter is more formal than one asking a close colleague for a favor. You cannot always assume that the reader knows who you are or whether he or she remembers you from a previous meeting. If you have any doubt, introduce yourself before discussing the letter's purpose.
Steps
1

. If necessary, introduce yourself and/or your company.
Sentences
My name is John Doe. You may recall that we met briefly at a meeting last Wednesday at the Springfield Civic Center.
I have been asked to represent the Doe Corporation in negotiating a new contract with your company.
I was recently appointed the Executive Vice President for the Doe Corporation and am intrigued by the possibility of our firms working together on the Springfield project.
My name is John Doe, and I wish to ask for your cooperation in an important matter.
I am John Doe and I represent the Doe Corporation.
For years the Doe Corporation has enjoyed a warm business relationship with your company.
I was very impressed with your presentation at the recent meeting of the Springfield Merchants' Association.
Phrases
a colleague suggested that
draw upon your expertise in
enjoyed the remarks you made at
has enjoyed a warm relationship with
have been asked to represent
have never met, but
have spoken on the telephone
have been appointed as the
heard you speak at
hope that you will be able to
it is some time since
may remember meeting
might be able to help
my name is
need to ask for
on behalf of
remember that we met at
were introduced by
wish to ask for
would like to request
your assistance in setting up
your cooperation in arranging
2

. Indicate why you need the reader's cooperation or assistance.
Sentences
As you know, the lack of parking downtown is becoming a serious problem for business. Would you be interested in pooling our resources to create a new parking facility in the strip of land between our buildings?
Our department has encountered some problems with your new software release and has failed to resolve them over the telephone.
The Springfield Civic Center project seems to overlap both our areas of expertise.
While I was working on my presentation for the Office Manager's Conference in Springfield next month, a colleague informed me that your firm has some pictures in your lobby depicting antique business machinery.
You are the market leaders in swimming pool construction and we are rapidly making a name for ourselves in pool maintenance. It seems that we should get together.
I am investigating the pros and cons of purchasing a Doe franchise.
Phrases
a major project
a common interest in
am investigating the
an important challenge for
as you know
as you may already know
could perhaps join forces in
embarking on an ambitious project to
has become a serious problem for
have encountered some problems
informs me that
meeting the challenges of
overlaps our areas of
pooling our resources
preparing for the annual
should get together
suggested that you might
the possibilities inherent in
thoroughly enjoyed your
would you be interested in
3

. Ask the reader to help you. Be specific about your needs.
Sentences
We could share construction costs and use of the area, while each maintains ownership of his portion of the land.
We would appreciate your setting up an on-site training course to give our people hands-on experience in the applications they will be using.
Would you be interested in preparing a joint bid with us?
I was wondering if I might borrow a few of these, or arrange to have them photographed. They would be a wonderful addition to my presentation.
You could be of great help to us either by mentioning our service to your customers, or by offering them our brochures. We would, of course, make this worth your while. Certainly our businesses complement each other well.
I would greatly appreciate your meeting with me and sharing some of your experiences with your Doe franchise. Of course, we will not be in competition with each other since Springfield is more than fifty miles from Centerville.
Phrases
a valuable contribution to
advising me on
am hoping to borrow
an outstanding resource for
be willing to lend
be of great help to
benefit from your experience with
could perhaps share the
if you would consider
in working cooperatively on this
in preparing a joint
make an appropriate financial arrangement
mutually beneficial arrangement
provide complementary services
to assist our staff in
use of the area
would you be interested
would be grateful if
would be a wonderful addition
would appreciate your
4

. Ask for a reply or for cooperation.
Sentences
If you are interested, I would like to meet with you to iron out the details. You are welcome to call me at 555-5555, or I will call you early next week.
We would like to set this up as soon as possible. Would you please call me at 555-5555?
My e-mail address is xxxxxx.com
Please let me know as soon as possible whether you would be interested in getting involved.
I would be very grateful for this assistance. I will call to speak with you personally at the end of the week.
We would be happy to acknowledge your assistance in our advertising.
I hope you will be able to help.
Phrases
are welcome to call
for your assistance
get going as soon as possible
if you are willing to
if you have any questions
if you are interested
in getting involved
in this venture
mutually beneficial project
my e-mail address is
please let me know
whether you would be interested
will be able to help
would have a significant impact on
would like to meet with you
would be happy to
would be very grateful
would greatly appreciate
would be very glad to
would like to set this up
Related Articles
Related Resources
Still can't find the right words for your request letter?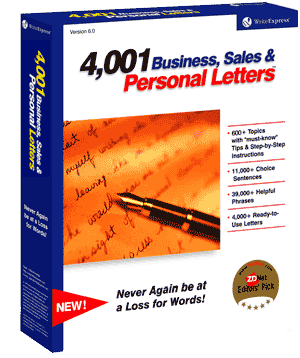 You will with our 500 letter-writing tutorials!
Find the request letter that fits your needs and copy it directly into Microsoft Word or your favorite word processor.
Or let our 500 letter-writing tutorials guide you step-by-step through the writing process, suggesting sample phrases and sentences for each writing step. In minutes, you can write an effective request letter.
Print your request letter and send it!