Tips
Use persuasive language to encourage the customer to give you the endorsement or testimonial. Let the reader know that you have selected him or her for a specific reason and make it easy for him or her to respond positively.
Steps
1

. Thank the customer for his or her business.
Sentences
You have been our valued customer for five years, and we have appreciated your business.
I want to take this opportunity to thank you for your steady patronage over the last few years.
You are one of our most valued customers, and we certainly appreciate your business.
I have enjoyed serving you for the last year and am pleased that you are enjoying our products so much.
Thank you for frequenting our store.
The Doe Corporation is proud to have you as one of its valuable customers. Thank you for your business.
I appreciate the mutually satisfying business relationship we have developed over the last few years.
Phrases
always a pleasure to
appreciate your business
appreciate your loyalty
are proud to count you as
are a highly valued customer
business depends on customers like you
enjoy working with you
enjoy doing business with
enjoy serving you
express our appreciation for
for your business
for your steady patronage
giving us the opportunity to
happy to serve you
have been a loyal customer
how much we value your
making our business what it is today
mutually profitable association
mutually satisfying relationship
one of our most valued
over the last few
thank you for
thanks to customers like you
want to thank you for
your business over the years
2

. Ask for the endorsement or testimonial.
Sentences
Thank you for your letter expressing how much you are enjoying our products. It was so well written and complimentary that we want to use it as an official testimonial to promote our products.
I wonder if you would do us a favor? We are gearing up our sales force for the new year and could use some extra help from you. Would you mind writing a brief testimonial about our products and services?
Will you give us permission to use your name as a reference for our future clients? We feel that you are the perfect customer to endorse our product because you have used it for some time and are so highly respected in our community.
I want to ask for your assistance. Would you be so kind as to write a brief testimonial regarding your satisfaction with our services?
Will you read the enclosed document outlining our product's positive features and indicate whether you would be willing to endorse it?
May I have your consent to use your company's name when selling our service to prospective clients?
Phrases
a brief testimonial
ask for your assistance
ask a favor of you
give an endorsement for
in promoting our
may we quote you
may we have your permission to
particularly appreciated your
permit us to publish
permit us to use your name
person of your standing
respected member of
testimonial in support of
use your letter in our
use your name
would very much appreciate
will you give us permission to
wonder if you would mind
would be most grateful if
would you consent to
would you be so kind
your kind letter about
3

. If you wish, suggest some guidelines for the endorsement or testimonial.
Sentences
Enclosed are some suggestions to help you write the testimonial.
As you write the letter, we hope you will include how long you have been our customer, the specific products you usually purchase, and what you like about our products.
We want to make the endorsement process as simple for you as possible. Below are a few suggestions for creating your statement:
We ask that you not mention any company by name--other than yours and ours--in your testimonial.
I am enclosing some testimonials we have received in the past. Feel free to use or ignore them.
Phrases
a few suggestions
as your compose your
as simple for you as possible
as you write this
ask that you
be specific about
could you include
enclosed are some suggestions
feel free to
have enclosed some
have included a few
hope you will include
in your testimonial
include a statement about
may save you time
please consider including
take just a few minutes
the following details
to help you in
when creating your statement
would appreciate your
4

. Thank the reader and indicate that you will contact him or her for a confirmation.
Sentences
I sincerely appreciate your time and cooperation.
Our corporation thrives on its satisfied customers. Thank you for your support.
Thank you for this favor. I will call you one day next week to discuss this matter further.
I will call you by next Friday to answer any questions you may have.
I am glad I have a client who has such confidence in me.
We look forward to hearing from you in the near future. Thank you.
Phrases
answer any questions
are under no obligation
discuss this further
do understand if
for your support
for considering this request
hope that you will be able to
hope that you will consider
if you feel that
if you are unable to
if you have any questions
look forward to
sincerely appreciate your
thank you for
to hearing from you
will seriously consider
will be happy to
will call you
will be of great assistance
would so much appreciate
would greatly appreciate
Related Articles
Related Resources
Still can't find the right words for your request letter?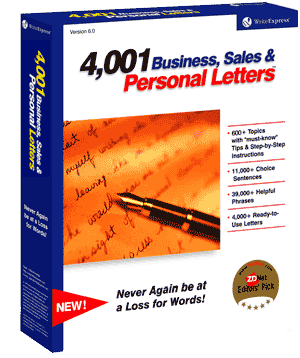 You will with our 500 letter-writing tutorials!
Find the request letter that fits your needs and copy it directly into Microsoft Word or your favorite word processor.
Or let our 500 letter-writing tutorials guide you step-by-step through the writing process, suggesting sample phrases and sentences for each writing step. In minutes, you can write an effective request letter.
Print your request letter and send it!