Tips
If you are forced to either resign from a position or be discharged, your resignation letter may be short and abrupt. No explanations are necessary; recriminations are usually pointless.
Steps
1

. Make a direct statement that you are resigning. Include the job or position title and an effective date. Technically, this is all the information necessary.
Sentences
Effective immediately, I am resigning from my position as comptroller.
Pursuant to our conversation this morning, I am resigning from my position as Security Chief, effective Friday, April 12.
I hereby submit this letter of resignation, effective today.
At your specific request, I am submitting this letter of resignation, effective at your convenience, but I am doing so under protest.
You have made it clear that my services in this company are no longer needed, so I am submitting my resignation with an effective date of noon today, May 12.
Phrases
after considerable thought and soul searching
after considerable thought, I have decided to
although I enjoy my position as
although I enjoy my work
as of this date, I am formally resigning as
as soon as you find a replacement
circumstances require that I resign my position as
doing so under protest
effective on the last day of this month
effective at your convenience, but no later than
effective immediately
feel that the change will be beneficial to all parties
final date of employment will be
have no choice but to resign
hereby submit my resignation as
hereby resign from my position with
leave the company by the end of this month
made this decision after months of deliberation
must leave no later than
offer my resignation as
please accept my resignation as
please consider this my official resignation
recent events require that
required two-week notice
submit this resignation under protest
to notify you that
to inform you that
will be leaving my position as
wish this resignation to take effect on
with some sadness I submit
with great reluctance I am submitting my resignation
with some sadness that I
with much reluctance and regret
with deep regret that after
would like to leave as soon as possible
2

. State the reasons, if appropriate, but very briefly.
Sentences
Your understanding of the present situation is not entirely accurate.
I have no desire to work in a company where my contributions as Chemical Engineer are not fully appreciated and inadequately compensated.
Your perception of the quality of my work is not substantiated, either by my employee evaluation reports or by my sales commission records.
I submit this resignation under protest and vigorously assert my innocence in these allegations. I will be consulting with my attorney about this matter, and we will take any action necessary to clear my name.
I am sorry that we lost the Doe contract, but there is more to the story than you know
Phrases
you are no doubt aware
cannot accept your reasoning
determined to overcome
feel strongly about
has reached a point that
have made a substantial contribution to the company
have come to the realization
have met with you several times
if there are any problems
if the circumstances were encouraging
is not intended to reflect adversely upon
makes it impossible to continue
more to the story than you know
my employee evaluations and ratings have always been very high
my first priority at this time is
need to clear my name
seeking professional help for my problem
unfortunately, you are misinformed
vigorously assert my innocence in these allegations
will be consulting with my attorney
will take all necessary action
with mixed emotions
would be an understatement to say
3

. Express gratitude, if appropriate, for job experience and work relationships.
Sentences
I want to thank you for all the help you have given me during the past few years.
Among the many enjoyable aspects of my job are the friendly relationships I have developed here.
The knowledge and experience I have gained in the last few years are invaluable.
Please express my appreciation to those in the division who have supported me so well these past months.
Although we differ in the way we handle problems, I appreciate your commitment to producing a professional product.
Phrases
accept my thanks for the opportunity you gave me to
always remember your consideration
am grateful for the opportunity to work with
best wishes to all of you for
best wishes to you always
best wishes for the future success of
experience gained during my association with
experience working with you has been invaluable
express my sincere appreciation to
for the guidance you gave me
had the opportunity to work with such a dedicated group of people
opportunity to earn my degree at night school through
will always remember the personal attention
4

. Establish, if you want to, that your files and current projects are in order.
Sentences
My books and records are in order, and I have prepared progress reports detailing the status of my current projects. I will be happy to respond to any questions you or my replacement may have about my work.
My staff is quite capable of carrying on until a replacement is appointed. I would even suggest promoting my assistant, Jane Doe, to be the new department head.
You will find that all of my files are as they should be--up to date and in proper order. I will, of course, remove my personal property from the office.
Phrases
be happy to assist with training my replacement
before taking my leave
finish the projects before my departure
glad to help train my replacement
happy to assist you in finding a suitable replacement
happy to respond to any questions
make sure that the transition goes smoothly
my books and records are in proper order
orient the new person
prepare status reports with sufficient detail for my successor
willing to stay for a reasonable amount of time to train my replacement
would suggest promoting my assistant to
Related Articles
Related Resources
Still can't find the right words for your resignation letter?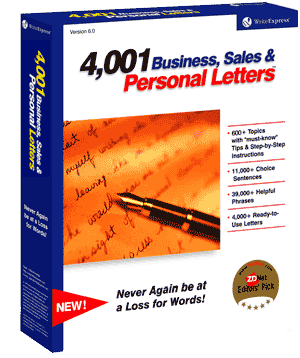 You will with our 500 letter-writing tutorials!
Find the resignation letter that fits your needs and copy it directly into Microsoft Word or your favorite word processor.
Or let our 500 letter-writing tutorials guide you step-by-step through the writing process, suggesting sample phrases and sentences for each writing step. In minutes, you can write an effective resignation letter.
Print your resignation letter and send it!