Tips
Sometimes prospective customers need a reminder that you are still interested in obtaining their business. This letter should convey a gentle sense of urgency for an immediate response.
Steps
1

. Open with a brief statement about your purpose for writing the letter.
Sentences
Congratulations! I have just discovered that your 25th wedding anniversary is next month! Have you made travel plans yet?
I'm sending this urgent letter to remind you that there are only three days left for you to get in on this great offer.
You have enjoyed the Doe Journal for nearly a year, and now it is time to renew your subscription.
We still have not received your mail order.
Now that we have given you some time to think about our offer, may we have your response?
I wanted to remind you that our special offer ends on the last day of this month.
This notice is to remind you that you are due for another check-up and cleaning with Doctor Doe.
If you have not responded to my last letter, it may be too late for you to place an order by mail. But you can still reserve a portrait time if you call 555-5555 and ask for John Doe.
It's time for spring cleaning again, and we are ready and waiting to shampoo your carpets.
Phrases
all too easy to put off acting but
don't want you to miss this opportunity to
given you some time to think
have not yet received your
haven't heard from you yet
hope this letter reaches you in time
in order to reserve your
just a reminder that
need to hear from you right away
only three days left to
special offer ends on
still have not received your
thought you would appreciate this reminder
time is running out
time to renew your
urgent letter to remind you
want to remind you that
we are ready and waiting to
we know you don't want to miss
you are eligible for
2

. Remind the prospective customer of your most recent communication, indicating that you have not received a response.
Sentences
As I notified you a few days ago, we have a special clearance sale ending November 31.
In my last letter, I told you about our introductory offer to first-time buyers. Since I haven't received your response, I felt I should send you more information about our product.
I have not yet received a reply to my latest letter, so here is another copy of the brochure that came with it. Because I'm offering an unbelievable deal, I wanted to give you every opportunity to respond in case my original correspondence failed to reach you.
Our representative, John Doe, spoke to you on the phone last month about the new home you are building. He explained the amazing durability and quality of our ceramic bath and kitchen tiles. He reported that you were very interested, but I haven't received your order yet.
In my previous letter I told you about the savings you could enjoy if you ordered your wood from Doe Lumber.
At Doe Corporation we are concerned about the safety of every family that installs a private pool. In the notice you received two weeks ago, we informed you of the potential dangers accompanying a back-yard pool, and we offered our pool safety products at a discounted rate to help you and your loved ones avoid these dangers.
I recently called your main branch to invite you and your associates to celebrate the grand opening of our new location in Springfield. You will be able to view all of our merchandise with a representative from our company to guide you every step of the way. We have not yet received your reply, but we trust you plan to attend.
Phrases
a few weeks ago we sent you
as we stated before
as I told you in my last letter
as I have already notified you
did you read our last letter
give you every opportunity to respond
had time to look through our brochure
have not yet received your reply
here is some more information about
in our previous letter we mentioned
in my last letter I told you about
in my previous letter I
in the notice we sent you
it's been several weeks since you received
perhaps you need more information before you
recently contacted your establishment in order to
the unbeatable offer we extended to you
to further sweeten our offer we
we offered you our
we have not yet received your reply
we made an offer to you on
3

. Mention, if appropriate, services the prospective customer has profited from in the past.
Sentences
In the past, you have enjoyed our custom-made desserts at your special functions.
It has always been a pleasure to work with your employees--they are quick learners. I think the seminar last year was time well spent.
From Doe Corporation's rate of expansion, I can see that your investment in our services has really paid off. Why not reinvest and increase your success?
I hope your employees appreciated the gifts you gave them last Christmas.
We told you that if you were to buy our newer, updated equipment, your production rate would increase significantly, and your cost would decrease. I am happy that you were able to prove our point!
I was pleased to hear that your family loves the washer and dryer you purchased from Doe Appliances. You know you can expect the same quality from our other products, as well.
We have always worked around your budget constraints.
Phrases
appreciated our mutual commitment to excellence
can expect the same quality from our other
continue to use only the best
delivered the savings we promised
difference our services have made to your
enjoyed the benefits of your subscription
enjoyed working with you
expressed great satisfaction with our
has always been a pleasure to work with you
have worked around your budget limits
helped you stay up-to-date in
keep up your tradition of using only the best
met or exceeded your specifications
pleased to hear of your success with our
positive results from using our
products worked so well for you
working with you in the past
you have enjoyed our
your positive comments about our
your previous investments in our services
4

. Entice the customer with a special offer.
Sentences
Buy a VCR at any Doe Electronics Store before July 15, and you will receive a free video of your choice as a bonus.
When you buy merchandise totaling $100 or more this week, we will take an additional 10% off the cost of your purchase.
Order today with no money down and no payments until March 1!
Call now and receive your first subscription for half price.
Reserve your copy now, and it will be on your doorstep by August 31.
Come in to see our new showcase anytime before August 31 and enter a raffle to win a new jeep!
You automatically qualify to win the Doe PC Sweepstakes when you buy any of our software packages!
Save five dollars when you buy any book or cassette in this catalog!
We deliver overnight--FREE!
Phrases
an incredibly low introductory price of
at a fraction of the cost of
bring in this letter for a free
buy now and we'll throw in a
call now for your free
come in this week and be eligible for
discover savings of up to
don't miss this special offer
every item is offered at a discount
extremely pleased to be able to offer you
if you order now your upgrade will be
just call for a sample of our new
no extra charge for express delivery
no money down and no payments till
offer limited to our preferred customers
our prices have never been so low
overnight delivery is free
reserve your copy now
send no money now
special offers in the current catalog
take advantage of this special offer
will give you an additional discount of
are offering a year of free
with your order you will receive
5

. Stress the urgency of an immediate response.
Sentences
We don't want you to miss this spectacular opportunity to save your family money this summer!
Don't forget, you must reply within two weeks to take advantage of this generous offer.
Do not delay your order. We can't hold this sale forever!
This is your last chance to order our CDs at this price.
Hurry in! A sale like this may never happen again.
We do not foresee ever being able to offer these low prices again in the future, so take advantage of them now!
Reserve big savings for tomorrow today!
Mail in your order immediately. We don't want you to miss a single issue.
We look forward to your immediate response.
I cannot make this kind of sacrifice for every customer, and this is a limited offer. So, please hurry in to make your purchase.
This offer expires at midnight, May 20. I can make no exceptions.
This offer is only good through March 19.
Phrases
can't hold these prices forever
do not delay your
don't miss a single
don't miss this spectacular
don't miss this opportunity to
if you respond right away
if you order now we can offer
last chance to order at these prices
limited time offer
mail in your order immediately
mail the enclosed card today
must reply within
offer is only good through
order today to take advantage of this
our sale ends on
prices may never be repeated
take advantage of this now
this offer ends on
this offer is good while supplies last
we need to hear from you right away
when they're gone, they're gone
Related Articles
Related Resources
Still can't find the right words for your reservation letter?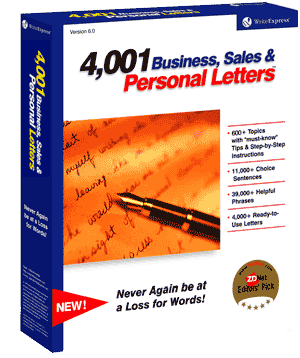 You will with our 500 letter-writing tutorials!
Find the reservation letter that fits your needs and copy it directly into Microsoft Word or your favorite word processor.
Or let our 500 letter-writing tutorials guide you step-by-step through the writing process, suggesting sample phrases and sentences for each writing step. In minutes, you can write an effective reservation letter.
Print your reservation letter and send it!