Tips
Since the customer is already buying from you, the purpose of this letter is not to hard-sell your product, but to let your customer know that you are interested in doing further business. Often, this letter can be used to sell a product or service that the customer has not bought from you before, simply because their ordering routine tends to overlook certain available products or services. The tone of the letter will vary depending on the customer. A very important customer should receive a personal, friendly letter, while a lesser-known customer may receive a more formal one.
Steps
1

. Open by expressing continued interest in doing business with the customer.
Sentences
If you thought you were pleased with the way we catered your last function, I know you'll appreciate the offer I am prepared to make you for your big fiesta.
We at Doe Corporation just wanted to let you know how much we appreciate the long-standing business relationship we have enjoyed with you.
My secretary just handed me your order for a new filter on your water purifying system. I want to tell you how pleased I am that you have decided to return to us for more water softening products.
Because you are one of our most valued customers, we want to let you know about our hottest items before anyone else.
Thank you for supporting our business. You hold one of our most important accounts and you have helped us make Doe Corporation what it is today.
I am eager to tell you about a software package that is so new that it hasn't even hit the sales floor yet.
Can you believe that two years have passed since we last discussed your insurance plan? I have carefully monitored your policy and want to make you aware that we need to make some changes in it on your upcoming birthday.
It is almost Christmas and I'm ready to make an offer that will beat last year's.
Now is the time to renew your contract with the Doe Corporation.
Phrases
are one of our most valued customers
as a long-time user of our
been a year since we reviewed your
have verified your latest order of
have helped to make Doe Corporation what it is today
it's time to renew our contract
just received your repeat order for our
let you know before anyone else
like to have the opinions of our most valued clients
long-time customers like you know that
looking over your records
loyal customers like you
now is the time to renew your
offer we are prepared to make you
our long-standing business relationship
sending our valued customers advance notice of
special savings we want to pass on to our
special offer to our best customers
time for your annual order of
two years have passed since we last discussed
want you to know how much we appreciate
want to thank you for your
2

. Introduce the product or service you are selling to the customer, stressing its benefits to the customer.
Sentences
As a Doe customer, you know that our products are always top of the line. Well, now we have even more items to choose from.
In the past, you have ordered a fruit basket for each of your employees. This year's baskets will include fruits from the tropics, including mangoes, kiwis, and papayas. Of course you know that you are always welcome to order custom-made baskets at no extra charge, but most of our customers find it convenient to order our standard basket.
Our newest water purifying system includes an even more powerful anticorrosive solution that even the hardest water can't defeat.
We have redecorated the reception hall for this winter in an old Victorian style. I really think you'll be pleased with its dignified, yet relaxed atmosphere. It will be perfect for your company's annual formal event.
I'm sure that you loved your last book selection of the month, and this month's is equally stimulating. Doe Wakes is an intense mystery about a young lawyer who struggles to find the truth about her grandfather's identity.
Our amplified computer speakers are sure winners! They have magnetically shielded speaker magnets to prevent monitor, drive, and disc damage. And, they have a new cabinet design for enhanced bass response.
This year we hope that you will again choose Doe and Associates because we offer the most responsible, honest, and informative legal advice available.
We have given you the best, quickest results in the past, and we hope to continue to do so for years to come.
As our advertising world becomes even more visually oriented, you can depend on Doe Marketing's expertise to showcase your business.
Phrases
a price you'll appreciate
a world of enjoyment awaits you
best quality you can buy
can take delivery right now
can know you're getting the best
don't have to wait to buy your
don't have to wait another day for your
easier to use than ever before
expanded our line of
great opportunity to stock up on
guarantee lowest prices
guarantee your satisfaction
have already experienced our quality
hope to continue to
hope you will again choose our
includes an even more powerful
lowest prices possible
making superb quality affordable
of particular importance to you
one purchase you will never regret
only the price has changed
proud to carry the Doe line
provide those all-important finishing touches
ready to spoil you with
relieve you of worrying about petty details
special order at the same prices
the whole family can enjoy
the quality hasn't changed
welcome to order our custom-made
will be pleased with our new
you can enjoy all the benefits of
you can be absolutely sure that
you can save even more on your
3

. If appropriate, offer added incentives for the customer to buy your service or product.
Sentences
Remember, with every 25 baskets you buy, you get one free.
We would like to show our appreciation for all the business that you have given us this year by offering you 25% off your next purchase.
When you renew your policy, celebrate by allowing us to treat you and your spouse to dinner at Doe's.
Our newest portrait package includes a 10" X 13" portrait, absolutely free.
Don't forget our new low rates for bulk orders!
We offer free delivery before December 20.
Phrases
and the shipping is free
and we will pay the shipping
are actually taking a loss on these
as an added bonus
as a preferred customer you are eligible for
bring in this letter and save
buy one at the regular price and receive
cash in on our greatest sale ever
clearing out all our stock of
come take advantage of our special sale on
direct-to-you low prices
discount applies to your next purchase
enter our free drawing for a
free refreshments for everyone who
free gift just for coming in
free month's trial of our
get one of equal or lesser value free
great prices and free installation
like to treat you and a guest to
making room for new models
marked down our entire inventory
may never see savings like this again
preferred customer rates
receive an additional discount of
receive a free gift with the purchase of any
special coupon for further savings
special pricing for repeat buyers
special volume discount
take advantage of this very special
this money-back offer
4

. Instruct the customer on how to proceed with the order.
Sentences
I will call you next week to discuss your options.
Contact me before your next shipping date so we can confirm the discounted rates on your bulk order.
Simply fill out the order form and send it to us. We anxiously await your consent to send you this new best seller.
I look forward to meeting with you. My secretary will call you to set up an appointment.
Call our portrait studio at 555-5555 to schedule a sitting.
Supplies are limited, so return this confirmation card immediately to reserve your order.
Enclosed is an order form with a self-addressed, stamped envelope for your convenience.
I will phone you next week to make sure your order meets your expectations.
Phrases
arrive early for the best selection
call immediately for
call now to set up an
call before your scheduled shipping date of
come in today for your free
contact me before your
fill out the attached form and
fill out the order form
just come into the store and
mail it in today
mail in the enclosed
note that the offer is good only through
note our extended hours
only 40 left at this price
only three more days to
simply call us to schedule
supplies are limited
the coupon expires on
this offer ends on
this sale ends on
will call you to set up
will call you next week to
5

. Thank the customer for continuing to do business with you.
Sentences
We can never thank you enough for your patronage.
We appreciate your continued confidence in our services.
We are grateful to you for purchasing our water purifying system and are sure you will be pleased with your investment.
Thank you for your help.
We value your business.
We have been delighted to serve you and appreciate your account.
Phrases
appreciate your confidence in
appreciate the opportunity to
are sure you will be pleased with
have been delighted to
have valued our past association
have always enjoyed working with
hope you are as pleased as we are with
it's always a pleasure to
just waiting for your okay
look forward to getting together with
look forward to hearing from
look forward to working with
look forward to your reply
mutually beneficial relationship
thank you for your
value your cooperation
value our association with
we appreciate your continued
we thank you for
your confidence in our
Related Articles
Related Resources
Still can't find the right words for your reservation letter?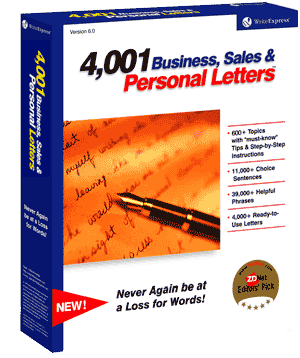 You will with our 500 letter-writing tutorials!
Find the reservation letter that fits your needs and copy it directly into Microsoft Word or your favorite word processor.
Or let our 500 letter-writing tutorials guide you step-by-step through the writing process, suggesting sample phrases and sentences for each writing step. In minutes, you can write an effective reservation letter.
Print your reservation letter and send it!