Tips
Use this letter to congratulate individuals or groups for outstanding work, and to motivate them for future success. Be sure you are sincere; otherwise, you risk sounding patronizing or offensive to your readers.
Steps
1

. Congratulate the salesperson or sales force on their fine work.
Sentences
Congratulations! You met the deadline and surpassed your quota!
Although I'm not surprised, I am delighted to tell you that you are number one again this month. Keep up the great work!
What a privilege it is for me to have such an outstanding salesperson on my staff.
I am continually impressed by your skill and effectiveness.
Both your professional manner and your impeccable sales record have combined to produce one of the best salespeople this branch has ever had.
On behalf of management, I am excited to tell you that your team has won this month's sales competition.
I was on the sales floor the other day when you were busy with a rather difficult customer. I appreciated the way you handled the situation and turned it into a productive experience. Congratulations on that tricky sale.
I want you to know much I admire the way you sell this product. It is as if you were the one who invented it. You are a real example to the rest of our sales force.
Phrases
accept our congratulations on
admire the way that you
am continually impressed by
am excited to tell you
am delighted to tell you that
an outstanding performance
appreciate the way that you
congratulate you on your
contributors to our success
does not go unnoticed
exceeded your quota
extraordinary contribution you have made
is a privilege for me to
on behalf of management
performance of our sales force
proud of your efforts
sincerely admire your
surpassed your quota
you met the deadline and
your professional manner
your sales expertise
your impeccable sales record
2

. Thank them for their contribution to the company as a whole.
Sentences
As the marketing director for the Doe Corporation, I want to thank each of you for your dedicated efforts to make our products the top-sellers on the market.
We are relieved to announce that our company is in excellent form at this year's end, and that a large portion of this success is due to the outstanding work of our sales force. Congratulations on a job well done!
The Springfield branch sales department has set a new record for the entire company. I am proud to be the head of such an outstanding team.
Each department in our company fulfills vital responsibilities so that together we may succeed. I want to announce that you, as our sales force, have gone beyond duty to help push our corporation to higher levels of success this year.
Dedicated workers like you are what has made this company such a strong competitor.
We value your contribution to the Doe Corporation and are proud to have such fine people representing our company.
Phrases
accept our congratulations on
am delighted to tell you that
am excited to tell you
an outstanding performance
an outstanding team
appreciate the way that you
congratulate you on your
contributors to our success
exceeded your quota
extraordinary contribution you have made
happy to announce that
have gone beyond duty
on behalf of management
outstanding work of our sales force
performance of our sales force
products are the top-sellers
proud of your efforts
set a new company record
success of the entire company
surpassed your quota
thank each member of our sales force for
thank you for
value your contribution
your dedicated efforts
3

. Inform them of any further recognition or incentives they may receive for their superior work.
Sentences
We would like to show you our gratitude by offering you this $100 gift certificate on any item in the store.
We hope you will attend this year's awards banquet where you will be honored as salesperson of the year.
The company's president is going to meet with us next week to congratulate you on your outstanding sales work.
You have worked hard for your bonus this month; I hope you enjoy it.
Would you mind sharing your techniques with the rest of the staff during our next departmental meeting?
You have contributed so much to our sales department that management wants you to organize and supervise a new team.
Phrases
bonus to show our appreciation
congratulate you on your
department will be honored at
deserve a bow
earned a bonus this month
enjoy your bonus
hear about your accomplishments
honor you for your achievements
it's a pleasure to offer you a
offering you this
presentation at the departmental meeting
promote you to
salesperson of the year
sharing your techniques
show our appreciation by
show our gratitude by
sliding-scale commission formula
supervise a new team
this year's awards banquet
for your outstanding contributions
4

. Express your confidence in and gratitude for their work, and encourage them to do just as well in the future.
Sentences
I have confidence in each member of this force to continue to work hard and meet the goals they have set.
You have given me every reason to believe that we can look forward to continued success next year.
Economists forecast an upsurge in spending for the nation. This is good news for us. If you can beat the odds during a recession, I am sure that you can accomplish even more this coming season.
This company is still struggling to overcome the competition, so we will need every bit of skill and effort you can give to come out on top this year. I'm sure each of you is willing to work toward that end.
This month we need to surpass last month's sales. I have seen you in action and know you can do it!
Phrases
accomplish even more
are our company's most important asset
be in touch with each of you personally
come out on top next year
continue to meet quotas
continue to grow
continue to work hard
continued success in the future
could become the market leader
ensure our continuing achievement
even better than the last
going to be the winners
help build on success
keep on winning
keep up the good work
know you can do it
look forward to
surpass last month's sales
tradition of excellence
your best efforts
Related Articles
Related Resources
Still can't find the right words for your reservation letter?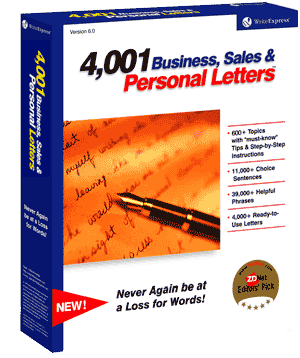 You will with our 500 letter-writing tutorials!
Find the reservation letter that fits your needs and copy it directly into Microsoft Word or your favorite word processor.
Or let our 500 letter-writing tutorials guide you step-by-step through the writing process, suggesting sample phrases and sentences for each writing step. In minutes, you can write an effective reservation letter.
Print your reservation letter and send it!