Tips
Take advantage of this correspondence to reiterate the positive aspects of your service or product and gently urge your potential client to take the next step in negotiating a sale. Remember, the reader has already expressed interest in your business, so give a firm sales pitch, highlighting the benefits of your product or service, without pushing too hard.
Steps
1

. Thank the prospective customer for being present at the interview, presentation, or exhibit.
Sentences
Thank you for taking the time out of your busy schedule to meet with me today.
I appreciate your interest in our products. Here is the additional information you requested.
I felt that our interview on Monday was satisfying and productive. I enjoyed listening to your plans to expand your business.
I recently transferred to this area and therefore appreciated your kindness in listening to my proposal.
Thank you for giving me your business card at our exhibit last week.
I wanted to thank you personally for asking for more information on the water safety accessories we demonstrated at the Water Safety seminars.
I was happy to meet with you after all our telephone conversations. I hope I was able to answer your questions satisfactorily.
I appreciated your comments during our recent interview. Thank you.
Thank you for investing so much time in discovering what this company has to offer you.
I am glad you found time to meet our newest sales representative last week. Thank you for attending our presentation.
I am pleased to announce that once again we are presenting the marketing seminars that you and your colleagues enjoyed so much last fall. I also want to remind you that we offer private consultation services for individual businesses.
Phrases
accept my thanks for the interview
appreciate your courtesy and consideration
appreciate the courtesy you showed in
appreciate your interest in
appreciated your comments and feedback
appreciated your listening to my proposal
appreciated your kindness
appreciated the update on your
are once again presenting
enjoyed our brief visit
enjoyed listening to
happy to be able to meet with you
have given a great deal of thought to what you said about
information you requested
missed you at the presentation
most enjoyable chat about your
opportunity to meet with you in person
sorry you couldn't make the presentation
thank you for investing so much time in
thank you for talking with me about
thank you for allowing me to introduce myself and
thank you for taking the time to
thank you for opportunity to meet you
thank you for attending our
time out of your busy schedule to
too bad you had to be out of town during the
2

. Point out the essential benefits your product or service offers.
Sentences
Allow me to reiterate some of the outstanding benefits you will gain from using our products.
With the new Doe Security Systems you can be sure that your possessions are secure, even when you're not home.
As we discussed, when dealing with such complex tax laws and policies, filing taxes can be a nightmare for the small businessman.
I have enclosed a brochure for your review as you make your decision to choose a supplier.
Because you showed such interest in our graphic design services at the demonstration, I am sending you this pamphlet to explain our services in greater detail. Please review it and discuss the material with your associates.
During our meeting last Friday, we discussed several ways in which you could finance your purchase. Let me review them for you.
I am delighted that you were interested in our new products and am glad you agree that water safety is an essential part of enjoying your time in the water. Please look through this catalog that features our life jackets, inner tubes, goggles, caution signs, and more.
It was a pleasure to meet you at our home show. Here is a brochure that highlights the five models you toured on the weekend.
Phrases
a revolutionary approach
all of this at your fingertips
allow me to reiterate some of the
as we discussed
because you showed such interest in our
enclosing descriptive literature
gives you your choice of
gives you the opportunity to
have enclosed a brochure so that you
am taking the liberty of
am enclosing a data sheet which shows
important advantages we can offer you
in which you expressed an interest
it can pay for itself in just
let me reemphasize that the
like to point out several important
please note the quality of the
since you indicated an interest in
some of the benefits we discussed were
the outstanding benefits you will receive
thought you might like to receive these
unequaled savings and convenience
are confident that we can
are equipped to give you
can offer you
are making this generous offer because
wide choice of models and styles
with our wide range of
your interest in the subject
3

. Encourage the prospective customer to take the next step in purchasing the product or service.
Sentences
I will call you next week to set up a time to give you a free estimate.
Please fill out the enclosed order form and return it with the special coupon you received at the seminar.
To reserve an appointment, call one of our customer service representatives during regular business hours at 555-5555.
I will call you in a few days to discuss which package you would like to order.
Just fill out the order form and return it. We anxiously await your consent to send you this marvelous product.
I look forward to meeting with you. My secretary will call you to arrange an appointment.
We hope you will consider the ideas we presented and decide to call us at 555-5555 to arrange your first meeting.
We already have some exciting plans for your company's future and we eagerly await your reply.
I hope I have supplied you with enough information to make your decision. If I have not, please let me know.
Please contact me at 555-5555 when you make your decision.
Phrases
already have some exciting plans for
anxiously await your
come in and try
hope you will consider our proposal and
hope you will give some thought to
think you'll discover that
if you accept this invitation
if you need any further information
just fill out the order form and
let us know when you're ready to
look forward to talking with you further
look forward to working with
looking forward to your call
may I send you this
please take this opportunity to
please contact me at
please read the enclosed documentation and
please let us know when you're ready to
please come by again and
send it in with the special coupon
set up a time for
to set up an appointment
will call you next week to
will be back in touch in a
will call you to arrange
will submit our recommendations
would like you to accept a free trial of
4

. Offer any additional assistance.
Sentences
If I can assist you any further with this decision, please call my personal office at 555-5555. If I am not in, leave a message with my secretary. I will return your call as soon as possible.
We want you to know how important your business is to us. Let us know if you need more assistance. We are here to serve you.
Remember, our prices are still negotiable, so call me if you would like to discuss pricing and we'll see what we can work out.
Let me know if I can offer more help.
You can call me any time to discuss your concerns.
If you have a pool safety product in mind that does not appear in the catalog, give me a call and I will locate it for you.
If you no longer have the coupon you received at the demonstration, call me and I will make arrangements for you to receive that discount.
Phrases
arrange a special discount
be happy to address any concerns you may have
call me at any time
call to discuss terms
can assist you further
eager to work with you
glad to arrange an on-site demonstration of
happy to set up an appointment to
if you want clarification of any point
if you need any more information
if you have any concerns
let me know what other information you
let us know if you
look forward to serving you
looking forward to providing your
please feel free to call
prices are negotiable
will be happy to assist you
would like to do business with you
your patronage is important to us
Related Articles
Related Resources
Still can't find the right words for your reservation letter?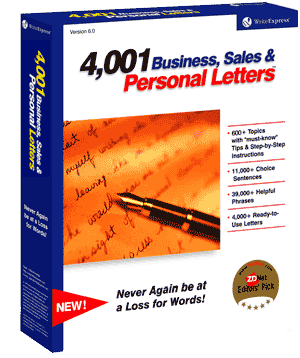 You will with our 500 letter-writing tutorials!
Find the reservation letter that fits your needs and copy it directly into Microsoft Word or your favorite word processor.
Or let our 500 letter-writing tutorials guide you step-by-step through the writing process, suggesting sample phrases and sentences for each writing step. In minutes, you can write an effective reservation letter.
Print your reservation letter and send it!