Tips
Offering a position to someone who has not applied for the job can be a sensitive task, especially if that person is already employed by someone else. This letter becomes a type of sales letter because you must convince your prospect that a position with your company would be much better than his or her current job.
Steps
1

. Open the letter by telling the prospect how you obtained his or her name.
Sentences
As I discussed increasing our sales force with my associate, John Doe, he mentioned you as a possible contact.
I have been studying your job performance for Doe International for the past two years and I am very impressed.
You have become a well-known, successful negotiator here in Springfield.
The Doe Corporation recommended your services to us with the highest regards.
Our mutual friend, John Doe, recently told me about your sales skills and experience.
I was very impressed with your professional conduct at the national conference we both attended last month.
You have been one of our regular customers for two years now, and have had lots of experience with our products.
Phrases
as we discussed increasing our sales force
attended your presentation on
enjoyed your presentation at
have been watching your career with
have been a regular customer for
mentioned that you might be interested in
mentioned your name as a possible
mutual acquaintance has told me of your
recently told me about your expertise in
told me something of your accomplishments in
was very impressed by your
was given your name by
we have never met but
we met at the
you sold me a
you were recommended to us
you have become well known for
you have been recommended
your name has been mentioned most favorably by
your name was given to us by
your extensive experience with our
2

. Invite the prospective salesperson to accept a sales position with your company.
Sentences
Although you already work elsewhere, we at the Doe Corporation would like to bid for your services before your contract with your current employer ends.
I am interested in hiring you for a sales position at Doe Corporation's newest location.
I don't know whether you are satisfied with the job you now hold, but I am prepared to offer you an impressive position at Doe International.
I want to extend a job offer to you that I hope will be mutually agreeable.
I would be pleased to give you a management-level position as head of our sales force.
We want you to be one of our dealers in the Springfield area.
We would like others in your area to know about our services, and we think that you are the perfect person to tell them about us. Are you interested in becoming one of our representatives?
Because of your experience with our products, I feel you could represent our company with confidence. I wonder whether you would like to become a local Doe supplier.
Phrases
be one of our dealers in
become a local supplier of
becoming one of our representatives
could represent our company with confidence
expanding into a new area
extend a job offer to you
get in on the ground floor of our new
great earning potential
have an opening in sales
help us to launch our product in
hope this will be mutually agreeable
how satisfied you are with the job you now hold
interested in hiring you
interested in meeting to discuss possibilities
management level position as
may be interested in a new opportunity
meet to discuss our product
offer you an impressive position with
offer you new opportunities for
part of our exciting new distribution system
when your current contract ends
would like to bid for your services
would like to explore possibilities with you
3

. Explain why you think he or she qualifies for the job.
Sentences
My associate tells me that you are genuine and sincere. These are the qualities that the Doe Corporation embraces.
With your sales skills and our knowledge of the computer industry, we are a perfect match.
Because you have been our customer for many years and have no doubt created numerous lovely crafts using our products, we would like you to demonstrate our handicraft products in a booth at the Springfield fair this summer.
We are searching for someone with mature marketing skills, and your qualifications are impressive. In addition to your business degree with an emphasis on marketing, you have been a successful marketer for ten years. You are exactly what we are looking for.
So often sales representatives are more concerned with making a sale than pleasing a client. That is why I'm sure your warm and friendly nature is just what our sales force needs.
Quite frankly, I was impressed with the way that you presented yourself at the conference. You have the charisma that every successful salesperson needs.
The sales market is becoming more and more saturated, and therefore more competitive. That is why we need salespeople like you who are close to the members of the community.
Phrases
according to our mutual friend
am informed that you
are looking for someone who
are well known for your
have heard that you
have been highly recommended for your
I was most impressed with your
just what our sales force needs
need someone with your qualifications
qualities that our corporation welcomes
tells me that you are
very competitive sales market needs someone who
we need salespeople who
with your sales skills and our
you have a reputation for
you seem uniquely qualified to
you have the charisma that
your background and approach sound similar to
your attention to customer satisfaction is
your excellent marketing skills are exactly
4

. Tell the prospective salesperson how he or she will benefit from selling your product.
Sentences
We offer a commission-based salary, so with your sales ability, it shouldn't be hard for you to double your current income.
Wouldn't you like to make a little extra money each month? If you would, this is the perfect opportunity for you.
We offer a salary, plus commission.
I am willing to negotiate your annual income with you to determine a salary that is mutually agreeable.
In addition to a base salary and a 3% commission, we give our employees six paid holidays and twelve paid sick or vacation days per year.
We offer full health insurance coverage, in addition to the basic salary and commission.
Because we want our salespeople to succeed, we offer an end-of-the-month bonus to the salesperson who sells the most product.
You have been working the sales floor for many years. How would you like to have your own office and work from a desk?
Phrases
become associated with the finest
challenge is to keep up with
earnings package is negotiable
excellent benefits with full health insurance
find our product and back-up services to be
if career development is important to you
much more than just a job
offer salary plus commission
offer a commission-based salary
opportunity to grow with us
outstanding earning potential
perfect opportunity to
products always on the cutting edge
profit-sharing and bonuses
progress into top management
spend less time traveling
the sky is the limit on opportunities
unbeatable sales support
very lucrative for the right person
want our salespeople to succeed
5

. Discuss further contact.
Sentences
Call me at 555-5555 if you are interested.
This could be a lifelong career opportunity. Give me a call and we'll talk about it.
If you want to be an area representative, please fill out the enclosed paperwork and send it to me, John Doe, at the Doe Corporation as soon as possible.
If you would like to get in on this excellent money-making opportunity, call my secretary at 555-5555, and she'll help you set up an interview with me.
I will contact you in the next week or so to discuss setting up your initial salary schedule. In the meantime, I encourage you to speak to your friends and neighbors about our extraordinary products.
Phrases
call me personally at
fill out the enclosed application
happy to answer any questions
hope you will carefully consider
if this appeals to you
if you are interested, please
invite you to contact
like to discuss this in more detail
my e-mail address is
need to set up an interview
please call to set up an appointment
please call me if you are interested
send me the enclosed paperwork
understand that you might not choose to
will call you early next week
without any obligation
would like to see your resume
would of course be confidential
would be glad to meet with you
would appreciate you spreading the word about
Related Articles
Related Resources
Still can't find the right words for your reservation letter?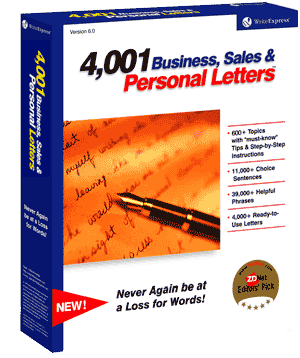 You will with our 500 letter-writing tutorials!
Find the reservation letter that fits your needs and copy it directly into Microsoft Word or your favorite word processor.
Or let our 500 letter-writing tutorials guide you step-by-step through the writing process, suggesting sample phrases and sentences for each writing step. In minutes, you can write an effective reservation letter.
Print your reservation letter and send it!