Tips
This letter is not a sales letter but a letter to build a feeling of trust and compatibility that will promote future sales. Let your customer know that you appreciate his or her patronage. Keep the tone informal and friendly.
Steps
1

. Thank the reader for being your customer. If appropriate, offer the customer a gift or special offer to show your appreciation.
Sentences
On behalf of the Doe Corporation, I want to thank you for your generous investment in our services.
We know that this fiscal year has been long and difficult for your business and we are happy to see that you are recuperating well. Thank you for trusting in the Doe Corporation to help you get back on your feet.
We appreciate your prompt monthly payments and have enjoyed working with you.
I am planning a trip to Springfield next month and would like to take you to lunch so we can iron out some of the details of our last negotiation.
My employees and I want to thank you for your patronage.
You have been our loyal customer for five years, and we want to show you our appreciation. Enclosed is a $10 gift certificate to use at any of our five locations.
Thank you for your contribution to making our business what it is today.
Phrases
any assistance you may need
appreciate your prompt payments
been designated a preferred customer
business depends on customers like you
enclosed article might interest you
enjoy working with you
found this article on
glad to tell you that your order has been shipped
happy to inform you that
have been a loyal customer
helped each other make it through the
hope you will accept this small gift
enjoyed seeing you again at
let you know how much we appreciate
making our business what it is today
may be of assistance to you
our excellent working relationship
our companies growing together
show our appreciation
sorry to hear that your purchase did not meet your needs
stopping by our booth at
thank you for attending our
thank you for visiting our
thank you for your contribution to
thank you for trusting in our
thank you for your patronage
thank you for your investment in
token of our appreciation
was good to see you at
welcome you as a customer
2

. Express your commitment to satisfying customers with your product or service.
Sentences
We are committed to helping your business succeed.
We wish you all of the best in the future and will do all we can to assist you.
I am pleased to serve you and hope that our business relationship will last for years to come.
Moving is difficult for everyone, but wherever you go you can count on Doe Department Stores. As always, we offer low prices and high quality merchandise for your home and family.
Remember, we are here to serve you.
I am dedicated to helping your business run smoothly.
We understand your special needs and are willing to help you fill them.
Enclosed is a brief questionnaire. Will you please fill it out and return it to help us give you the best service possible.
I hope we can continue to serve you to your satisfaction for many years.
Although our contract is nearly at an end, we want you to know that we continue to do our best to give you the highest quality service possible.
Phrases
always room for improvement
always pleased to serve you
always appreciate feedback
are our top priority
are committed to helping you
best service possible
carry on working together
continue to serve you
continue to grow together
customer satisfaction survey
dedicated to helping you
improving our service further
it's always been our commitment to
long and satisfying relationship
look out for your interests
look forward to continuing our
look forward to serving
mutually beneficial association
striving for excellence
to suit your needs
understand your special
wish you all the best
worldwide provider of quality
your satisfaction is important to us
3

. Invite the customer to contact you if he or she needs assistance, or offer to contact the customer yourself.
Sentences
If you have any questions as we enter this final stage of our contract, please give me a call.
Please notify me if problems arise.
Your family was patient and cooperative as we worked on recreating your kitchen. Please let us know how we can make this experience more enjoyable.
Please call us and tell us about your experience with our products.
We look forward to seeing you again. You'll be pleased with our contemporary styles and our courteous service. Plus, you'll always get the low prices you expect.
We want to give you the best service possible. Please let us know how we can help you.
Our customers are our top priority. I'll call you next week to see how you are enjoying your new system.
Phrases
always appreciate your comments
always room for improvement
appreciate your feedback
call me at any time
enduring and pleasant association
feel free to call
give you the best service possible
happy to answer your questions
help us to serve you better
if you have any concerns or questions
let us know how you like the
let us know if there are any problems with
look forward to seeing you again
please notify me of any
please complete this survey
please let us know if
return enclosed card
take you to lunch
value your comments and feedback
will hear from us shortly
will call you next week to
Related Articles
Related Resources
Still can't find the right words for your reservation letter?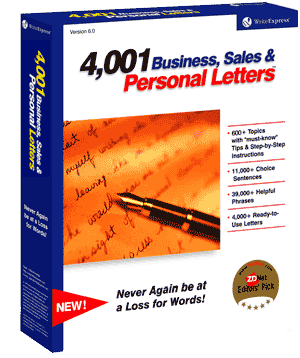 You will with our 500 letter-writing tutorials!
Find the reservation letter that fits your needs and copy it directly into Microsoft Word or your favorite word processor.
Or let our 500 letter-writing tutorials guide you step-by-step through the writing process, suggesting sample phrases and sentences for each writing step. In minutes, you can write an effective reservation letter.
Print your reservation letter and send it!