Tips
The most successful sales letters are original and truthful. As the writer you should learn every detail about the product or service you wish to promote, and then focus the letter solely on selling that specific product or service. You must give your reader enough information to feel confident about or interested in your offer, while at the same time keeping the letter short. Your sales pitch can only succeed if your prospect reads the entire letter.
Steps
1

. Capture the reader's interest immediately. For example, you might make a special offer, ask a thought provoking question, or thank a customer for his or her patronage.
Sentences
You may not own oil shares, but you can make money on Doe Oil! Just ask for Doe Oil the next time you get your oil changed and mail us your proof of purchase for a $5 rebate.
I am eager to offer you a software package that is so new that it hasn't even hit the sales floor.
Thank you for investing so much time in discovering what this company has to offer you.
We are pleased to welcome you as a new client and look forward to working with you.
Is your business in danger of bankruptcy? Read the remainder of this letter to find out the five financial pitfalls of the small business owner.
Did you know that your rent may be as high as a house payment? You can get a home loan even if you don't make much money. At the Doe Mortgage Company we specialize in low income housing options.
Thank you for responding so positively to the letter we sent you about our fabulous new hair care products last week.
Your accounting team recently asked me to show them how our financial organization and accounting software could help them do their jobs more effectively. They were amazed at what it could do.
Good news! We are delighted to inform you that we no longer require a $100 minimum purchase per order. We now accept orders as small as $50.
I'm sending this urgent letter to remind you that there are only three days left for you to get in on this great offer.
Congratulations! I have just discovered that your 25th wedding anniversary is next month! Have you made travel plans yet?
Thank you for the helpful comments you made during our phone conversation a few days ago. Now I am better prepared to make a proposal suited to your company's needs.
Phrases
are delighted to inform you
are pleased to welcome you as a
build upon the excellence that
can have your own specialist in
did you know that
do you know how to
don't need a lot of money to
have you ever considered
have you ever wondered
how would you like to
am eager to offer you
is so new that it
keep reading to find out
latest tests show
let you in on a secret
new discovery can change
not much time left to
now your dreams can come true
people all over the world are discovering
recent research has revealed
stop those costly losses with
surprise that special someone with
thank you for your
the many advantages of
the intelligent way to
you will be amazed by
2

. Explain the product or service. Try to convince the reader to buy or to take the next step in negotiations. If appropriate, send a brochure, catalog, or pamphlet to help you make your points.
Sentences
Enclosed with this letter is a proposal outlining some of the ways we can serve you better than ever! We value your business, and to prove it we are giving you ten hours of free consultation when you sign your next one-year contract with the Doe Corporation.
We at the Doe Corporation have always taken great pride in our work. We guarantee that our products are the best quality you can buy at the lowest possible cost.
We're Springfield's first department store, founded in 1868. Today we are proud to carry over 3,000 quality products.
Our pots and pans are rated among the most durable in the country. They feature porcelain enamel exteriors, nonstick interiors, and steam vent knobs.
In the past you have ordered a fruit basket for each of your employees. This year's baskets will include fruits from the tropics, including mangoes, kiwis, and papayas. Of course you are always welcome to order custom-made baskets at no extra charge, but many of our customers find it convenient to order our standard basket.
Our amplified computer speakers are sure winners! They have magnetically-shielded speaker magnets to prevent monitor, drive, and disc damage. They also feature a unique cabinet design for enhanced bass response.
Because you showed such interest in our graphic design services at the demonstration, I am sending you this pamphlet that explains our services in greater detail.
I am delighted that you are interested in our unique products. We all agree that water safety is an essential part of enjoying boating. This catalog features our life jackets, inner tubes, goggles, caution signs, and more.
We also offer a complete line of summer hair care products. If you swim, especially in a public pool, your hair will suffer unless you protect it. These unique shampoos and deep conditioners are great for combating sun and chlorine damage.
Phrases
am enclosing a
are proud to carry
can help you plan for
can save you more than
can take care of your
can save you over
complex financial needs
could be most helpful to you
detailed in the enclosed brochure
don't have to be wealthy to
finest quality available
have proven themselves in hundreds of
impact on your business
is our specialty
like similar companies everywhere
meet your present and future needs
might be interested in our latest model
offer a complete line of
offer a free consultation
options we can offer
our professional approach to
recent research shows that
secure your financial future
share the latest developments in
substantially increase your productivity
surprisingly low cost
take great pride in our
the latest research shows that
think you will find that
this easy-to-sell product
this convenience can be
thousands of our customers have reported
to make your job easier
using the most up-to-date techniques
we sell the widest variety of
we understand the needs of a
we specialize in
will find this quite thought provoking
would like to show you
you can save time and money with our
you want the best for
3

. Motivate the reader to respond.
Sentences
Call now and receive your first subscription for half price.
Order today. We can't hold this sale forever!
Mail in your order immediately. We don't want you to miss a single issue.
I will call you in a few days to arrange a time for your free estimate.
Contact me before your next shipping date so we can confirm the discounted rates for your bulk order.
Simply fill out the order form and send it to us. We eagerly await your request to send you this new best seller.
I look forward to meeting with you. My secretary will call you to make an appointment.
This could be a lifelong career opportunity. Give me a call and we'll talk about it.
If you would like to get in on this excellent money-making opportunity, call my secretary at 555-5555. She'll help you set up an interview with me.
To set up an appointment, call one of our customer service representatives during regular business hours at 555-5555.
I'll call you in a few days to discuss which package you would like to order.
If I can assist you with this decision, please call my personal office at 555-5555. If I am not in, leave a message with my secretary. I will return your call as soon as possible.
I'd like to make an appointment for next week to discuss your specific needs. I'll give you a call.
Phrases
eagerly await your
be happy to address any concerns you may have
call to discuss terms
call me at any time
glad to arrange an on-site demonstration
happy to set up an appointment to
hope you will give some thought to
hope you will consider our proposal and
if you want clarification of any point
if you need any further information
if you need any more information
if you have any concerns
just fill out the order form and
let us know if you
let us know when you're ready to
let me know what other information you need
look forward to talking with you further
look forward to working with
look forward to serving you
looking forward to providing your
looking forward to your call
please come by again and
please contact me at
please let us know when you're ready to
please feel free to call
prices are negotiable
send it in with the special coupon
set up a time for
to set up an appointment
will be happy to assist you
will call you to arrange
will call you next week to
will be back in touch in a
would like to do business with you
would like you to accept a free trial of
Related Articles
Related Resources
Still can't find the right words for your reservation letter?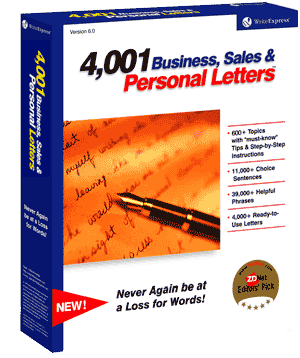 You will with our 500 letter-writing tutorials!
Find the reservation letter that fits your needs and copy it directly into Microsoft Word or your favorite word processor.
Or let our 500 letter-writing tutorials guide you step-by-step through the writing process, suggesting sample phrases and sentences for each writing step. In minutes, you can write an effective reservation letter.
Print your reservation letter and send it!