Tips
A letter offering sympathy for the death of a business associate respectfully acknowledges the reader's misfortune while offering comfort and support. Be brief, honest, and sincere as you write the message by hand, using personal stationery. Never include business details like benefits or distributions in a sympathy letter. Reserve these matters for another time.
Steps
1

. Express your sympathy briefly.
Sentences
It is with great sadness that we learned of John's passing.
I was devastated to hear of Jane's death.
Please know that the Doe family extends its most heartfelt sympathies on the death of your beloved husband.
We received the tragic news of your loss with deep sorrow.
I was stunned yesterday to learn of Jane's untimely passing.
It was with sincere regret and surprise that I read of John's passing in this morning's paper.
Your great loss has saddened me and my staff.
Your loss has stunned and saddened all of us here at Doe's.
Phrases
associates and I wish to extend our deepest sympathy
been shaken by the news of the accident
extend our most heartfelt sympathies
extend our deepest sympathy to you
has stunned and saddened all of us
has saddened me and my staff.
is with great sadness that we learned
of the passing of
please accept my deepest sympathy
please accept our condolences
please accept my sincere condolences
sincerest sympathy to you and your associates
so sorry to learn
staff and I were saddened to hear
the news of your tragic loss
was with sincere regret and surprise that I read
was deeply moved by the news
was shocked and distressed to hear
with great personal sorrow
with deep sorrow we have received the news
2

. Recall the achievements or character of the deceased, or a particularly positive episode in your relations with him or her.
Sentences
His colleagues held him in high esteem for his loyalty and personal integrity. He demonstrated the kind of motivation and leadership all of us on his staff greatly admired.
Over the years she became my mentor, offering guidance, inspiration, and encouragement. She was a great example to us all.
He was an outstanding administrator, and all those fortunate enough to have worked with him genuinely appreciated him.
Just as John bequeathed everlasting love to you, he has also left a tradition of professionalism at Doe Corporation.
What started many years ago as a business relationship between Jane and me soon blossomed into a warm friendship. I feel truly blessed to have known her so well.
I had lunch with John only last Tuesday, and we had a great time reminiscing over our time at the condo last summer. I will sorely miss his friendship.
Although he was among the very best we have known, John's value to us as an employee far exceeded his expertise as a programmer.
Phrases
a fine person to do business with
admired for her loyalty and personal integrity
all her co-workers loved her
all had the greatest respect for
always put customers first
as a member of our profession
earned everyone's respect
feel fortunate to have known him
genuinely admired by all those who worked with her
great example to us all
great business associate
has been my mentor over the years
has served us well
high regard in which he was held by all who knew him
left a legacy of professionalism for us
made a friend of everyone he met
motivation and leadership
offered us inspiration and encouragement
relationship blossomed into a warm friendship over the years
the community is richer for having known
value to us far exceeded his expertise as a
was far more to me than a business associate
was held in very high esteem by all his colleagues
was a shining example to us all
was an outstanding
was a wonderful friend as well as coworker
was well respected among her colleagues
will all remember her for her
will be sorely missed
worked together here for many years
3

. Offer further condolences or support.
Sentences
Please accept our deepest sympathies for the loss of a great man. We will dearly miss him.
We framed his latest photo and hung it in one of our conference rooms as a memorial to John's character and leadership.
Mrs. Doe, our thoughts and prayers are with you. Everyone in our company joins in this expression of deep sympathy.
We are sorry for the loss, but we are thankful for his example of devotion to family and dedication to hard work.
I share your loss and extend my heartfelt sympathy.
My staff and I extend our deepest sympathy. Please call on us if we can help as you plan for the future.
We will always remember John as a valuable employee and an outstanding individual. We hope these thoughts can add a measure of comfort for you during this difficult time.
Phrases
be assured of my availability
best wishes and thoughts
call on us if we can be of service
extend our deepest sympathy
hard to imagine the world without him
hard to say goodbye to someone I have worked with for so long
have hung his photo in our conference room as a memorial
have taken up a collection for a memorial
hope the support of your family and friends
hope the many memories you shared will ease your pain
know that we too will miss her
may a lifetime of wonderful memories give you strength
only a phone call away
passing will be mourned
please do not hesitate to contact us
thanks for sharing him with us
thoughts are with you
thoughts and prayers are with you
will be dearly missed
will never forget
Related Articles
Related Resources
Still can't find the right words for your sympathy letter?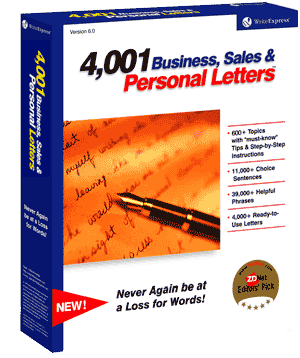 You will with our 500 letter-writing tutorials!
Find the sympathy letter that fits your needs and copy it directly into Microsoft Word or your favorite word processor.
Or let our 500 letter-writing tutorials guide you step-by-step through the writing process, suggesting sample phrases and sentences for each writing step. In minutes, you can write an effective sympathy letter.
Print your sympathy letter and send it!