Tips
A letter offering a friend or associate sympathy for the death of his or her loved one who has been ill respectfully acknowledges the reader's misfortune while offering comfort and support. Be brief and sincere as you write the message by hand, using personal stationery.
Steps
1

. Express your sympathy briefly.
Sentences
We were so sorry to hear from John Doe that Robert passed away after a long and difficult illness.
Although John's death was expected, his passing has saddened us beyond words.
What a trying time this past year has been for you, Jane. Your being there for your mother throughout her illness was certainly an act of love.
Although it is still difficult to accept that John is no longer with us, I am relieved to know that he no longer suffers pain from his illness.
We are saddened to hear that John has lost his struggle with cancer.
Even during his final days in the hospital, your Eric displayed an optimism that we have rarely seen.
All of us here at Doe Corporation would like to extend our deepest sympathy on the passing of your mother.
Although your mother's death saddens us all, we share your relief that she is finally free from pain and is at peace.
Phrases
accept our most sincere condolences
after such a long illness
although expected
couldn't have asked for more devoted care
devotion helped her through this last illness
during her final days
express my deepest sympathy
extend our heartfelt sympathy
extend my deep sympathy
extend our deepest sympathy to you
has been a trying time for you
has saddened us beyond words
have been thinking of you every moment since I learned
is with sincere regret
are thinking about you
our hearts go out to you
never any way to prepare for the loss of a parent
no longer with us
no longer suffers the pain of his illness
on the passing of your
passed away
relieved to know
still difficult to accept
this sad occasion
throughout her illness
to you and your family
was so sorry to hear
were saddened to hear
with great personal sorrow
2

. Recall the achievements or character of the deceased, and express your admiration for the reader's courage.
Sentences
We will remember John as an intelligent, hard-working, and dedicated employee, as well as a loyal friend.
I credit Jane with being largely responsible for the success I have achieved throughout my career. If it were not for her wise counsel and generosity, I never would have received so many business opportunities.
He was a talented, kind, and energetic man. I hope that his memory will bring comfort to you in the years ahead.
Although we cannot bring back such a courageous, honest man, in our hearts we wish we could.
Your courage and strength in the face of John's illness has been absolutely astonishing. You must have found strength in the loving relationship that you and John shared.
If we all had Eric's friendly smile and cheerful disposition, this world would be a happier place.
Phrases
a shame that one so gifted should succumb so early in life
already feel her absence
always so warm, wise, and understanding
appreciated her wise counsel and generosity
at peace now
by all those who knew him
came to admire her cheerfulness
did more than was expected of
during the many years I knew
feel as if I knew him from all you have said
fine memories he left with us
fine human being
free from pain
friendliness cheered us all
good nature won her many friends
great and loyal companion
had splendid parents during her short time on earth
have heard so much about
held in high esteem by
hope her memory will bring comfort to you
immense capacity for helping others
kind and generous disposition
made this world better
made life better
those who knew her could never forget her charm and warmth
one of those extraordinary people who will never be forgotten
one of the kindest people I have ever known
remember his energy and kindness
seems selfish of us to want him back
shall miss his counsel
share your relief that she is no longer suffering
was loved and admired by all
was always so impressed by
was always good to us kids
was a fine friend
will be sorely missed
will always think of him with fondness
will always remember her pleasant ways
won't be the same without her
your courage and strength
your devoted care
3

. Offer further sympathy and support.
Sentences
Please accept these flowers as a tribute to John and the fond memories he left with us.
Our offer still stands for the summer cabin in Vermont. It is our hope that our families can continue to enjoy one another's friendship for many years to come.
Your mother has left a beautiful legacy in you, Mary. Please know that my thoughts and prayers are with you now and always.
I realize that your married children are close and will be looking out for you, but know that I would be honored to help out in any way I can, from bringing in meals to driving you to the store.
Although I cannot replace John, please know that I am here to help you through the lonely times.
Eric's memory will live on in our hearts and minds. Thank you for sharing such a jewel with us.
Please accept our deepest sympathy. We have sent a memorial contribution to the Heart Association in your mother's name.
Phrases
accept our sympathy and condolences
admired your dedicated care of
am here to be your friend
anything at all we can do to help
be assured of my availability
be assured of my love and concern
bereavement is so personal
best wishes and thoughts
brave battle with cancer
call on us if we can be of service
comforting to know that we are all in God's hands
concern of your many friends will sustain you
do call if I can give you a hand
extend our deepest sympathy
extremely painful time for you
flowers are just a small symbol of my esteem for
hard to say goodbye to someone I worked with for so long
hard to imagine the world without him
have hung his photo in our conference room as a memorial
here for anything you may need
hope the many memories you shared will ease your pain
hope the support of your family and friends
if you need someone to talk to
know that we too will miss her
loved her so much
many memories we will always cherish
may you have the strength and courage to carry on
may God bless you and your family
may a lifetime of wonderful memories give you strength
offer you a listening ear
only a phone call away
our thoughts are with you
passing will be mourned
please do not hesitate to contact us
please let us know if
realize how deeply this loss will touch you
realize our loss is small compared to yours
remember all the good times we shared
seems hard to believe that she is no longer with us
share your relief that she is now at peace
so many of his friends share your grief
thoughts and prayers are with you
will never forget
will be dearly missed
would be selfish of us to want to bring him back
you gave him all the love and care possible
Related Articles
Related Resources
Still can't find the right words for your sympathy letter?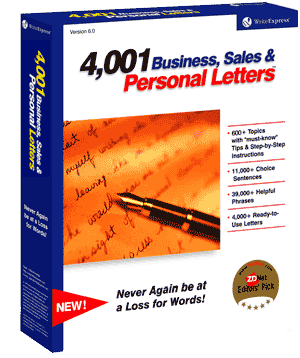 You will with our 500 letter-writing tutorials!
Find the sympathy letter that fits your needs and copy it directly into Microsoft Word or your favorite word processor.
Or let our 500 letter-writing tutorials guide you step-by-step through the writing process, suggesting sample phrases and sentences for each writing step. In minutes, you can write an effective sympathy letter.
Print your sympathy letter and send it!