Tips
Expressing sincere appreciation for the customer's business is the major purpose of this letter, but you may also include some information that you want the customer to have, or a request for information that you need. A personal touch will add credibility to your expression of thanks.
Steps
1

. Express specific thanks.
Sentences
Thank you for giving me the opportunity to meet with you last week to discuss future contracts.
We appreciate the kindness you showed to John Doe's family when they visited your plant on Monday.
We at Doe International want you to know that we appreciate your business and will continue to do everything we can to meet your personal and professional needs.
Thanks for recommending our service to your affiliate in Springfield. It means a lot when a respected client gives us a vote of confidence.
Thank you for ordering 20 copies of our latest handbook on outdoor survival.
Thank you for the confidence you placed in us by inviting us to handle your advertising campaign.
Thank you for opening an account with Doe Seed and Feed. We are eager to serve your needs at home and on the farm.
Phrases
appreciate your business
appreciate your opening an account with
appreciate your patronage
customers like you
delighted that you have chosen us
for your recent order
for recommending our services to
for inviting us to bid on
for your gracious recommendation
grateful for the opportunity to serve you
greatly appreciate your patience
have always been a terrific customer
how much we appreciate
is always our pleasure to
is so gratifying to learn that
means a great deal to us
pleased that you have selected our firm to
thank you for
want to thank a great customer for
want you to know
wish all our customers could be like you
2

. Continue with additional explanations, questions, or requests.
Sentences
As soon as our lawyer completes the paper work, we will set up another meeting to discuss the subcontractors who will be involved.
After the tour Mrs. Doe expressed her pleasure at your kindness and hospitality. She was excited to see firsthand the security measures that you employ.
We are delighted that you have chosen to do business with us and look forward to many more years of mutual benefit.
Some of the items your affiliate requested are on back order, but we will send them as soon as they become available, in two to four weeks. Thank you for your patience and understanding and for the opportunity to serve you.
We cannot fill your order until we know whether you want the book in hardback or paperback. Please phone us at 555-5555 and leave that information with Jane.
One point that remained undecided was whether we should use local actors for the outdoor scenes. I would like to meet with you at your convenience to make that decision.
We are offering clock radios to all who open new accounts in May. You are welcome to stop by and pick up yours.
Phrases
are our greatest asset
as soon as the goods arrive from
can offer you a choice of
continue to seek better ways to
could not fill your entire order
delighted that you have chosen to
did not note your preference
do all we can to ensure
hope to be able to ship them by
incorporate the latest technology
need to make a decision about
our merchandise is backed by
please inform us when you are ready to
request that you fill out the enclosed
when the opportunity presents itself
whenever you have the time
will send them as soon as
will ship the items as soon as
will contact you as soon as
would like to meet with you to
would like to set up another meeting
3

. Close with an expression of good will.
Sentences
I look forward to starting work on the project, so you will have your new garage soon.
It is always a pleasure to work with people like you.
We hope you will feel free to use any of our services.
We look forward to many years of a rewarding business relationship.
Please accept my sincere thanks for letting us provide your office supplies.
Thanks for your cooperation.
We want you to be completely satisfied with our work.
Please drop in and inquire about other benefits of maintaining an account with us.
Phrases
am eager to answer any questions
are glad to have you as a customer
are proud to be your
are anxious to accommodate you
can assure you that
can count on us to
exists to serve our customers
feel free to inquire about other
hope to exceed your expectations
is always a pleasure to
look forward to
mutually profitable relationship
mutually rewarding association
our policy has always been to
put forth our best efforts to
thank you for your cooperation
through the years
to your complete satisfaction
use any of our services
want you to be pleased with
will always have what you need
will do everything in our power to
would be pleased to
Related Articles
Related Resources
Still can't find the right words for your thank-you letter?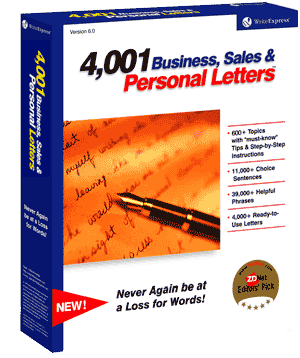 You will with our 500 letter-writing tutorials!
Find the thank-you letter that fits your needs and copy it directly into Microsoft Word or your favorite word processor.
Or let our 500 letter-writing tutorials guide you step-by-step through the writing process, suggesting sample phrases and sentences for each writing step. In minutes, you can write an effective thank-you letter.
Print your thank-you letter and send it!