Tips
Send this expression of thanks within a few days after the event.
Steps
1

. As you express thanks, mention the event or circumstance involved.
Sentences
Thank you for your hospitality in showing me around the university campus last week.
Thank you for including us in your special evening of music. I can't remember when I've had a more enjoyable time.
John, just a note to thank you and Jane for your hospitality in having us over when we passed through Springfield last week.
Thank you so much for your kindness in letting our group use your home to prepare for our presentation.
Thank you for inviting us to your open house. It was a wonderful evening.
The dinner you gave for our faculty was simply superb.
I want to thank you and Jane for making my first business trip to Springfield such a pleasant one.
Phrases
appreciate your hospitality
can't remember when I have had a more enjoyable time
enjoyed being your guest
felt like one of the family
felt right at home
for having us over for
for inviting me
for letting us use your home for
for your kindness and thoughtfulness
for a wonderful evening
for including us in your
for your hospitality
how much we enjoyed
how much I appreciated
inviting us to be a part of
many thanks to a wonderful host and hostess
received us with open arms
thank you so much for
thank you for
thanks again for
thoroughly enjoyed your
want you to know how much
want to let you know
want to thank you and your
was a privilege to
was so thoughtful of you
was a great pleasure to
was very impressed with
wish to thank you for
wish to express my gratitude for
2

. Add specific comments about what you enjoyed, and mention details about the reader's thoughtfulness.
Sentences
I was especially impressed by the new humanities building and the computer facilities that seem to be everywhere. It was very thoughtful of you to include my father in the tour. We all appreciated your friendly gesture.
The entire program, combined with your gracious hospitality, made the evening one we will always remember. You even remembered that I love Mozart's piano concertos. Thank you very much.
We thoroughly enjoyed our visit, and the lasagna was terrific! Thanks for sharing the recipe.
We never expected you to go to so much effort in preparing refreshments for us.
The view you have of the mountains is spectacular, and I especially like the openness of your new office complex. You seem to have thought of everything.
The food was delicious, the program uplifting, and the conversation delightful. And, as always, you were a charming hostess.
It was very kind of you to take the time to show me the sights.
Phrases
always look forward to
an outstanding program
an occasion we will always remember
an evening to remember
an unforgettable experience
appreciate your thoughtfulness
are looking forward to
can certainly be proud of
conversation was delightful
didn't want it to end
enjoyed being exposed to
especially enjoyed the
even remembered that
food was delicious
for sharing such a memorable event with us
for taking us to
for showing us the
just being in your company
particularly enjoyed the
seem to have thought of everything
such a memorable event
thanks for sharing the
thoroughly enjoyed ourselves
very kind of you to
very thoughtful of you to
was particularly impressed with
went to so much effort in preparing
3

. If you feel so inclined, offer to reciprocate.
Sentences
If you ever come to Springfield, we would like to return the kindness and show you the university.
I hope we can repay you in some way.
We look forward to your visit next August.
You are a wonderful example for the rest of us to follow.
Perhaps one day we will be able to have our own open house--if all goes well.
We hope you will join us when we hold our graduation dinner in May.
I expect to reciprocate when the national convention is held in Kansas.
Thank you for the home cooked meal and the friendly conversation.
Phrases
accept my invitation
always welcome to stay
don't forget the standing invitation
expect to reciprocate
hope you will join us
hope to set up a tour
hope you will allow me to
if you plan to visit
if there's ever a way
if you feel inclined to
if you ever come to
let us return the kindness
like to have you as my guest
look forward to your visit in
next time you are in town
perhaps one day
please stop by
return the favor
show you our city
the next time you are in
the opportunity to reciprocate
want to share
want you to experience
want to keep in touch
when we hold our
whenever you are in Springfield
would be my pleasure
would like to return the kindness
would be a privilege to
would like to show you around
would like you to see
would like to entertain you
Related Articles
Related Resources
Still can't find the right words for your thank-you letter?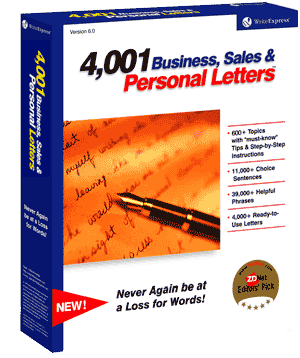 You will with our 500 letter-writing tutorials!
Find the thank-you letter that fits your needs and copy it directly into Microsoft Word or your favorite word processor.
Or let our 500 letter-writing tutorials guide you step-by-step through the writing process, suggesting sample phrases and sentences for each writing step. In minutes, you can write an effective thank-you letter.
Print your thank-you letter and send it!