Tips
When someone takes the time and effort to provide you with a referral or recommendation, this written acknowledgment is an effective way to thank him or her and to build good will for the future. Write in specific terms and, if possible, let the reader know the outcomes.
Steps
1

. Thank your reader for the referral or recommendation and for expressing confidence in you or your organization.
Sentences
Thank you for the vote of confidence. I always appreciate it when a customer recommends my services to his or her friends.
Thanks so much for referring Mr. and Mrs. Doe to me to sort out their tax problems.
Thank you very much for the recommendation letters you wrote to help me gain admission to law school.
Thank you for passing my letter on to the manager, and for adding your own recommendation.
A million thanks for the letter you wrote to John Doe on my behalf.
Thank you for referring Jane Doe to me for an evaluation of her knee problem.
Thank you for referring John Doe to us. Your confidence in us is greatly appreciated.
I have always valued our business relationship and appreciate your recommending John to me.
Phrases
am grateful for
can't thank you enough for
confidence in us is greatly appreciated
for suggesting our company
for recommending my services to
for the letter on my behalf
for furnishing such helpful leads
for recommending our
for your support in
for passing my letter on to
for your kindness in
for advising Mr. Doe to
for sending Eric Doe to
for the names you suggested
for your letter of recommendation
for pointing Mr. Doe in our direction
for the excellent lead
for adding your own recommendation to
for mentioning our name
for the letters of recommendation you wrote
for referring Mrs. Doe to
for your vote of confidence
for the introductory phone call
for saying so many wonderful things
for putting me in touch with
how much we appreciate
it gives me a great feeling of satisfaction when
on my behalf
thank you for
thank you very much for
thanks so much for
thanks a million
very much appreciate your
want you to know
your recommendation letter
your letting me use your name as a reference
2

. Inform your reader of the outcome, or desired outcome, of the referral or recommendation.
Sentences
In the past month three clients have reported that you had recommended my services.
Although we still have more to do, I am confident that we will have the major problems resolved without the Does having to pay any penalties.
I will let you know what the outcome is when they send out notification letters in April.
I received a call from her this morning asking me to come in for an interview on Friday afternoon.
Your letter was so effective that I have been offered the position of executive coordinator of the restoration project. It is a wonderful opportunity to use my graduate training.
It is clear that only joint replacement will alleviate her pain, but she is very reluctant to undergo this procedure. Perhaps you can help her make the right decision.
Phrases
am confident that
am sure that
appreciate your efforts
as soon as I have been notified
as a result of your
because of your letter
expect to hear from
had the desired outcome
has resulted in
have been accepted into
have become good clients
have been offered the position
have been most impressed with
helped to resolve the issue
helped solve the problem
is working out very well
it is clear that
letter was so effective that
looking forward to
nicely filled in the gap
received a call from
reported that you had
sounds very promising
to a continued association with
told me that you had
took action immediately
was awarded the contract
was a key link in the chain
will have the desired effect
will let you know
without your help
wonderful opportunity to
3

. Express your appreciation for the reader's time and effort in making the recommendation or referral.
Sentences
Thank you for writing letters and making calls to your associates.
Thank you for taking the time to let friends know about me.
I know you are very busy, so I especially appreciate you taking the time to put us in touch.
I know it takes a great deal of your valuable time to provide this service, and I want you to know how much I appreciate your efforts.
I really appreciate your taking the time to recommend me.
I sincerely appreciate the time and effort you spent on my behalf.
Thanks again for the referrals.
Phrases
am very grateful to you for
am grateful for
appreciate your promptness in
appreciate the part you played in
appreciate the resources you used
appreciate the effort you put into
for taking the time to
for the names you sent along
for your concern
for your thoughtfulness
for your kindness
for being so kind
for the resources you used
for your support
has helped me to
have a busy schedule
have noted the time it takes to
know that it's no small task to
know you are busy
must have written an excellent letter
sacrificing your valuable time
such a time consuming project
thank you for
thanks again for
the time you graciously sacrificed
time and effort you expended in my behalf
under many time constraints
understand the time it takes to
want you to know how much I appreciate
your letter of recommendation
your efforts in this matter
4

. Close with an expression of good will.
Sentences
I will do my best to justify your confidence.
I will be happy to return the favor.
Again, thank you.
I hope I will be able to join you at Doe Associates.
If all goes well, I will be working very close to your office.
Phrases
am confident that
call on me if
don't hesitate to call
for your kindness
for your help
happy to reciprocate
how I can return the favor
if I can assist you in any way
if all goes well
if I can help you
in the future
know you appreciate referrals too
let me know
look forward to
may I take you to lunch
send business your way
small token of my appreciation
sometime in the future
somewhere down the road
thanks again for
thanks a million
to helping you in the same manner
to doing business with you in the future
to return the favor
to deserve your confidence
will do my best to
will call you as soon as I hear
will be glad to
will keep you posted
will let you know how things turn out
your letters will have the desired effect
Related Articles
Related Resources
Still can't find the right words for your thank-you letter?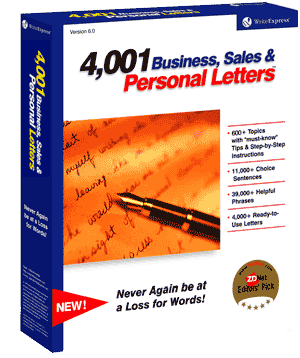 You will with our 500 letter-writing tutorials!
Find the thank-you letter that fits your needs and copy it directly into Microsoft Word or your favorite word processor.
Or let our 500 letter-writing tutorials guide you step-by-step through the writing process, suggesting sample phrases and sentences for each writing step. In minutes, you can write an effective thank-you letter.
Print your thank-you letter and send it!