Tips
This expression of thanks should be sent within a few days after the event. Be specific in your praise and appreciation, and be sincere. Avoid gush or flattery.
Steps
1

. As you express thanks, mention the event or circumstance involved.
Sentences
Thank you for your kindness in showing me around the university campus last week.
Thank you for the delightful patriotic program you organized at Springfield elementary. We enjoyed every minute of it.
The Homecoming parade was one of the best ever! Thank you for all the time and effort you put into it.
Thank you so much for inviting me to the concert last Friday. It was such a pleasant evening.
The open house was great. Thank you for inviting us.
I want you to know how much I have enjoyed choir practice the past few weeks.
The company picnic was most enjoyable. Thank you for the time and effort you put into making it run so smoothly.
Phrases
appreciate your thoughtfulness
appreciated the opportunity
can't remember when I've had a more enjoyable time
for your kindness
for including us in
for inviting me to
for allowing us to be a part of
for the time and effort you put into
for coordinating the whole event
many thanks for
please thank everyone involved
really enjoyed your efforts
sincerely appreciated the
so much appreciated the
such a pleasant occasion
thank you for
thank you so much for
thanks again for a terrific
want to thank each and every one of you
want you to know
was simply superb
was very impressed by
was certainly a pleasure to
2

. Add specific comments about what you enjoyed, and mention details of the reader's thoughtfulness.
Sentences
I was especially impressed by the new humanities building and the computer facilities that seem to be everywhere. It was very thoughtful of you to include my father in the tour. It was a gesture that we all appreciated.
The children performed so well and were obviously having fun. I'm sure that it will prove to be an unforgettable experience for all those who participated.
These events often drag out interminably, but this one moved along at a spanking pace. You certainly did a job to be proud of.
The acoustics were excellent and we enjoyed the entire program. We really appreciate your thoughtfulness in inviting us.
The view you have of the mountains is spectacular, and I especially like the openness of your new office complex. You seem to have thought of everything.
It's been great getting right down to work each time. After all, if we didn't enjoy singing we wouldn't be there! I particularly appreciate your starting and ending on time.
I especially appreciated the wide range of activities you provided, considering the needs of every age group. Well done!
Phrases
an outstanding program
an unforgettable experience
an occasion we will always remember
appreciate your thoughtfulness
are looking forward to
can certainly be proud of
didn't want it to end
enjoyed being exposed to
especially enjoyed the
made us feel like kids again
particularly appreciated the
seem to have thought of everything
such a memorable event
taking responsibility for
thanks for sharing the
thoroughly enjoyed ourselves
very kind of you to
very thoughtful of you to
was particularly impressed with
was especially impressed by
went to so much effort in preparing
3

. Close with a positive comment.
Sentences
If you ever come to Springfield we would like to return your kindness.
This was an experience I will remember for many years.
We look forward to your visit next August.
You are a wonderful example for the rest of us.
I look forward to attending again next year.
Keep up the good work.
We appreciate your friendship.
You certainly have a flair for organizing these events.
I had a wonderful time. Thanks again.
Phrases
an experience we will remember
an unforgettable experience
appreciate your willingness to
appreciate your friendship
are a wonderful example
have a remarkable talent for
have you as our guest
have a standing invitation
hope to reciprocate
if you ever
if you plan to
keep up the good work
look forward to
next time you are in town
please stop by
return the favor
return the kindness
show you our city
thank you once more for
will attend again next
will always be welcome
would appreciate the opportunity to
would like to
would be a privilege to
would be my pleasure to
Related Articles
Related Resources
Still can't find the right words for your thank-you letter?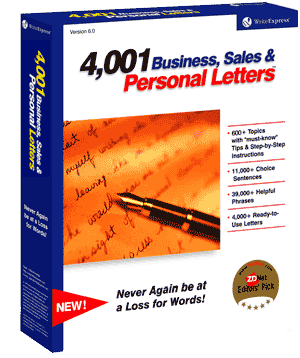 You will with our 500 letter-writing tutorials!
Find the thank-you letter that fits your needs and copy it directly into Microsoft Word or your favorite word processor.
Or let our 500 letter-writing tutorials guide you step-by-step through the writing process, suggesting sample phrases and sentences for each writing step. In minutes, you can write an effective thank-you letter.
Print your thank-you letter and send it!