Tips
Send this letter along with the customer's order to remind the reader of the product's good qualities and to promote further sales.
Steps
1

. Express appreciation for the customer's request or order, and note that you are shipping the merchandise either with the transmittal letter or separately.
Sentences
Thank you for your recent order from Doe's Department Store. We shipped the package today by air mail.
We have received your order dated August 23, and we are shipping it to your Springfield address today. Thanks for using our catalog service.
Enclosed in this package is the merchandise you ordered. Thank you for thinking of us.
We shipped your order dated July 7, today by Doe Express. We appreciate your business!
We shipped the sewage pumps you ordered under contract #123 by Doe Express, and they should arrive at the Springfield site no later than Thursday, July 24.
Phrases
shipment went out today
appreciate your patronage
appreciate your choosing
due to arrive
enclosed in this package
included with this letter
will deliver your order
received your order
same day of the order
scheduled arrival date
sent it the next day
shipped the merchandise
shipped it the next day
should arrive early next week
thank you for buying from Doe's
thank you for your order
your recent order
2

. Summarize the contents in more detail.
Sentences
We have enclosed the following items:
Enclosed is the model T48 that you ordered and the following accessories:
The shipment covers all of the items specified in the contract, including those listed below:
The shipment will arrive in two lots. The first includes the pump housing, while the second includes all the specified accessories and electronic gauging equipment.
We have filled your complete order, dated July 8, without any problems or omissions.
Phrases
according to the contract, the shipment includes
another shipment will follow
because of a delay on the part of the manufacturer
enclosed are the following
included should be three separate parts
including free samples of
items specified in the contract
parts #123 and #124 will arrive Friday
requires some assembly
second shipment will complete the order
the following accessories
will deliver corrected order
your complete order
3

. Explain any omissions in the shipment.
Sentences
Demand for model T48 has been very high, so it is currently on back order. We anticipate a shipment by the end of this month and we will send your order as soon as possible. If you prefer to make other arrangements, please let us know and we will return your payment.
Per your instructions, we have substituted blue, your second color choice, for your original selection of red.
Your order is complete except for the Doe Fan Motor, Stock #3K663, which is no longer being manufactured. We learned of this change after our catalog went to press and we apologize for the inconvenience. We have listed several other compatible motors in the catalog, and we can send you one immediately if you want to reorder.
We were unable to fill your order for a "Doe Handheld Wind Gauge, model 12," since we list no such item in our catalog. Please recheck the description and stock number. If we have what you need, we will gladly send it.
We do not keep the model 34 crane in stock, but rather order it directly from the manufacturing company.
Phrases
anticipate a shipment by next week
apologize for the delay
as soon as possible
because of recent strikes, production has slowed down
currently on back order
expecting another shipment
fill your original order
high demand has resulted
if you would like to change your order
in place of the old model
instead, we can provide you with
sorry for the inconvenience
that particular product
unable to complete your order
upgraded model for just a few dollars more
will send your shipment as soon as possible
will have the factory ship directly to you
4

. Discuss payment arrangements if they have not yet been settled.
Sentences
At your request, we have charged your Doe account $456.70 under our standard terms of 30 days from date of shipment. Cash or anticipation discounts are not allowed. All payments must be in U.S. dollars.
We have sent the order COD at your request.
We have received payment in full on check #123, which you sent with your order.
As I mentioned on the phone yesterday, the manufacturer of the model #23 agricultural pump recently raised the wholesale price to $2,235.00. We have charged your account the difference of $145.00.
You must prepay for this order before we can ship it. Please send your check or bank draft for $57,325.00 to us by certified or express mail.
Phrases
amount agreed to
appreciate prompt payment
as agreed upon
bill your company account
charge for the full amount
have charged your account
have indicated what the balance will be
however you wish to settle the payment
must discuss the details of
our prior agreement concerning payment
payment is due in full prior to shipping
please send the check by certified mail
price quoted on the telephone
received your check in the mail
the first of the three payments of $58.00 is due
to complete the transaction
5

. Close by expressing appreciation and by soliciting future sales. Offer to correct any errors or inadvertent omissions in the order.
Sentences
We have packed your order with care, but sometimes errors and omissions occur. Please check your order and let us know if it is incomplete. We are happy to make exchanges on unused or defective equipment.
Thanks again for your order. We hope you will think of us again when you need precision equipment.
We appreciate your business and look forward to serving you again in the near future.
Remember, for top quality products and service, the name to trust is Doe.
In addition to the sewage pumps you ordered, we also carry a full line of water treatment equipment and products. I have enclosed a copy of our most recent catalog, and we have added your name to our mailing list.
Phrases
any further assistance
appreciate your business
are dedicated to providing
correct any errors
customer satisfaction is our top priority
for top quality products
further business
hope to serve you again
however we may serve you
if you are not satisfied, please let us know
know that you have purchased quality products
look forward to serving you
note if there are any errors
please check the order for completeness
see you in the future
thank you for considering Doe Corporation
thank you for your patience
Related Articles
Related Resources
Still can't find the right words for your transmittal letter?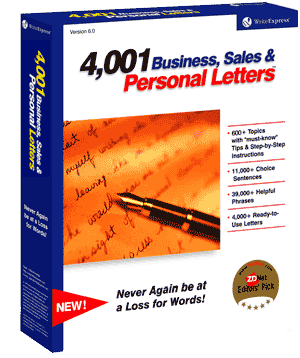 You will with our 500 letter-writing tutorials!
Find the transmittal letter that fits your needs and copy it directly into Microsoft Word or your favorite word processor.
Or let our 500 letter-writing tutorials guide you step-by-step through the writing process, suggesting sample phrases and sentences for each writing step. In minutes, you can write an effective transmittal letter.
Print your transmittal letter and send it!