Tips
Use this cover letter to mention that you are responding to the reader's request and to identify the material you are sending. The material may be in any form, but it is often a brochure or a pamphlet. You may also answer specific questions not covered in the literature.
Steps
1

. Thank the reader for the inquiry and identify what you have sent.
Sentences
We appreciate your questions and concerns about safety at the Springfield Nuclear Power Plant. The enclosed brochure covers all the questions you asked, and many more.
Thank you for your inquiry concerning our product line. Enclosed is a brochure describing the full line of Doe Mowers.
Your inquiry is welcome, and I have enclosed the literature you requested.
Thank you for your interest in Doe Corporation's design and construction capabilities.
Doe Corporation is Springfield's largest manufacturing firm. The enclosed catalog, which may interest you, describes and illustrates our current product lines.
Phrases
appreciate your questions about
contains information about
customer satisfaction guaranteed
easy to assemble
efficiency is the key
enclosing a brochure
great convenience
illustrates the products
impressive deals to provide
inquiry concerning our service
know you will enjoy
listing base prices for all
may be useful to you
more available at
offer complete service
products we offer
save you time and money
thank you for your interest
will be pleased with
with a detailed explanation
2

. Briefly summarize the material you sent and call attention to specific sections of the literature, as necessary.
Sentences
We carry a full line of mowers, from the geared-reel push mowers to our top-of-the-line lawn tractors. The model you specifically inquired about, the self-propelled GX3, is shown on page 7.
Nuclear power offers great benefits, but it also poses considerable risks if not used properly. The accompanying brochure discusses both the positive and negative features, and explains what we have done to insure that Springfield is just as safe as the plant in your town.
The enclosed literature answers all of the questions you asked in your letter. If you have further questions, I will be happy to respond.
I think the medical electronic equipment described in the brochure might particularly interest you.
Our brochure provides a wealth of information. It should give you an idea of the nature and scope of what we can do for you as a supplier.
Phrases
both the positive and negative aspects of
complete with clear diagrams of
describes our entire line of
excellent explanation of
explains all the features of
gives you an idea of
help you increase your
more supplies than you can dream of
offers thorough explanations
our most recent catalog
pay special attention to
perhaps the following can
self-explanatory pamphlet
several options for that particular product
several points of interest
should answer your questions about
tables comparing the features of
the section that focuses on
thoroughly discusses
wealth of information
what we can do for you
3

. Respond to any specific questions asked in the original inquiry but not addressed in the literature you are sending.
Sentences
Since down time on heavy equipment is very expensive, your concerns about rapid service and repair are legitimate. We have technicians on standby who can be at your job site within 12 to 24 hours. They can diagnose and fix most problems on the spot, or arrange for a service crew to take care of more complex repairs.
You expressed concern about air pollution from gasoline engines and asked about the "cleanliness" of Doe engines. Government tests have demonstrated that our engines are among the cleanest in the industry, but because of increasingly stringent regulations, we recently introduced a highly efficient battery-operated machine that runs for five hours between rechargings. See page 5.
Your specifications were out of the ordinary, so I am not sure whether we have what you need; in fact, I am doubtful anyone carries such an instrument. However, as the catalog shows, we carry several electronic testing devices that can fill your customers' needs.
The literature describes our standard product line, but you should know that we can custom build products to your exact specifications.
The only question not answered in the product literature concerns operational costs. Obviously, these can vary widely, depending on the operator, application of the equipment, and local conditions. Still, most users are impressed with the low operating costs of all models.
Phrases
always available to
among the highest in customer satisfaction
as you will find
as to your question about
competitive prices and outstanding service
designs copied from authentic originals
find the answer to your question in
have service operators who can
illustrates the wide choice
initial fee will cover
manufactured right here in
need not be concerned with
no need to worry about
operators who specialize in
our service has been rated among
reputation for quality
sensitive to your needs
since you mentioned
technicians who can provide you
that particular service
unbeatable selection of
unparalleled reliability
your question is a common one
4

. Offer further assistance or indicate where or how your reader can reach a salesperson.
Sentences
If we can assist you further, please let us know. In the meantime, you might want to drop by our authorized distributor in the Springfield area, Doe Mowers on 1600 Main Street.
I will call later this week to see if you have any questions concerning the material I sent.
If our heavy equipment meets your needs, we can discuss prices and delivery terms.
Please let me know if I can clarify anything not covered in the literature.
If you have further questions, our representative in your area will be happy to help you. Call Jane Doe at 555-5555.
Phrases
areas of concern
call our toll-free telephone number
contact us again at the following address
do not hesitate to call
fill out the information card
for further explanation
give further assistance
happy to assist you
happy to be of assistance
have sales representatives
how we can best serve your needs
if you have any questions
if the brochure doesn't contain
information you need
just let us know
let me know if there is anything
local office will respond promptly
more questions about
operators can assist in directing your call
to order, call our toll-free number
will send out a representative
within a week of order time
would like more details
Related Articles
Related Resources
Still can't find the right words for your transmittal letter?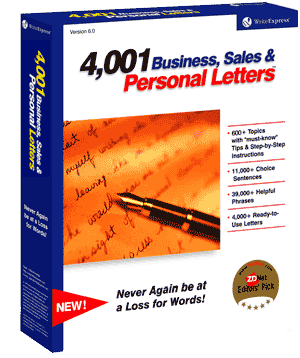 You will with our 500 letter-writing tutorials!
Find the transmittal letter that fits your needs and copy it directly into Microsoft Word or your favorite word processor.
Or let our 500 letter-writing tutorials guide you step-by-step through the writing process, suggesting sample phrases and sentences for each writing step. In minutes, you can write an effective transmittal letter.
Print your transmittal letter and send it!