Write your farewell letter as an act of goodwill and diplomacy
Always begin your farewell letter with a friendly form of address.
Keep the tone of your farewell letter good-natured and positive.
Refer to personal, positive memories of the person or place you are leaving.
Express your appreciation for opportunities you enjoyed in the past.
Express your sense of loss to a friend or job associate who is leaving.
If you are leaving a bad situation, avoid making negative comments.
Offer the reader best wishes for success and happiness in the future.
Unleash Your Creativity With The Power to Brainstorm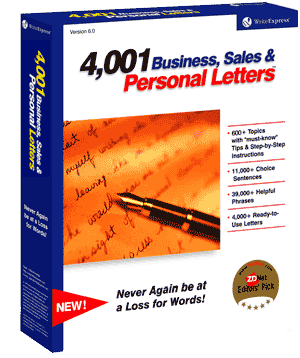 Can you think of the right words for your letters?
Most people cannot so we asked ourselves, "Can we simulate having a professional writer by their side?" After years of research and development, we succeeded. Now you can write creatively with the help of 4,001 Business, Sales & Personal Letters.
Find the /farewell letter that fits your needs and copy it directly into Microsoft Word or your favorite word processor.
Or let our 500 letter tutorials guide you step-by-step through the writing process, suggesting sample phrases and sentences for each writing step. In minutes, you can write an effective farewell letter.
Print your farewell letter and send it!
You'll get a variety of farewell letter tutorials and letters for each of these topics:
Plus tutorials and sample letters for these farewell-letter related topics