It is basically a "bad news letter." You have one chance to say it right. Be as diplomatic as possible. Don't let your words come back to haunt you someday.
Open your refusal letter with a sincere expression of regret as you state exactly what you are refusing and how you received the request.
Explain your reasons for refusing and any evidence you may have to back up your position.
Offer alternate sources that your reader could appeal to with a better chance of success as a 'consolation prize.'
Use courteous language throughout your letter, and end by expressing wishes for the reader's success elsewhere.
Check your refusal letter carefully for typos or any other mistakes in grammar, spelling, and punctuation.
Refer to essential references such as Little, Brown Handbook, The (12th Edition) (Aaron Little, Brown Franchise).
Unleash Your Creativity With The Power to Brainstorm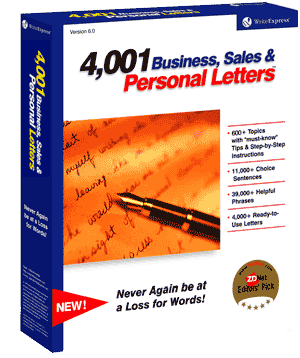 Can you think of the right words for your letters?
Most people cannot so we asked ourselves, "Can we simulate having a professional writer by their side?" After years of research and development, we succeeded. Now you can write creatively with the help of 4,001 Business, Sales & Personal Letters.
Find the /refusal letter that fits your needs and copy it directly into Microsoft Word or your favorite word processor.
Or let our 500 letter tutorials guide you step-by-step through the writing process, suggesting sample phrases and sentences for each writing step. In minutes, you can write an effective refusal letter.
Print your refusal letter and send it!
You'll get refusal-letter tutorials and a variety of sample refusal letters for each of these topics: