Be particularly courteous and tactful when writing this letter, as requests are generally an imposition on another's time and/or resources or talents. Put the reader at ease, and help her or him feel that responding will not be burdensome.
Be brief.
Be confident and persuasive. Be assertive but not overbearing.
Don't hem and haw around the issue—be straightforward, and include as much detail as necessary to clearly convey your request.
Don't be manipulative.
Avoid the temptation to apologize for your request. Strive to make the person feel complimented that you would ask the favor of him or her.
Make only reasonable requests.
Express your willingness to reciprocate the kindness or favor.
Invite the person to contact you if he or she has any questions or concerns, and thank him or her for taking the time to consider your request.
Make it easy for the person to respond—tell him or her exactly what can be done to accommodate your request, and do everything within your power so that the request can be granted (e.g., if you are asking for a letter of recommendation, include your résumé or a list of accomplishments and a stamped, addressed envelope).
Still can't find the right words for your request letter?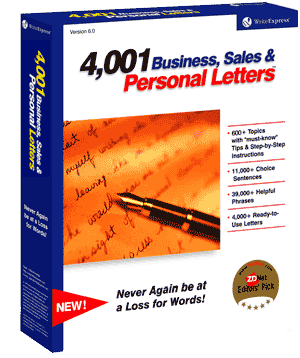 You will with our 500 letter-writing tutorials!
Find the request letter that fits your needs and copy it directly into Microsoft Word or your favorite word processor.
Or let our 500 letter-writing tutorials guide you step-by-step through the writing process, suggesting sample phrases and sentences for each writing step. In minutes, you can write an effective request letter.
Print your request letter and send it!
More Articles