An acceptance letter provides proof of what you believe to be your terms of employment before you actually begin work. Although you will often accept a job offer in person, it is a good gesture and a wise practice to formalize it with a letter.
Begin your acceptance letter by thanking whoever sent you the job offer, and then make it clear that you have decided to accept it.
Use your acceptance letter to restate the basic terms of employment as you understand them, including hours per week, salary, and benefits.
Restate what instructions you were given regarding such details as your starting date, work hours, appropriate dress, and where you should park.
Request clarification in your acceptance letter of any terms of employment that were vague in the interview or that concerned you afterwards.
Express how much you look forward to filling this new position and mention one or two aspects of the job you will especially enjoy.
Type your acceptance letter in block or semi-block format, using three or four paragraphs, one page in length, and sign it by hand.
Make sure your acceptance letter is professional-looking; check it carefully for grammatical mistakes, typographical errors, and misspelled words.
Not ready to accept a job offer?
Now is the time to negotiate:
Related Articles
Related Resources
Still can't find the right words for your job-offer letter?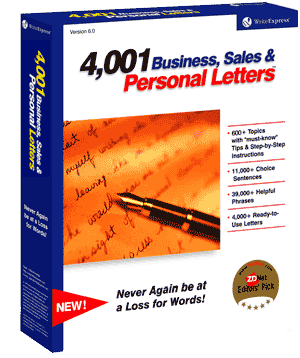 You will with our 500 letter-writing tutorials!
Find the job-offer letter that fits your needs and copy it directly into Microsoft Word or your favorite word processor.
Or let our 500 letter-writing tutorials guide you step-by-step through the writing process, suggesting sample phrases and sentences for each writing step. In minutes, you can write an effective job-offer letter.
Print your job-offer letter and send it!