Carta Modelo #1
I thought you would like to know the outcome of our conversation last Tuesday. We are seriously considering your suggestion that we solicit input from all personnel through an e-mail "brainstorming" bulletin board. Thank you for your insight.
Our company's success depends upon both the collective and individual innovation of our employees. Your bulletin board suggestion may encourage employees to speak up more frequently.
Your idea should become a reality in a very short while. Thanks for your help.
Carta Modelo #2
I found your suggestions for improving quality control very interesting. You made some very good points. Please plan to present your ideas in our next staff meeting, Monday at 9:00 a.m. I will put you on the first part of the agenda. I sincerely appreciate your interest in helping us improve our process.
Carta Modelo #3
I recently received the following suggestion from John, who seems to have a good grasp of the issues confronting his team. Would each of you please review his suggestion and be prepared to ask him questions about it in our Monday meeting. We thank you for your interest in making Doe Corporation more productive.
Carta Modelo #4
I just reviewed your innovative suggestion for reducing the number of inventories we take each month. John Doe and I meet each week, and I will bring your idea to his attention. I sincerely appreciate your interest in the future of our company.
Artículos Relacionados
Recursos Relacionados
¿No encuentras las palabras correctas para tu carta?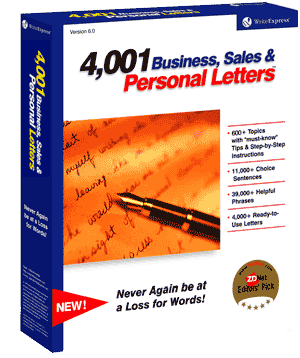 Con las instucciones a paso ¡escribes cartas como un profesional!
Busca la carta de que satisface tus mayores necesidades y cópialo en Microsoft Word o tu word processor preferido.
O permite que nuestras cartas de modelo te guíen paso a paso a través del proceso de escribir. Te recomendarán frases y oraciones modelos con cada paso. Dentro de minutos puedes escribir una carta de .
Imprime tu carta de y ¡envíala!