Carta Modelo #1
Thank you for your May 15 telephone order for 475 TV/VCR coaxial cables. Delivery of our catalog items generally takes less than a week. Larger orders such as yours may take two to three weeks. We are pleased to notify you, however, that your large order qualifies you for our new 20% bulk discount, applied to all orders over $200. (As you will see on the accompanying invoice, we have already deducted your discount from the total price of your order.)
Beginning in July and August, Doe's will open thirty-seven new regional outlets or showrooms nationwide. We look forward to becoming your neighbor and invite you to visit the outlet or showroom opening soon in your area.
After nineteen years in the business, our unmatched reputation for service seems to speak for itself. However, while many customers have heard about our excellent warranty, fewer know about our lifetime service contract on large electronic appliances. We invite you to glance at the enclosed flier for more details.
Again, thank you for turning to Doe's for your electronic supplies.
Carta Modelo #2
Thank you for ordering the Doe Success Video. We are processing your order and you should receive it soon. We are happy to say that demand for Doe products continues to grow as public awareness spreads. Enclosed is some literature describing new designs that may interest you.
Carta Modelo #3
Thank you for you recent order of the Doe 409 Laser Printer. As requested, we will ship it COD no later than Friday, May 5. I am sure you will be pleased that you chose the Doe 409. It is fast and reliable--a true workhorse. You may want to consider the color printer cartridge with your next order. It increases the capabilities of an already versatile machine.
Carta Modelo #4
Thank you for your order of 1,000 copies of John Doe's autobiography. Unfortunately, there will be a slight delay due to the recent printers' strike. However, we will ship your order within the next three weeks. We appreciate your business and will continue to offer you the best in sports information. Enclosed is our second quarter catalogue, which describes ten exciting new offerings.
Artículos Relacionados
Recursos Relacionados
¿No encuentras las palabras correctas para tu carta?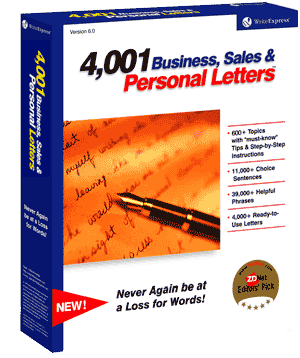 Con las instucciones a paso ¡escribes cartas como un profesional!
Busca la carta de que satisface tus mayores necesidades y cópialo en Microsoft Word o tu word processor preferido.
O permite que nuestras cartas de modelo te guíen paso a paso a través del proceso de escribir. Te recomendarán frases y oraciones modelos con cada paso. Dentro de minutos puedes escribir una carta de .
Imprime tu carta de y ¡envíala!