Carta Modelo #1
We acknowledge receiving your check #123 for $100,000 as the final payment on account #1234. Thank you for remitting this overdue balance.
Please take careful note of our continuing policy to charge a 15% penalty on overdue accounts. If you have any questions regarding your account, our conditions of credit, or any of the services we offer, please call us toll-free at the 800 number shown above.
We look forward to serving you again in the future.
Carta Modelo #2
Thank you for your recent payment of $100.00. We have reinstated your credit line. As we discussed, we need to receive your payments by the 15th of each month. Further delinquencies may result in our having to place restrictions on your account.
We appreciate your business. If you have questions or concerns, please contact us immediately.
Carta Modelo #3
We received your $150 payment today. We have reinstated your credit privileges so you can use your credit cards again. Please remember to make your payments before the 15th of each month so we can avoid situations like this in the future. We appreciate your business and are glad to be of service to you.
Carta Modelo #4
Thank you for your payment on your credit account with Doe Department Store. We have credited $53.75 to your account on March 3, leaving a balance of $245.25. You have available credit line $254.75. To avoid late fees in the future, please be sure we receive your payment by the first of the month.
We appreciate this opportunity to serve you. Please call our customer service department at 555-5555 if we can be of further assistance.
Artículos Relacionados
Recursos Relacionados
¿No encuentras las palabras correctas para tu carta?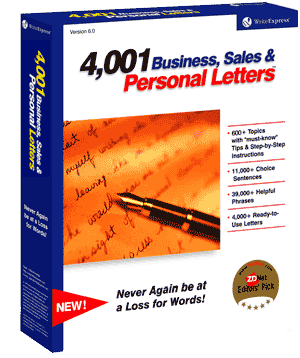 Con las instucciones a paso ¡escribes cartas como un profesional!
Busca la carta de que satisface tus mayores necesidades y cópialo en Microsoft Word o tu word processor preferido.
O permite que nuestras cartas de modelo te guíen paso a paso a través del proceso de escribir. Te recomendarán frases y oraciones modelos con cada paso. Dentro de minutos puedes escribir una carta de .
Imprime tu carta de y ¡envíala!