Carta Modelo #1
I know you hate giving advice, but I need your experience on my side. I have the opportunity to buy out another fisherman's fleet at the end of the season. The trouble is this will put us in a real bind financially next season. I hope you will come on down. I will take you to lunch and we can look at the numbers together. I trust your judgment more than my own. I look forward to hearing from you.
Carta Modelo #2
Jane, you are the one person I feel I can consult on this. I just got a raise and for the first time I am making more than Eric. In spite of what he says, I know this is troubling him...HELP! Let's get together over lunch this week and you can tell me how you handled the same problem.
Carta Modelo #3
I come to you seeking advice on a personal matter because you have known me since sixth grade and I admire your life experiences and knowledge of academia. I know also that you will honor my request for confidentiality.
What would you do if you had to decide between applying for government financial aid to complete a graduate degree or working full time for six months to earn enough money and have less debt?
I have recently borrowed to purchase an automobile and insurance liability coverage. The monthly payments are low and manageable with my part-time job, but I need money now to cover tuition costs. While I am reluctant to borrow more money, I worry that I may choose not to return to school if I take six months off.
Please let me know your thoughts on this subject. I look forward to hearing from you. Thank you for letting me express my concerns to you.
Carta Modelo #4
I need your advice. You are a friend who seems to know right from wrong. I am in severe financial trouble and wonder whether I should take out bankruptcy. I'd prefer to speak to you directly about this rather than go into detail in a letter. Could we get together sometime next week to discuss my situation? I'll give you a call in the next few days to set a time. Thank you for your time.
Artículos Relacionados
Recursos Relacionados
¿No encuentras las palabras correctas para tu carta?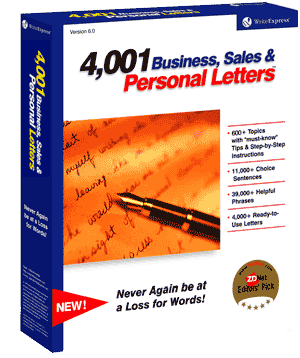 Con las instucciones a paso ¡escribes cartas como un profesional!
Busca la carta de que satisface tus mayores necesidades y cópialo en Microsoft Word o tu word processor preferido.
O permite que nuestras cartas de modelo te guíen paso a paso a través del proceso de escribir. Te recomendarán frases y oraciones modelos con cada paso. Dentro de minutos puedes escribir una carta de .
Imprime tu carta de y ¡envíala!