Carta Modelo #1
We are pleased to announce that the winner of our fall sales contest is Jane Doe. Congratulations, Jane!
Jane was successful in securing 50 new clients in the month of November, which breaks the record held by John Doe since last January. Her achievement is particularly impressive since it happened in a month that is generally considered slow, showing once again that it can be done.
For her outstanding work she will receive a trip for two to Honolulu, Hawaii. We wish her and her husband bon voyage.
Our next contest begins in January. Get ready, the next winner may be you.
Carta Modelo #2
We have a winner. Jane Johnson is our "Employee of the Month." For the second time in five months, our customers have selected Jane as their favorite customer service representative. Jane has a reputation for courtesy and concern, qualities which reflect well on the Doe Corporation.
For her efforts, we are sending Jane and her spouse, John, on an all expenses paid vacation at the luxurious Saddleback Resort. Our heartfelt thanks to Jane for all she does at Doe.
Carta Modelo #3
Let's have a big round of applause for Jane Doe, who has once again won our Manager of the Year award.
Jane's insistence upon remaining a step ahead of the managerial trends marks her as an example to us all.
In addition to a handsome cash bonus to show our appreciation, Jane will fly first class on all her business travels next year.
Congratulations, Jane!
Carta Modelo #4
We are pleased to announce that Jane Doe of Doe Elementary School is the winner of our essay contest, "What the Constitution Means to Me." The judges chose her entry out of 43 essays received from elementary students all over the city.
Jane, a fifth-grader, is the daughter of John and Mary Doe of Springfield. She will receive a $50 savings bond, and her essay will be published in the Springfield Herald Sunday, July 6. Congratulations, Jane!
We also want to congratulate all of the students who entered; we received many outstanding essays. Our only regret is that there can only be one winner. Every student who entered will receive a certificate of participation.
Artículos Relacionados
Recursos Relacionados
¿No encuentras las palabras correctas para tu carta?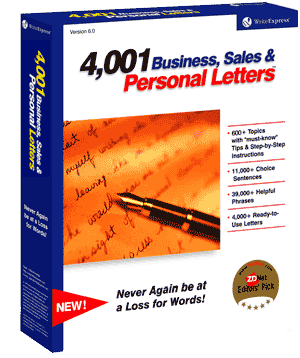 Con las instucciones a paso ¡escribes cartas como un profesional!
Busca la carta de que satisface tus mayores necesidades y cópialo en Microsoft Word o tu word processor preferido.
O permite que nuestras cartas de modelo te guíen paso a paso a través del proceso de escribir. Te recomendarán frases y oraciones modelos con cada paso. Dentro de minutos puedes escribir una carta de .
Imprime tu carta de y ¡envíala!