Carta Modelo #1
A lot has changed in the world of electronics since John Doe established "Doe Radio and Television Service." Because we are now a leader in computers and cellular telephone service, we are changing our name to "Doe Electronic Technologies." We think John would be pleased.
As part of this event, we invite you to stop by any time during the next month to receive a special 20% discount on any compact discs, computer equipment, or cellular phones. It is always a pleasure to serve you.
Carta Modelo #2
The merger of Springfield Mortgage and Doe Mortgage in the first quarter of 2002 has given us more working assets, and has made the company one of the largest privately held mortgage companies in the nation, while keeping us small enough to meet your individual needs. Starting January, we will be known as Doe Mortgage. Our rates are among the lowest in the industry, as noted in the January paper. You can still reach us at the same location.
Please remember I am still available to help you and your friends with your financial needs. Feel free to call or stop by. You will find us eager to give the same professional service that you have come to expect from Doe Mortgage.
Carta Modelo #3
Because of our recent software acquisition, we are changing our name. On February 29, 2002, we will officially become Doe Software Design. We wanted you to hear it from us rather than from the news media. You can expect the same service and dedication to quality that you have come to expect from us over the years. Of course, now you also can expect terrific new additions to our product line.
Carta Modelo #4
With our emphasis now squarely on high-performance automotive applications, we have decided to change our name from Doe Motors to "Doe Auto Performance."
Artículos Relacionados
Recursos Relacionados
¿No encuentras las palabras correctas para tu carta?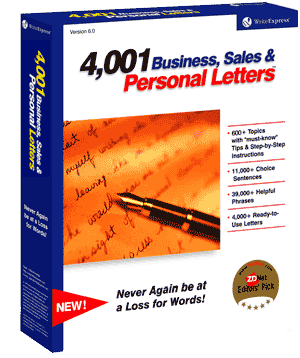 Con las instucciones a paso ¡escribes cartas como un profesional!
Busca la carta de que satisface tus mayores necesidades y cópialo en Microsoft Word o tu word processor preferido.
O permite que nuestras cartas de modelo te guíen paso a paso a través del proceso de escribir. Te recomendarán frases y oraciones modelos con cada paso. Dentro de minutos puedes escribir una carta de .
Imprime tu carta de y ¡envíala!