Carta Modelo #1
Until market conditions improve, we are canceling our credit accounts and making all purchases on a cash basis. Please send me a final statement showing the amount due to close the account.
We have appreciated your service and hope to continue our relationship as business improves.
Carta Modelo #2
Due to unfortunate circumstances beyond my control, I must terminate my credit account. According to my records, my account is $369.86 in arrears. You should receive a check for that amount within the next few days.
Thank you for your outstanding service and patience. I hope to reopen my account at a later date.
Carta Modelo #3
Due to budget restrictions, we will be terminating our Doe account effective immediately. All further sales will be on a cash basis. We will pay off our account balance immediately upon receipt of a final billing statement. We thank you for the years of fine service on our account.
Carta Modelo #4
I am canceling my credit card with you because of the new annual fee and increased interest rate. Enclosed is my check for $100 to pay off my balance. If I have miscalculated, please bill me for the remaining amount. Thank you for taking care of this for me.
Artículos Relacionados
Recursos Relacionados
¿No encuentras las palabras correctas para tu carta?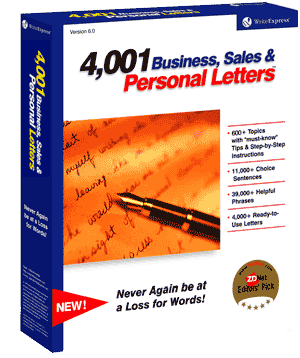 Con las instucciones a paso ¡escribes cartas como un profesional!
Busca la carta de que satisface tus mayores necesidades y cópialo en Microsoft Word o tu word processor preferido.
O permite que nuestras cartas de modelo te guíen paso a paso a través del proceso de escribir. Te recomendarán frases y oraciones modelos con cada paso. Dentro de minutos puedes escribir una carta de .
Imprime tu carta de y ¡envíala!