Carta Modelo #1
Budgetary constraints dictate that we cancel our reservations for the July conference this year. We trust that the proceedings will be published and that we can purchase a copy. Please reimburse me the registration fee, minus the cost of the printed proceedings, which I trust you will send me in the fall.
We appreciate your efforts in organizing the annual conference and look forward to attending next year.
Carta Modelo #2
I regret having to cancel my reservation for the weekend of February 12 and 13. Complications at work have forced me to put my personal plans on hold for a short time. Since I plan to make another reservation soon, I hope that you will apply the fee that I paid toward that new one.
Thank you for your kind service and your accommodation.
Carta Modelo #3
Regrettably, I must cancel my reservation for the orientation seminar on March 21. I will still be on the airplane when the meeting begins at 2:00 p.m. I hope to attend the meeting on March 24 if there is an open chair. In any case I look forward to meeting you and the rest of my new "crew."
Carta Modelo #4
My company scheduled the Lincoln room at your hotel for a banquet on May 5. I apologize, but I must cancel the arrangements. This morning's headlines tell the reason: Doe International just bought us. Please refund my $500 deposit and accept my sincere regrets. Maybe we can try again once the dust settles.
Artículos Relacionados
Recursos Relacionados
¿No encuentras las palabras correctas para tu carta?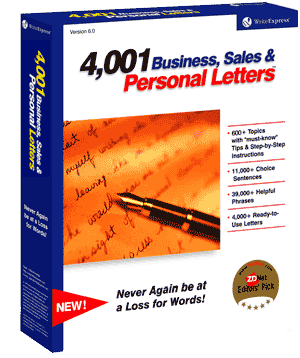 Con las instucciones a paso ¡escribes cartas como un profesional!
Busca la carta de que satisface tus mayores necesidades y cópialo en Microsoft Word o tu word processor preferido.
O permite que nuestras cartas de modelo te guíen paso a paso a través del proceso de escribir. Te recomendarán frases y oraciones modelos con cada paso. Dentro de minutos puedes escribir una carta de .
Imprime tu carta de y ¡envíala!